Friday, February 19, 2010
Top 40 Twins Prospects of 2010: 15, 14, 13, 12, 11
Other entries in Top 40 Twins Prospects of 2010 series: 1-5, 6-10, 16-20, 21-25, 26-30, 31-35, 36-40.
15. Jeff Manship | Starter | DOB: 1/85 | Throws: Right | Draft: 2006-14
 
YEAR     LV      G     GS      ERA        IP       H     HR      SO     BB
2007     A-     13     13     1.51      77.2      51      4      77      9
         A+     13     13     3.15      71.1      77      5      59     25
2008     A+     13     13     2.86      78.2      68      0      63     20
         AA     14     14     4.46      76.2      90      8      62     24
2009     AA     13     13     4.28      75.2      72      2      45     20
         AAA     8      8     3.22      50.1      53      1      30     17
         MLB    11      5     5.68      31.2      39      4      21     15
Selected in the 14th round of the 2006 draft and lured away from Notre Dame with a $300,000 signing bonus that was more like third-round money,
Jeff Manship
hit the low minors like gangbusters but has since seen the steady deterioration of his numbers with each move up the organizational ladder. While not uncommon, in Manship's case the consistent level-by-level slippage in his strikeout and walk rates have left him looking like little more than a potential back-of-the-rotation starter or middle reliever.
His big-league debut came in August, first as a low-leverage reliever and then into the rotation for five late-season starts, but Manship struggled with a 5.68 ERA and 21-to-15 strikeout-to-walk ratio in 31.2 innings while averaging just 89.8 miles per hour
with his fastball
. Prior to that he had a 4.09 ERA and 137-to-61 strikeout-to-walk ratio in 202.2 innings between Double-A and Triple-A, so without delving all the way back into Single-A days it's tough to find signs of upside and Manship is already 25 years old.
More than 50 percent of Manship's balls in play have been grounders in each of his four pro seasons and like just about every Twins pitching prospect his control is pretty good, so he's certainly not totally without value. Somewhat similar to
Anthony Swarzak
in that Manship is MLB-ready yet it's unclear if he fits into the Twins' plans as a fifth starter, reliever, or trade piece. He'll compete for the final rotation spot this spring before likely heading to Triple-A, where he'll be near the front of the line for a call-up.
14. Joe Benson | Center Field | DOB: 3/88 | Bats: Right | Draft: 2006-2
 
YEAR     LV      PA      AVG      OBP      SLG     HR    XBH     BB     SO
2007     A-     507     .255     .347     .368      5     31     49    124
2008     A-     290     .248     .326     .382      4     23     24     73
2009     A+     327     .285     .414     .403      5     18     46     74
Joe Benson
hit just .254/.337/.386 through three pro seasons and missed half of 2008 with a stress fracture in his back while repeating low Single-A, but the Twins moved him up to high Single-A last year anyway and the 2006 second rounder fared surprisingly well. Benson hit .285 after batting .260, .255, and .248 in his first three seasons and upped his walk rate by 60 percent. Unfortunately he was limited to 80 games because of another injury, this time a broken hand suffered punching a wall in frustration.
Aside from that wall Benson has been unable to make consistent contact, whiffing 140 times per 600 plate appearances for his career. Along with the high strikeout rate and low batting average he's also a terrible base-stealer despite possessing good speed, which is why last season's walk increase is key for Benson's development offensively. Defensively he's considered a solid center fielder, but because of a strong arm and the organization's log jam at the position he may end up in right field long term.
He won't be 22 years old until next month, so Benson still has time on his side, but inconsistency and injuries continue to make him more about tools and potential than actual production. That's not such a good thing for someone entering his fifth pro season, yet if Benson stays healthy and performs well in 2010 he could be knocking on the door to the majors at some point in 2011. His tools put him closer to being a big leaguer than the mediocre numbers suggest, but at some point that ceases being enough.
13. Adrian Salcedo | Starter | DOB: 4/91 | Throws: Right | Sign: Dominican
 
YEAR     LV      G     GS      ERA        IP       H     HR      SO     BB
2009     RK-    11     10     1.46      61.2      60      1      58      3
Signed out of the Dominican Republic as a 16-year-old two winters ago,
Adrian Salcedo
began his pro career in 2008 by dominating in the Dominican Summer League, posting a 1.65 ERA, .198 opponents' batting average, and 50-to-8 strikeout-to-walk ratio in 65.1 innings. He moved up a level to the first rung on the American minor-league ladder last year and had equally ridiculous numbers in the Gulf Coast League with a 1.46 ERA and 58-to-3 strikeout-to-walk ratio in 61.2 innings.
By themselves even those great numbers wouldn't be enough for Salcedo to rank this highly, because plenty of pitchers have insanely good stats in rookie-ball and the Twins' entire GCL pitching staff (which also included
No. 18 prospect
B.J. Hermsen
) had a combined 2.46 ERA last season. What makes his insanely good stats particularly impressive is that Salcedo was just 18 years old--which is young even for the youngest league--and more importantly has the raw stuff to match.
Despite packing only 175 pounds on to a 6-foot-4 frame, his fastball is already regularly in the low-90s and can reach the mid-90s. Salcedo complements the plus heater with what
John Manuel
of
Baseball America
calls
"a mid-80s power breaking ball" and also has an effective changeup for a teenager. His stats are amazing, his stuff is already very strong, and between his age and body type there's plenty of room for projection. As far as teenage, rookie-ball pitching prospects go, Salcedo is a really good one.
12. Chris Parmelee | Right Field | DOB: 2/88 | Bats: Left | Draft: 2006-1
 
YEAR     LV      PA      AVG      OBP      SLG     HR    XBH     BB     SO
2007     A-     501     .239     .313     .414     15     43     46    137
2008     A-     289     .239     .385     .496     14     27     52     83
2009     A+     501     .258     .359     .441     16     44     65    109
Chris Parmelee
is all about power and patience, which makes him stick out within an organization that stresses just about everything else and has generally shied away from players like him. Of course, the Twins selected him with the 20th overall pick in the 2006 draft, so presumably they still like Parmelee despite his lack of resemblance to just about every other prospect in the system. And as long as they're willing to look past the strikeouts and low batting averages, there's still plenty to like.
Parmelee stayed healthy last season after missing half of 2008 with a wrist injury, moving up from low Single-A to high Single-A while leading the Florida State League in walks and ranking third in homers. Despite the lowly .258 batting average Parmelee's overall production was 15 percent above the league average and his Isolated Power was 65 percent above par. Pitcher-friendly environments mute his raw numbers, but Parmelee has a ton of power and loads of plate discipline. That's the good news.
The bad news is that most of MLB's best low-average sluggers actually hit for solid batting averages in the minors.
Adam Dunn
hit .304,
Pat Burrell
hit .303,
Matt Stairs
hit .293,
Troy Glaus
hit .288,
Carlos Pena
hit .283, and most of the other prominent guys were above .270. In other words, a .250 average in the minors may get Parmelee compared to Dunn or Burrell, but guys who hit .250 with big power in the majors typically hit at least .275 with big power in the minors. Until that happens, he's a question mark.
11. Rene Tosoni | Right Field | DOB: 7/86 | Bats: Left | Draft: 2005-36
 
YEAR     LV      PA      AVG      OBP      SLG     HR    XBH     BB     SO
2007     RK     286     .301     .407     .428      3     20     32     48
2008     A+     170     .300     .408     .414      1     11     21     30
2009     AA     490     .271     .360     .454     15     44     45     98
After drafting him in 2004 out of a Canadian high school and in 2005 out of a Florida junior college, the Twins had
Rene Tosoni
skip low Single-A and spend his first full season at high Single-A in 2008. He hit .300/.408/.414 with nice strike-zone control despite being one of the Florida State League's younger players, but was limited to 42 games because of a broken foot. That setback didn't stop the Twins from moving him to Double-A last year and Tosoni stayed healthy while hitting .271/.360/.454 in 122 games.
Tosoni hasn't shown a standout skill yet, but seems to do just about everything pretty well. He's hit .287 through 963 plate appearances as a pro, draws a fair number of walks without tons of strikeouts, has above-average speed, flashed more pop than expected last year, and is considered a good defensive right fielder who may even be passable in center field. And obviously the Twins really believe in Tosoni after drafting him twice and promoting him aggressively.
Taken alone a .271/.360/.454 line at Double-A certainly doesn't predict stardom, but Tosoni was 12th among Eastern League hitters in OPS while being younger than all but one of the guys ahead of him. His overall production was 12 percent better than the league average, which along with good defense and being young for the level of competition makes him a very solid prospect. Putting together a similar year at Triple-A could thrust Tosoni into the Twins' plans for 2011.
Once you're done here, check out my NBCSports.com blog and Twitter updates.




---
Wednesday, February 17, 2010
Top 40 Twins Prospects of 2010: 20, 19, 18, 17, 16
Other entries in Top 40 Twins Prospects of 2010 series: 1-5, 6-10, 11-15, 21-25, 26-30, 31-35, 36-40.
20. Max Kepler | Center Field | DOB: 2/93 | Bats: Left | Sign: Germany
Signed out of Germany in July just four months after his 16th birthday,
Max Kepler
received the largest bonus ever given to a European position player at $800,000. His parents, American-born
Kathy Kepler
and Polish-born
Marek Rozycki
, met while starring together in the Berlin ballet, leading to
an intriguing upbringing
for their baseball-playing son. Twins scout
Andy Johnson
first saw Kepler when he was 14 years old and described him running to first base "like a galloping baby deer."
After signing he came to the United States, enrolled in a Florida high school near the Twins' facilities in Fort Myers, and got his feet wet by playing in an instructional league. Kepler recently got his GED, but is still living with his mother and
plans to take a few classes
at a local junior college. In other words, he's a long way from the majors and may not even see full-season action until 2012. For this year he'll likely stay behind in extended spring training before making his way to the rookie-level Gulf Coast League.
Kepler is on this list almost by default because his physical tools draw rave reviews and the Twins just paid $800,000 for him as a 16-year-old, but it's tough to rate him any higher without some game action to base things on. What little we do know is that Kepler is already 6-foot-3 and said to be a very graceful athlete with good speed and some pop at the plate. Along with
Miguel Angel Sano
he represents a big shift in the Twins' pursuit of high-end international talent, but right now he's an expensive lottery ticket.
19. Anthony Slama | Reliever | DOB: 1/84 | Throws: Right | Draft: 2006-39
 
YEAR     LV      G     GS      ERA        IP       H     HR      SO     BB
2007     RK      6      0     2.45       7.1       2      0      10      1
         A-     21      0     1.48      24.1      15      0      39      9
2008     A+     51      0     1.01      71.0      43      0     110     24
2009     AA     51      0     2.48      65.1      46      5      93     32
         AAA    11      0     3.45      15.2      11      0      19      8
It took until just months before his 26th birthday, but
Anthony Slama
was finally promoted to Rochester late last season. Clearly the Twins have little faith in the former 39th-round pick despite his absolutely incredible minor-league numbers, but his performance screams out for a chance to prove whether he can get major-league hitters out. There's nothing particularly noteworthy about Slama's raw stuff, yet in 183.2 career innings he has a 1.86 ERA and 271 strikeouts while allowing just 117 hits.
Getting his first taste of the high minors at age 25, he began last season as the closer at Double-A and converted 25 saves with a 2.48 ERA, 93 strikeouts, and .201 opponents' batting average in 65 innings. Promoted to Triple-A in August, he saved four more games while racking up 19 strikeouts and allowing just 11 hits in 15.2 innings. Slama's walk rate rose significantly last season, but nearly a quarter of his free passes were intentional. He handed out 31 non-intentional walks in 81 innings, which is just fine.
I'm certainly not going to suggest that Slama is destined for stardom, but
Pat Neshek
should've shown the Twins that pitchers who repeatedly put up amazing numbers in the minors despite underwhelming raw stuff can't simply be dismissed. Slama's numbers aren't merely great, they're truly spectacular, and his raw stuff is hardly horrible. If a 2.67 ERA, 112 strikeouts, and .203 opponents' batting average in 81 innings between Double-A and Triple-A aren't enough to get Slama a shot in Minnesota, it's a shame.
18. B.J. Hermsen | Starter | DOB: 12/89 | Throws: Right | Draft: 2008-6
 
YEAR     LV      G     GS      ERA        IP       H     HR      SO     BB
2009     RK-    10     10     1.35      53.1      32      0      42      4
B.J. Hermsen
initially projected as a possible second rounder during his senior season of high school in Iowa, but a broken collarbone suffered while playing football and expectations that he'd play college ball at Oregon State dropped him into the sixth round. Eventually the Twins lured him into the pros with a $650,000 signing bonus that beat the money given to their second-round pick, and Hermsen made his debut last season in the rookie-level Gulf Coast League.
He was nearly unhittable in 10 starts, with a 1.35 ERA, 42-to-4 strikeout-to-walk ratio, .171 opponents' batting average, and zero homers allowed in 53.1 innings. He also induced a grounder on 52.5 percent of his balls in play, which is important because despite his 6-foot-6, 230-pound frame and promising velocity in high school Hermsen topped out in the low-90s last season while racking up a modest 42 strikeouts in 53.1 frames.
Of course, at just 20 years old he has plenty of time to add a few miles per hour to match his imposing presence on the mound and focusing on velocity or strikeouts is perhaps picking nits given his overall performance. Don't expect Hermsen to move all that quickly through the system, but he definitely has a very high long-term ceiling and a few more missed bats this season could propel him near the top of this list for 2011.
17. Carlos Gutierrez | Reliever | DOB: 9/86 | Throws: Right | Draft: 2008-1
 
YEAR     LV      G     GS      ERA        IP       H     HR      SO     BB
2008     A+     16      0     2.10      25.2      23      0      19      7
2009     A+     11     10     1.32      54.2      37      1      33     22
         AA     22      6     6.19      52.1      62      6      32     24
Carlos Gutierrez
went from the rotation to the bullpen at the University of Miami following Tommy John surgery in 2007 and became one of the best closers in the country, but when the Twins took him with the 27th overall pick in the 2008 draft they talked him up as a potential starter. That plan looked genius when Gutierrez posted a 1.32 ERA in the rotation at high Single-A, but he struggled mightily following a midseason promotion to Double-A and was shifted back to the bullpen.
He works primarily with a low-90s sinker that induces a ton of ground balls, and at the time of the draft
Baseball America
noted his "rudimentary" off-speed stuff, which is why few projections had him going in the first or even second round and Gutierrez's odds of sticking as a starter are slim. However, there was no real harm in letting him give starting one last try and Gutierrez can still move quickly through the system if the Twins make him a full-time reliever again this season.
His strikeout numbers have been underwhelming, which is what you'd expect from a sinkerballer with lacking secondary pitches, but Gutierrez's worm-killing ability is for real with 61.4 percent of his balls in play being grounders through 132.2 pro innings. That would've ranked as the second-best ground-ball rate in the AL last season and is enough to make Gutierrez a promising relief prospect despite sub par strikeout and walk numbers. The question is whether he can be more than a solid middle reliever.
16. Tyler Robertson | Starter | DOB: 12/87 | Throws: Left | Draft: 2006-3
 
YEAR     LV      G     GS      ERA        IP       H     HR      SO     BB
2007     A-     18     16     2.29     102.1      87      3     123     33
2008     A+     15     15     2.72      82.2      78      3      73     31
2009     A+     26     26     3.33     143.1     139      7     103     51
Tyler Robertson
ranked No. 3 on this list heading into 2008, but missed half that season with shoulder problems and then was mediocre while repeating high Single-A last year. He posted a solid 3.33 ERA in 26 starts at Fort Myers, but managed just 103 strikeouts in 143.1 innings for by far the fewest missed bats of his career and allowed right-handers to hit .285 against him. The good news is that Robertson stayed healthy, throwing the seventh-most innings of any pitcher in the Twins' minor-league system.
Robertson's unorthodox throwing motion has created skeptics since the Twins made him a third-round pick in 2006, with his 2008 arm problems, inconsistent velocity, and falling strikeout rate lending further evidence that the left-hander's mechanics are a legitimate issue. On the other hand he has a 3.03 ERA as a pro and will likely begin this season at Double-A as a 22-year-old, so Robertson remains a plenty good prospect despite the issues dragging his stock down over the past two years.
More than half of Robertson's balls in play have been on the ground every season and he's been death to left-handed hitters, holding them to a .197 batting average with zero home runs last year and a .210 mark for his career. Ground balls and shutting down lefties make it likely that Robertson can transition nicely to the bullpen if concerns about his durability and struggles against righties continue, but for now he definitely still has a chance to develop into a solid middle-of-the-rotation starter.
Once you're done here, check out my NBCSports.com blog and Twitter updates.




---
Monday, February 15, 2010
Twins Notes: Perkins, Morales, Butera, and Snow
Joe Christensen

of the

Minneapolis Star Tribune

penned a lengthy, well-done article detailing

Glen Perkins

' strained relationship with the Twins stemming from his arm injury and the team's subsequent service-time shenanigans. While the two sides officially settled the grievance filed on Perkins' behalf by the players' union, the 25-year-old left-hander is clearly still upset about the whole thing costing him as much as $500,000 and sounds like someone who expects to be traded:
I guess I really found out the hard way that it's a business. I spent my life cheering for that team. I got drafted by them and got to the majors quick, and two weeks later we're in the playoffs. I had a really good year in '08, and everything was rosy. You find out the hard way that it doesn't really matter.

I think I'm more prepared for this year than I ever have been. I feel like I'm going into an uphill battle [for a roster spot], but I'm fine. My arm's healthy, and I feel like I'm a major league pitcher. I'm sure if they don't think that, then someone else does.
I'm hardly plugged into the Twins' front office, but have heard from multiple sources "with knowledge of the situation" (as reporters so often phrase it) that the team is basically just waiting for Perkins to show that he's healthy this spring before trading him. Perkins simply isn't good enough for the combination of injuries, inconsistent performance, and an off-field grievance not to cause a team to sour on him and the Twins apparently tried to trade him to the Padres for

Kevin Kouzmanoff

earlier this offseason.
Last week the Twins had to clear a spot on the 40-man roster for

Orlando Hudson

, and presumably one of the reasons for dropping

Jason Pridie

rather than

Drew Butera

is that

Jose Morales

sounds less and less likely to be ready for Opening Day following wrist surgery. Morales began experiencing wrist problems in September, but waited until last month before deciding on surgery and then for some reason delayed actually going under the knife for another two weeks.

At best he'll be cleared to resume baseball activities in mid-March and even a slight setback would rule him out for Opening Day, so the Twins will likely need a third catcher to begin the season. Butera was seemingly placed on the 40-man roster for just this type of situation and the Twins previously talked him up as a great defender behind the plate, but now

LaVelle E. Neal III

of the

Star Tribune

reports that "there are some concerns about Butera's catching skills."

Butera has hit .214/.296/.317 in the minors, including .211/.268/.292 in 99 games at Triple-A last year, so if his "catching skills" are anything less than amazing he's essentially a worthless player. His place on the 40-man roster was a mistake to begin with and now the Twins are hesitant to even let him fill in for Morales, with

Ron Gardenhire

beginning to stump for

Wilson Ramos

. Butera is awful, but I'd hate to interrupt Ramos' development and start his service time just to back up

Joe Mauer

for a couple weeks.
Early on this offseason there was speculation about the Twins re-signing

Orlando Cabrera

, mostly because Gardenhire repeatedly made it obvious that he'd love to have him back. Instead the front office dealt for

J.J. Hardy

to replace him at shortstop and then signed Hudson to start at second base, which is the only other position Cabrera has played. Cabrera ended up signing with the Reds for a one-year deal that guarantees him $3 million and includes a mutual option for 2011. Twins were smart to pass.
Dave Cameron

of Fan Graphs wrote an intriguing article about Mauer's unique, opposite field-driven hit chart and suggests that teams should employ separate infield and outfield shifts to neutralize him.
Whoever runs the Twins' official Twitter account posted two photos of a snow-covered Target Field:



Click the picture to see the full-sized versions. I bet at least half that snow will be gone by Opening Day.
Unfortunately my day job precluded me from actually being involved in the project, but that won't stop me from recommending that anyone who likes this blog should get the recently released

Twins Annual 2010

from Maple Street Press. I've previously worked with Maple Street Press on a couple of non-Twins publications and know that they always put out high-quality products, and their inaugural Twins offering is spearheaded by

John Bonnes

and features a great writing lineup from the blogosphere and beyond.

In addition to the Twins Geek, the list of contributors also includes

Seth Stohs

,

Nick Nelson

,

Phil Miller

,

Howard Sinker

,

Parker Hageman

,

Phil Mackey

,

Darren Wolfson

,

Judd Spicer

,

Josh Johnson

,

Stew Thornley

,

Jim Thielman

,

Andrew Kneeland

,

Dan Wade

, and

Adam Peterson

. You get 128 pages full of great Twins writing, full-color photographs, and top-notch design work for just $12.99, all while helping to support a blogosphere that churns out so much great content for absolutely free all year. Go buy it.
Once you're done here, check out my NBCSports.com blog and Twitter updates.




---
---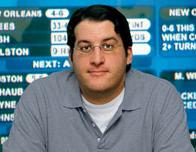 E-Mail: aarongleeman@gmail.com
Twitter: twitter.com/aarongleeman
---

---
---
Read Me Elsewhere
Rotoworld
NBC Sports
MinnPost
Twitter
Facebook
---
---
Minnesota Twins Stuff
Minneapolis Star Tribune
St. Paul Pioneer Press
MinnesotaTwins.com
LaVelle E. Neal III
Joe Christensen
Kelsie Smith
Kelly Thesier
Seth Stohs
Stick and Ball Guy
Nick Nelson
Parker Hageman
Phil Mackey
John Bonnes
Edward Thoma
Josh Johnson
Howard Sinker
Twinkie Town
Pat Neshek
---
Sports Stuff
Hardball Talk
Rotoworld
Fan Graphs
Baseball-Reference.com
The Hardball Times
Baseball America
Baseball Think Factory
Bill Simmons
Rob Neyer
Joe Posnanski
Big League Stew
The Big Lead
Deadspin
Fanhouse
Baseball Prospectus
U.S.S. Mariner
Al's Ramblings
Sports By Brooks
Baseball Musings
MLB Trade Rumors
---
Non-Sports Stuff
MinnPost
Alan Sepinwall
David Brauer
Adam Carolla
Poker Road
Gorilla Mask
Wicked Chops Poker
WWTDD?
Popoholic
The Superficial
Steve Silver
Tao of Poker
---
Discount Sporting Goods
---
---
---
---
Official Fantasy Girl of AG.com

OFGoAG.com Timeline:
Heidi Klum (8/2002 - 12/2003)
Jessica Alba (12/2003 - 10/2004)
Elisha Cuthbert (10/2004 - 11/2006)
Vacant (11/2006 - 6/2008)
Keeley Hazell (6/2008 - 3/2010)
Mila Kunis (3/2010 - Present)

OFGoAG.com Candidates:
Marisa Miller
Jenna Fischer
Kate Beckinsale
Keeley Hazell
Diora Baird
---
Top 40 Twins Prospects of 2010:


1. Aaron Hicks, CF
2. Kyle Gibson, SP
3. Wilson Ramos, C
4. Miguel Angel Sano, SS
5. Ben Revere, CF
6. Angel Morales, CF
7. David Bromberg, SP
8. Danny Valencia, 3B
9. Matthew Bashore, SP
10. Billy Bullock, RP
11. Rene Tosoni, RF
12. Chris Parmelee, RF
13. Adrian Salcedo, SP
14. Joe Benson, CF
15. Jeff Manship, SP
16. Tyler Robertson, SP
17. Carlos Gutierrez, RP
18. B.J. Hermsen, SP
19. Anthony Slama, RP
20. Max Kepler, CF
21. Alex Burnett, RP
22. Robert Delaney, RP
23. Luke Hughes, 3B
24. Ben Tootle, RP
25. Deolis Guerra, SP
26. Shooter Hunt, SP
27. Trevor Plouffe, SS
28. Michael McCardell, SP
29. Reggie Williams, 2B
30. Estarlin De Los Santos, SS
31. Derek McCallum, 2B
32. Jose Morales, C
33. Chris Herrmann, LF
34. Bobby Lanigan, SP
35. Danny Rams, C
36. Josmil Pinto, C
37. Steven Tolleson, 2B
38. Anderson Hidalgo, 3B
39. Loek Van Mil, RP
40. Joe Testa, RP
---