March 2, 2011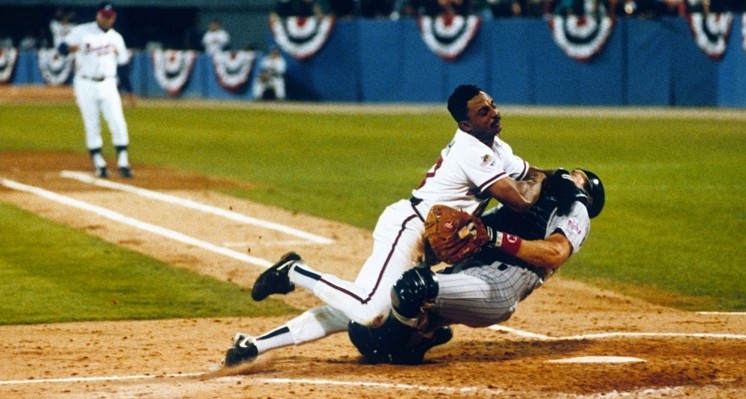 Brian David Harper | C | 1988-1993 | Career Stats
I typically begin these career retrospectives by describing how each player ended up with the Twins, but in Brian Harper's case I'll step aside and let Bill James do the story telling. Here's what James wrote about Harper in The Bill James New Historical Baseball Abstract:
Harper should have had a much better career than he did. He lost a lot of his career to other people's stupidity. He was drafted by the Angels in 1977, hit .293 with 24 homers, 101 RBI at Quad Cities in 1978, then hit .315 with 37 doubles, 90 RBI at El Paso in 1979. The Angels at that time were building entirely around free agents and veterans, in no mood to give a young player a chance. At Salt Lake City in '81 he hit .350 with 45 doubles, 28 homers, 122 RBI. The Angels traded him to Pittsburgh.

The Pirates already had Tony Pena and Steve Nicosia; they needed another catcher like they needed a fifth baseman. Harper tried to convert to the outfield or first base. He wasn't fast enough to play the outfield; nobody was sure he would hit enough to play first. He bounced over to St. Louis, Detroit, Oakland, Minnesota. He was 30 by the time he got a chance to play.
Harper was released by the A's after the 1987 season, at which point he'd hit .233/.258/.362 in 205 major-league games spread over five teams and eight seasons. The Twins signed him in January of 1988 with the intention of making him the regular catcher at Triple-A, but Harper ruined those plans by hitting .353 in 46 games there to all but force the Twins into giving him a shot. He went 9-for-22 (.409) with three doubles in his first six starts and never looked back.
Given a chance to split time behind the plate with Tim Laudner during the final four months of the season Harper hit .295/.344/.428 in 60 games. And just like that, he had himself a full-time gig. Laudner moved to the bench in 1989 and Harper batted .325 while starting 86 times at catcher and another 15 times at designated hitter. That was the first season of a five-year run that saw Harper rank as one of the elite offensive catchers in baseball:
YEAR     VORP*    RANK     AHEAD OF HARPER
1989     29.3      3rd     Tettleton, Fisk
1990     22.5      4th     Fisk, Daulton, Parrish
1991     29.1      3rd     Tettleton, Biggio
1992     28.7      4th     Daulton, Tettleton, Hoiles
1993     25.6      7th     Piazza, Hoiles, Wilkins, Stanley, Daulton, MacFarlane

*VORP stands for Value Over Replacement Player, which measures offense relative to position.

During that five-year period Harper ranked fourth among all catchers in Runs Created, behind Mickey Tettleton, Craig Biggio, and Darren Daulton. And while the dig on Harper was always that he was awful defensively, several other top-hitting catchers from 1989 to 1993--Tettleton, Chris Hoiles, Mike Stanley--also had iffy gloves. In fact, Tettleton's production is misleading, since about one-third of his action came at DH while Harper only appeared there occasionally.
Harper was arguably the best catcher in the American League from 1989 to 1993, batting .307/.341/.431 to beat the .250/.314/.371 line produced by the average catcher by about 12 percent. He hit at least .300 in all but one season, when he fell all the way to .294 in 1990. As James wrote at the end of the passage I partially quoted above: "He was slow, didn't have real power, didn't walk and didn't throw well, but he could hit .300 in his sleep."
Until I began researching his career, I had the impression that Harper was absolutely dreadful throwing out runners; the Matthew LeCroy of the 1990s. However, the actual numbers don't back that up. From 1988 to 1990 he threw out 35 percent of steal attempts, which was solidly above the league average of 31 percent. For comparison Laudner's career mark with the Twins was a shade under 30 percent, including just 27 percent between 1988 and 1989.
What likely cemented Harper's reputation as a poor thrower was his 22 percent rate in 1991. The season everyone remembers was Harper's worst, and backup Junior Ortiz gunned down 46 percent in limited duty. Plus, the Blue Jays and Braves ran a ton on Harper in the playoffs, going 11-for-14 in 12 games. Harper made up for much of that by going 13-for-39 (.333) with four doubles, but the idea that you could easily run on him stuck for the rest of his career.
In fact, Harper allowed the league's most steals in 1992 (118) and 1993 (114), which certainly didn't help put a stop to the image everyone now had of him as a noodle arm. However, while teams were running on Harper like crazy, he actually threw out a very respectable 31 percent in 1992 and 33 percent in 1993. In other words, Harper certainly had a mediocre arm and at times struggled gunning down runners, but more often than not did just fine.
For me the notion that Harper wasn't an absolute disaster controlling the running game was a revelation and I suspect the same can be said for many Twins fans (and even some non-Twins fans, like James). Doing the actual research rather than just trusting my preconceived ideas changed my opinion of Harper's career in Minnesota significantly and that's part of the fun with this whole "Top 40 Minnesota Twins" series.
At the plate Harper hit .300 in his sleep, but had modest pop with 11 homers per 550 at-bats for the Twins. He also rarely walked or whiffed with 19 non-intentional walks and 29 strikeouts per 600 plate appearances. A half-dozen years after saying goodbye to Harper the Twins had another high-average, low-pop, swing-at-everything catcher in A.J. Pierzynski, but even that comparison short-changes Harper once you adjust his raw numbers to current offensive levels:
With the Twins        G       PA      AVG      OBP      SLG      OPS+
Brian Harper        730     2691     .313     .347     .472      110
A.J. Pierzynski     430     1540     .301     .341     .447      105

Harper was a notch above Pierzynski at the plate during their respective Twins careers, hiting for a higher batting average and more power. Perhaps most importantly when it comes to his place in team history, Harper played 730 games for the Twins, compared to 430 for Pierzynski. And in case you're wondering, Pierzynski threw out 31 percent of stolen-base attempts while with the Twins, which is the exact same rate as Harper.
It's a shame that Harper didn't latch on with the Twins earlier. He consistently produced big numbers in the minors, batting .307 in nearly 900 games before joining the Twins, and given a chance could have basically doubled the big-league career he had. Even still, he ranks as one of the most consistent and underrated players of the early 1990s, was a key part of the World Series title in 1991, and ranks as the second-best (non-active) catcher in team history.
Oh, and Lonnie Smith was out in that picture.
TOP 25 ALL-TIME MINNESOTA TWINS RANKS
Batting Average      .306     7th
Doubles               156    20th
Adjusted OPS+         110    20th
Hits                  767    23rd