March 9, 2011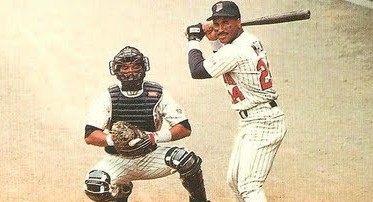 Shane Lee Mack | LF/CF/RF | 1990-1994 | Career Stats
When asked about a college freshman named Shane Mack by a Los Angeles Times reporter in 1982, UCLA coach Gary Adams looked right into his crystal ball and didn't pull any punches:
I really believe that Shane Mack is going to be one of the greatest UCLA players of all time. He reminds me so much of Jackie Robinson, but his fire is inside, not outside like Jackie. He's not flashy like Jackie was. He just does the job and produces.

I've never had such a quick learner. He realize his shortcomings and that's why they don't last very long. You make the most of what you have, and he does. He has everything, all the tools. I'll tell you something, Shane isn't going to be just a major leaguer, but a super major leaguer.
Adams was right. After hitting .306 as a freshman Mack emerged as one of the elite players in all of college baseball, hitting a conference-best .419 as a sophomore and then batting .352 as a junior. Mack was a first-team All-American in both seasons, and leading up to the 1984 draft there was heavy debate over whether Mack or USC slugger Mark McGwire should be the first player chosen.
An article in the Los Angeles Times on June 4, 1984 had the headline "Mack or McGwire Could Be Chosen No. 1" and quoted Dodgers scouting director Ben Wade as saying: "You've got two of the best in the country over at USC and UCLA." The next day the newspaper described Mack as "the finest all-around player in college baseball" and "at or near the top of virtually every major-league club's scouting list."
On draft day the Mets surprised everyone by taking high school outfielder Shawn Abner with the first selection, which turned out horribly. McGwire dropped to the A's with the 10th pick, while the Padres were thrilled when Mack fell into their laps 11th overall. After playing for the United States' silver medal-winning team in the 1984 summer Olympics, Mack bypassed his final year of eligibility and began his pro career in 1985.
Mack spent the bulk of his first two years at Double-A, hitting .260/.325/.370 in 1985 and then .281/.318/.451 while repeating the level in 1986. He moved up to Triple-A to finish the 1986 season, hitting .362 in 19 games at hitter-friendly Las Vegas. Mack stayed there in 1987 and hit .333 with five homers while going 13-for-13 stealing bases in 39 games when a torn biceps tendon forced Steve Garvey to the disabled list in late May and San Diego called Mack up.
Debuting on May 25, 1987, he was 0-for-2 with two walks starting in right field. He stayed with the Padres all season and received regular playing time against left-handed pitching, hitting just .239/.299/.361 in 105 games. Interestingly after debuting in right field Mack played almost exclusively center field, as it quickly became apparent that he had better range there than incumbent Stan Jefferson.
Mack began 1988 back at Triple-A and spent the year shuttling between San Diego and Las Vegas. He hit just .244/.336/.269 in 56 games with the Padres, but tore up the Pacific Coast League with a .347 average and 10 homers in 55 games. Mack was back at Triple-A again in 1989 when an elbow injury ended his season after 24 games. That winter the Padres left the 26-year-old Mack off their 40-man roster and the Twins snatched him up in the Rule 5 draft.
Mack made the Opening Day roster in 1990, but played sparingly early on with a grand total of just 90 at-bats through three months. In mid-July, with Mack hitting over .300 and the Twins playing under .500, manager Tom Kelly finally gave him a shot as an everyday player. Splitting time between all three outfield spots, Mack responded by hitting .306 in July before slumping in August, and then finished the year by batting .432 with 17 RBIs and six steals in September.
Overall he hit .326/.392/.460 with eight homers, 13 steals, 44 RBIs, and 50 runs in 353 plate appearances after entering the year as a career .241/.312/.331 hitter. Kelly was still hesitant to make Mack an everyday player in 1991, but he started 61 times alongside Kirby Puckett in right field while also getting 16 starts subbing for Puckett in center field and 38 starts playing left field in place of Dan Gladden.
Mack had a huge year, hitting .310/.363/.529 in 143 games to rank among the AL's top 10 in slugging percentage and OPS. Thanks in large part to Mack the Twins went from worst to first, winning the AL West with a 95-67 record after finishing dead last at 74-88 the previous year. Mack hit .333 with three RBIs and four runs in the five-game ALCS win over Toronto, but then went 0-for-15 with seven strikeouts in the first four games of the World Series against Atlanta.
After pulling Mack in a Game 3 double-switch--leading to closer Rick Aguilera pinch-hitting in the 12th inning--Kelly gave designated hitter Chili Davis the Game 5 start in right field despite Davis seeing a total of three innings defensively during the season. Back at home and playing under AL rules, Mack returned to the lineup for Game 6 and went 2-for-4 with a first-inning RBI single. He went 1-for-4 in the Twins' dramatic Game 7 win.
For the first time in his career Mack was given a chance to be a true everyday player in 1992. Starting 150 games and playing primarily left field, Mack hit .315/.394/.467 with 16 homers and 26 steals to rank among the AL's top 10 in batting average, on-base percentage, and runs. He fell to .276/.335/.412 in 1993 and missed the first month of 1994 with shoulder problems, but bounced back to hit .333/.402/.564 to rank among the AL leaders in average and slugging.
An impending free agent when the players' strike ended the 1994 season early and canceled the World Series, Mack decided to take a guaranteed payday in Japan once the work stoppage dragged on well into the offseason. In January of 1995 he signed what was then "the biggest contract in the history of Japanese baseball" by inking a two-year deal with the Yomiuri Giants worth $8.1 million.
In retrospect it's natural to question his decision, but Mack was already 31 years old when he became a free agent for the first time, the strike continued into 1995, and that was incredible money for a non-superstar back then. Only eight AL players made more than $5 million in 1994 and baseball's highest-paid player was Bobby Bonilla at $6.3 million. Mack hit .284/.356/.463 during two seasons in Japan and then returned to MLB with the Red Sox in 1997.
He hit .313/.368/.438 in 60 games for Boston and moved to Oakland in 1998, but was traded to Kansas City for Mike Macfarlane in early April and then hit .280/.345/.449 over 66 games in what was his final year. It's easy for Mack to get lost in the long shadows of Puckett, Aguilera, Kent Hrbek, Jack Morris, Chuck Knoblauch, and the rest of the 1991 championship team, but for five years he was one of the best, most underrated players in baseball.
A tremendous athlete who covered tons of ground wherever the Twins put him in the outfield, Mack hit for big batting averages with great speed and had overlooked power. Among all MLB outfielders to play at least 600 games from 1990 to 1994, only Barry Bonds, Ken Griffey Jr., Rickey Henderson, and David Justice had a better OPS. Among all hitters with 600 games in a Twins uniform only Harmon Killebrew, Joe Mauer, and Justin Morneau top his .854 mark.
TOP 25 ALL-TIME MINNESOTA TWINS RANKS
OPS                  .854     4th
Adjusted OPS+         130     5th
Batting Average      .309     6th
On-Base Percentage   .375     7th
Slugging Percentage  .479     7th
Steals                 71    16th
Isolated Power       .170    19th
Triples                24    20th
Runs Created          391    24th