March 25, 2011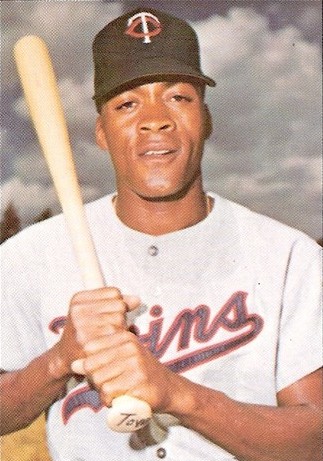 Cesar Leonardo Tovar | CF/LF/RF/2B/3B/SS | 1965-1972 | Career Stats
Cesar Tovar signed with the Reds out of Caracas, Venezuela as an 18-year-old in the winter of 1959 and batted .304, .338, and .328 in his first three pro seasons. He moved up to Triple-A in 1963 and hit .297 with 115 runs while showing good speed and excellent gap power, but was blocked in Cincinnati by the likes of Pete Rose and Vada Pinson. He remained at Triple-A in 1964 and slumped, hitting .275 with a .379 slugging percentage.
In December of 1964, with a young nucleus of hitters already in place from a 92-win season, Cincinnati shipped Tovar to Minnesota in exchange for 23-year-old left-hander Gerry Arrigo. It was a controversial deal at the time, because parting with young southpaws has never been viewed in a positive light and Arrigo was coming off a rookie season that saw him go 7-4 with a 3.84 ERA and 96 strikeouts in 105 innings split between the rotation and bullpen.
With incumbent second baseman Bernie Allen struggling to bounce back after knee problems ended his 1964 season, Tovar was given a long look in spring training and headed north with the team, making the Opening Day roster as a reserve. Tovar saw just 13 at-bats in a month with the Twins and was sent back down to Triple-A in mid-May, where he batted .328 with a .523 slugging percentage in 102 games before returning to the big leagues in September.
Tovar didn't see any postseason action as the Twins won the AL pennant with a 102-60 record before falling to the Dodgers in the World Series. In fact, hours after Sandy Koufax struck out Bob Allison to end the 1965 season the New York Times reported that Twins president Calvin Griffith was "not satisfied with their top second base candidates" and "would be active in the trading market ... seeking a second baseman."
Talking to the Los Angeles Times early that spring manager Sam Mele called second base "my only infield problem" and an article in the Chicago Tribune two weeks later suggested that the position was a three-way battle for Allen, Frank Quilici, and Jerry Kindall. Meanwhile, Tovar was seeing some work at second base, but also played the other infield spots and center field, where he was viewed as a potential platoon partner for the lefty-hitting Jimmie Hall.
Sure enough, Allen began the 1966 season as the starting second baseman and Tovar didn't find his way into the lineup anywhere for three weeks, finally starting both games of a Sunday doubleheader in center field on May 1. Allen's poor play and health issues eventually opened the door for Tovar to see significant action at second base and he ended up starting 73 games there despite not getting his first chance at the position until late June.
In addition to starting 73 times at second base, Tovar also saw 27 starts at shortstop and 16 starts in center field, combining to hit a modest .260/.325/.335 with 16 steals in 527 trips to the plate. When the Twins traded Hall to the Angels that winter Tovar was needed more as a center fielder in 1967, starting 60 times there, but also started 56 times at third base and 31 times at second base while seeing occasional action at shortstop and in the outfield corners.
While most fans have come to think of a "utility man" as someone like Denny Hocking or Nick Punto who's a capable backup at multiple spots, Tovar was more like an everyday player who just didn't know where he was going to play on a given day. Tovar batted just .267/.325/.365 in 1967, but ranked among the AL's top five in at-bats (649), runs (98), hits (173), doubles (32), and triples (7) while grabbing headlines for his finish in the MVP voting.
Tovar finished a surprising seventh in the balloting, ahead of stars like Tony Oliva and Frank Robinson, but more importantly received the lone first-place vote to elude Triple Crown winner Carl Yastrzemski. After initially remaining anonymous despite media scrutiny, Max Nichols of the Minneapolis Star was revealed as the guilty party. Not only wasn't Tovar even in the same ballpark as Yastrzemski in 1967, in hindsight it ended up being one of his worst seasons.
With offense insanely low in 1968 before the mound was lowered the next year, Tovar batted .272/.326/.372 while ranking among the AL's top five in hits, runs, steals, and doubles. He also made his mark as the second player in MLB history to play an inning at all nine positions in one game. Tovar was the starting pitcher in a 2-1 win over the A's on September 22, striking out Reggie Jackson and moving around the diamond for this boxscore line/scoring nightmare:
Tovar p, c, 1b, 2b, ss, 3b, lf, cf, rf
He was even better in 1969, hitting .288 with 45 steals--including back-to-back steals of home with Rod Carew on May 18--and then hit .300/.356/.442 with 120 runs in 1970. Even those career-best numbers seem unspectacular by today's standards, but like other raw stats from the 1960s and 1970s context is key. Not only did he lead the league in doubles while ranking among the top 10 in runs, hits, and total bases, Tovar did so in a horrible hitting environment.
In other words, not all .300/.356/.442 lines are created equal. Tovar played for the Twins from 1965 to 1972 and during that time the AL as a whole batted .255/.327/.382. Had he instead played for the Twins from, say, 1995 to 2002, the AL as a whole would have hit .271/.341/.432 for a difference in overall production of about 10 percent. If you adjust his 1965-1972 numbers to the 1995-2002 offensive levels, here's what you get instead:
YEAR      AVG      OBP      SLG      OPS     OPS+
1966     .280     .342     .373     .715      85
1967     .291     .343     .423     .766      98
1968     .308     .353     .452     .805     106
1969     .309     .347     .469     .816     108
1970     .330     .375     .510     .885     117
1971     .331     .365     .419     .784     104
1972     .289     .346     .401     .747      94
TOTAL    .310     .357     .442     .799     102

Suddenly that 1970 campaign is a monster season and Tovar is a perennial .300 hitter whose career numbers with the Twins jump all the way from .281/.337/.377 to .310/.357/.442, which is certainly much more easily recognized as impressive. His era-adjusted numbers also show a textbook aging curve in that he started slowly at age 25, peaked from 27 to 29, and gradually declined into his early 30s.
Interestingly, as Tovar improved offensively he also stopped moving around the diamond so much defensively. Tovar was primarily an outfielder by 1970, starting 125 games in center field and another 21 in left field compared to a total of just 10 starts as an infielder. He saw 145 of his 150 starts in the outfield in 1971 and was exclusively an outfielder in 1972, his final season in Minnesota.
After hitting poorly as the primary right fielder on a 77-win team, the Twins traded Tovar to the Phillies for Joe Lis, Ken Sanders, and Ken Reynolds in November of 1972. Just as Arrigo never amounted to much after going to Cincinnati in exchange for Tovar back in 1964, none of those three provided much value to the Twins. Tovar hit .268/.335/.357 in Philadelphia, splitting time at third base with a struggling 23-year-old rookie named Mike Schmidt.
He had a brief resurgence after joining the Rangers in 1974, starting 136 of 162 games and hitting .292/.357/.377 as the primary leadoff man for Billy Martin, who'd managed the Twins in 1969 when Tovar hit hit .288/.342/.415 with 45 steals as a 28-year-old. He remained a regular for Texas in 1975, but declined to .258/.306/.316 before being let go in August, finishing the season in Oakland. He played for the A's and Yankees in 1976, hitting .167 in his final season.
TOP 25 ALL-TIME MINNESOTA TWINS RANKS
Steals                186     3rd
Triples                45     7th
Hits                 1164     9th
Runs                  646     9th
Plate Appearances    4595    10th
Times On Base        1531    11th
Games                1090    12th
Doubles               193    12th
Runs Created          549    13th
Total Bases          1561    15th
Extra-Base Hits       276    19th
Batting Average      .281    21st
Walks                 299    22nd