September 12, 2011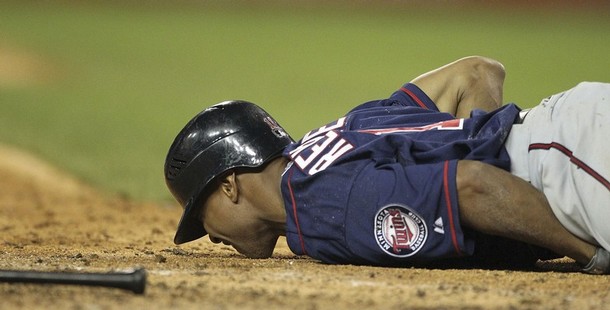 • If the Twins' season was a fight the corner would've thrown in the towel several rounds ago, as they've now lost 12 of the past 13 series, including seven in a row. Since climbing to 50-56 on July 29 to convince the front office not to become sellers at the trading deadline the Twins have gone 9-31, which is the second-worst 40-game stretch in team history ahead of only the miserable 1982 season.
That year the Twins lost 100 games for the first and only time, going 60-102 while trading both Roy Smalley and Butch Wynegar to the Yankees and breaking in rookies Kent Hrbek, Frank Viola, Gary Gaetti, Tom Brunansky, Randy Bush, and Tim Laudner. In retrospect that mess was the start of a rebuilding process that led to a championship five years later and a second title four years after that, but it's hard to imagine 2011 in similar context.
There are 16 games remaining and the Twins must go just 4-12 to avoid the second 100-loss season in team history, which sounds fairly simple except for the fact that they're 4-12 in their last 16 games and also went 4-12 in the 16 games before that. They've already lost five more games than any other team in the Ron Gardenhire era and are a near-lock to finish with the fewest wins since the 1999 team went 63-97 under Tom Kelly.
I was born in 1983, so there's a good chance this will be the worst Twins team of my lifetime. They're now in last place, two games behind the Royals, and in a virtual tie with the Orioles for the AL's worst record. They won't be able to catch the Astros for baseball's worst record, but the Twins' run differential of -160 is within range of Houston at -163. Toss in the $115 million payroll with contender expectations and this might be the worst season in Twins history.
• As ugly as things are in Minnesota they weren't any prettier at Triple-A, where manager Tom Nieto and hitting coach Floyd Rayford got fired after Rochester had consecutive 90-loss years for the first time since 1903/1904. Wins and losses aren't the most important aspect of minor-league coaching, but the Twins have been critical of the job the Rochester staff did preparing prospects for the majors and recent talk of a "shakeup" in the farm system sealed Nieto's fate.
Nieto can't be blamed for nearly all of his best players being called up to Minnesota because of the Twins' never-ending injuries and the Triple-A roster was hardly filled with top-notch young talent to begin with, but that doesn't preclude Rochester's staff from also doing a sub par job. Minor league director Jim Rantz explained that "these changes in Rochester are just part of an overall directional change that's being implemented throughout the minor league system."
• After firing Nieto and Rayford general manager Bill Smith talked about how the Twins "aren't living up to our end of the affiliation" with Rochester, which he discussed much further during a lengthy interview with Jim Mandelaro of the Rochester Democrat and Chronicle. Smith made it clear that the Twins want to continue their partnership with Rochester, but the affiliation deal ends after next season and they haven't had a winning record since going 74-70 in 2008.
• Phil Mackey of 1500-ESPN wrote an interesting article about the Twins' training staff, which has come under fire in a big way this season after several years of occasional criticism. Mackey notes that they'd already added a part-time chiropractor and part-time deep-tissue massage therapist in addition to a third trainer who "stays behind at Target Field with injured players to do more one-on-one work."
• Chuck James was designated for assignment to clear a 40-man roster space for September call-up Liam Hendriks and passed through waivers unclaimed, so he remains at Triple-A but is no longer on the 40-man roster. James was fantastic at Rochester, throwing 63 innings with a 2.30 ERA and 67-to-27 strikeout-to-walk ratio, but he struggled in 10 innings for the Twins and they never seemed particularly interested in giving the 29-year-old lefty an extended chance.
• Tigers manager Jim Leyland is "thrilled" with what he's seen from Delmon Young so far:
We're thrilled with that acquisition. It's worked out pretty good so far, and when he steps in that batter's box he's a man. He's going to get his rips and has a pretty good idea how to hit and what pitchers do.
Obviously seeing Young play well elsewhere is frustrating for Twins fans, but his convincing the Tigers to keep him for $7 million next season and perhaps even give him a multi-year contract might not be such a bad thing over the long haul. Young is hitting .297 with a .465 slugging percentage in 25 games for Detroit, but also has just one walk and a .305 on-base percentage in 110 plate appearances.
• Jim Thome hasn't fared nearly as well in Cleveland, batting just .239/.314/.348 in 13 games, and the Indians haven't been able to keep pace with the suddenly unbeatable Tigers. When the Indians acquired Thome they were 6.0 games out of first place with 35 games to play, yet despite going 9-8 since the trade they're now 11.0 games back with 18 games to play. Thome is in danger of finishing with an OPS below .800 for just the second time in his career.
• Joe Mauer has played in 71 of 78 games since coming off the disabled list in mid-June and is batting .316/.388/.412 in his last 260 plate appearances, including .354 with two homers, four doubles, and seven walks in his last 14 games. Even in what has been an incredibly frustrating and disappointing season for Mauer he leads the Twins in batting average (.290) and on-base percentage (.358). His future defensively is unclear, but it's nice to know the bat still works.
• Ben Revere has a .283 slugging percentage, which is the lowest mark by any MLB outfielder with at least 400 plate appearances since Gerald Young of the Astros slugged .276 in 1989. Revere also has a .295 on-base percentage and the last MLB outfielder to bat 400-plus times with a slugging percentage below .283 and an on-base percentage below .295 is Gary Pettis of the Tigers in 1988. Also in 1988? Revere was born in Atlanta, Georgia on May 3.
• Drew Butera went 0-for-2 yesterday and is hitting .161/.198/.232 in 225 plate appearances overall. To put that in some context, NL pitchers are hitting .141/.177/.184 this season. Here's a list of all the players since 1920 to bat at least 225 times with an OPS of .430 or lower:
                  YEAR      PA      OPS
Brandon Wood      2010     243     .382
Tony Pena         2008     235     .398
Ray Oyler         1968     247     .399
John Vukovich     1971     233     .400
DREW BUTERA       2011     225     .430
Four players in the past 92 seasons have batted as many times as Butera with a lower OPS.
• Brad Pitt plays A's general manager Billy Beane in the soon-to-be-released Moneyball movie, but who should play Gardenhire in the movie version of Gardyball? I vote for Jeff Bridges.
• Last but not least: This might qualify as "not safe for work" depending on where you work, but Michael Cuddyer posted a picture of the Twins' annual hazing ritual of rookies dressing up in costumes. It's a lot bigger group than usual this season because at this point half the roster is rookies, including Rene Tosoni dressing up as a trench coat-wearing flasher who appears to have gone to the same prosthetic maker as Mark Wahlberg in Boogie Nights: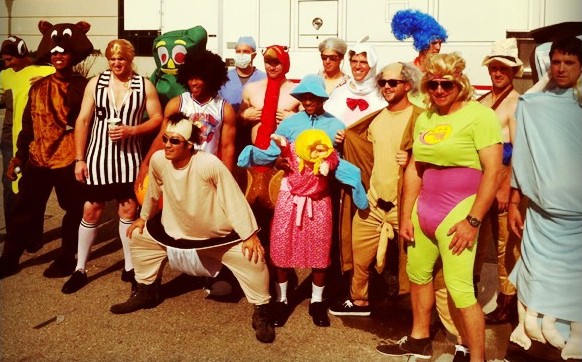 This week's content is sponsored by the Minnesota law firm Snyder Gislason Frasier LLC, so please help support AG.com by considering them for your legal needs.