September 5, 2013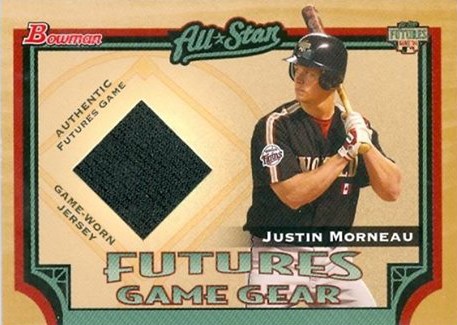 In the wake of the Twins trading Justin Morneau to the Pirates last week I thought it would be interesting to search through the AG.com archives for the earliest things I wrote about Morneau. For instance, here's some of what I wrote on June 10, 2003 when the Twins called up Morneau for his MLB debut:
The Twins have not had a real, bona fide, scare-the-s***-out-of-the-other-team slugger in the middle of their lineup since ... well, since I've been on this earth. Even with the offensive explosion of the 1990s and the benefit of playing in the "Homer Dome" throughout the 1980s (it is no longer a great place to hit homers), the most home runs a Twin has hit since I was born in 1983 is 34. Over that same time span, there have been 273 instances when a non-Minnesota player has hit 34 or more home runs.

...

Twins fans, our long-awaited long ball savior may finally be here. Backup infielder Chris Gomez went on the disabled list with a serious knee injury over the weekend and, in his place, the Twins decided not to recall Todd Sears or Michael Cuddyer. Instead, they brought up 22-year-old first base prospect Justin Morneau, one of the best--if not the best--hitting prospects in all of baseball.

I was extremely shocked by this move. It has not been the Twins' style recently to give a young, unestablished player precedence over more established and mature players. But Justin Morneau appears to be a little different than the average Twins prospect. He is potentially a step above Corey Koskie and Jacque Jones and Doug Mientkiewicz and Bobby Kielty and even Torii Hunter and Michael Cuddyer. Morneau is potentially an elite offensive player, a major force in the middle of the lineup, a bona fide scare-the-s***-out-of-your-opponent slugger.

...

Morneau reminds me a lot of Fred McGriff at the plate. He's got a very compact batting stance for a big guy and his swing follow-through is the same one-handed, twirl-the-bat-above-the-head one that McGriff has been featuring for the last 20 years or so.
At the time I was 20 years old and Morneau was 22 years old. Sure enough he became the first Twins hitter since 1987 to reach 30 homers, going deep 34 times in 2006, and Morneau reached 30 homers again in 2007 and 2009. And a decade later that Fred McGriff-style follow-through is one of my latest memories of his Twins career.
Here's some of what I wrote on August 1, 2004 when the Twins traded Doug Mientkiewicz to the Red Sox to clear first base for Morneau:
Morneau is everything that Mientkiewicz is not. He is young, he is cheap, he is a highly thought of prospect, he has incredible potential, and he has big-time power and a lack of defensive skills. When Mientkiewicz is hitting .300, smacking doubles and getting on base, you can make the case that he shouldn't have been pushed aside for Morneau. But as his average dipped and his lack of power production was magnified, the Twins had little choice but to move on.

...

I'll miss Mientkiewicz, but if Twins fans let him Morneau will make them forget all about Mientkiewicz.
Mientkiewicz was never again an everyday player after leaving the Twins and hit a grand total of just 23 homers in five-and-a-half seasons following the trade. Morneau hit 19 homers in 74 games after replacing Mientkiewicz in mid-2004. And his defense even proved a lot better than expected.
Here's some of what I wrote on August 14, 2004, two weeks into Morneau's decade-long tenure as the Twins' starting first baseman:
Justin Morneau is a monster. He hits 'em out to right field, he hits 'em out to center field, and he hits 'em out to left field. Sure, he's got some flaws--he swings at anything high and inside and he doesn't draw any walks--but he's 23 years old and he's got more power than anyone the Twins have had in at least three decades.

In my dozen or so years as a Twins fan, Morneau is the first hitter whom I actually get excited to watch every time he comes to the plate. There's just always the threat that he might launch something 450 feet.

...

I was thinking about this the other day, about how young Mauer is and how young Morneau is, and I realized the Twins are in pretty good shape when it comes to their future. It could be argued that the team's three best players are Johan Santana, Mauer and Morneau. Those three are 25, 21, and 23 years old, respectively.
All those three turned into were a pair of MVP winners and a two-time Cy Young winner. And now I'm 30 years old and Morneau is 32 years old and the Twins are once again getting excited about their young future stars.
---
This week's blog content is sponsored by Ticket King, a local ticket broker that doesn't charge check-out fees, offers in-store pickup, and specializes in Twins tickets. Please support them for supporting AG.com.