July 22, 2011
This week's Link-O-Rama is sponsored by Wholesale Gold and Diamond Distributors in Minneapolis, so please help support AG.com by considering them for your jewelry needs ...
• Not that it was ever tough to sell me bacon in the first place, but this is especially effective.
• Bruce Willis has never looked so good.
• Earlier this week the Twins sold $391,000 worth of bobblehead dolls in one day.
• Jay-Z and Kanye West teaming up for the sample-filled song "Otis" is interesting, but mostly just reminds me how awesome Otis Redding was.
• Sure, but at least it's a really great face.
• Congratulations to Jonah Hill for losing a ton of weight, although unfortunately for his career this means Hollywood will have to find a new fat guy to co-star in every comedy movie.
• David Brauer of MinnPost reports that Chip Scoggins will soon become the Minneapolis Star Tribune's newest sports columnist after years of covering the Vikings alongside Judd Zulgad.
• Someone tell Adrian Peterson to get in line.
• I'm still grieving the end of Friday Night Lights, but Connie Britton has already moved on.
• Friday Night Lights was able to squeak out five great seasons despite poor ratings, but sadly the similarly underrated and underwatched TNT show Men of a Certain Age isn't so lucky.
• Cleveland starter Justin Masterson shut out the Twins for 7.2 innings Tuesday night despite throwing a fastball on 103 of his 104 pitches.
• If you turned off last night's Twins game early, you missed Wilson Betemit make one of the worst throws in baseball history.
• I've never seen an episode of iCarly and presumably never will, but there's a big The Wire fan on their writing staff who deserves credit for this scene:
For anyone not smart enough to have watched The Wire already, here's the original scene.
• I'm not sure if Ron Gardenhire really loves Japan women's soccer, but we definitely know he pays off his bets.
• Rochester lost 18-3 yesterday and Toby Gardenhire threw a scoreless ninth inning.
• I'm hoping Rihanna has started a new fashion trend for exceptionally good-looking women.
• His bat no longer works like it once did, but Torii Hunter celebrated his 36th birthday earlier this week by announcing that he doesn't have erectile dysfunction.
• Grantland inducted my favorite book of all time, Ball Four, into their sports book Hall of Fame.
• It's been more than a decade and this still makes me sad and furious at the same time.
• As usual, things are going really well for the Canseco brothers. Jose has had a tough week.
• Paz de la Huerta gives good interview, particularly for an insane person.
• Tuesday night's Conan had Marc Maron and Susan Tedeschi, which means they were just a Mila Kunis short of creating a show specifically for me.
• Wonderful news for Jenna Fischer is slightly less wonderful news for her Official Fantasy Girl of AG.com candidacy and The Office.
• Danny Valencia and Chris Perez had a sleepover.
• Michael Rand posted a picture of what his Minneapolis Star Tribune colleague Patrick Reusse looked like in the 1970s and it's way too good not to share: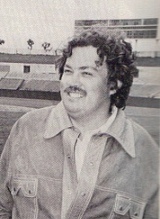 Mind. Blown.
• Howard Stern won't take him back, so Artie Lange is doing a new sports radio show.
• Listening to Jonah Keri's podcast as Jon Weisman brought up my name and said nice things about me pretty much made my week. Us original baseball bloggers have to stick together.
• I actually thought about flying to Philadelphia just to steal all the tea.
• Congratulations to Sam Miller for his new gig at Baseball Prospectus and congratulations to Baseball Prospectus for hiring one of the best baseball writers around.
• Ozzie is getting upset.
• One of my favorite writers, Clay Travis, launched a new site called Outkick The Coverage.
• Podcast recommendation: Nick Adams was great as a guest co-host on "Jordan, Jesse, Go!"
• I've extended the AG.com "sponsor of the week" program into September and October, so if you're interested in reserving a spot check out the details and current openings.
• Finally, this week's AG.com-approved music video is Tedeschi and her husband Derek Trucks doing a live cover version of "Don't Think Twice, It's All Right" by Bob Dylan: