November 11, 2015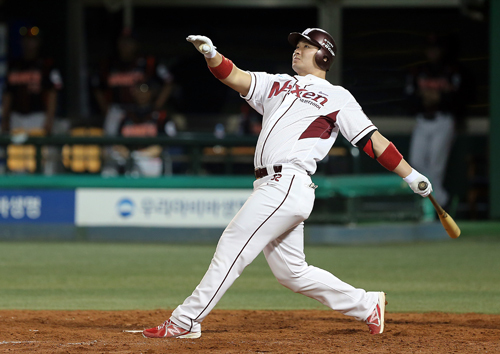 In one of the most unexpected, out-of-nowhere moves in team history the Twins out-bid 29 other MLB teams for exclusive negotiating rights to Korean first baseman Byung-ho Park. Their high bid was $12.85 million, which goes to his Korean Baseball Organization team for a 30-day window in which to negotiate a separate contract with Park. If the two sides fail to reach an agreement the $12.85 million would be refunded to the Twins in full and Park would remain in Korea.
Park has won multiple MVP awards and had a monster 2015 in which he hit .343/.436/.714 with 53 homers in 140 games, so MLB teams bidding for the 29-year-old's rights has been a fairly big story. Nearly every team was linked to Park and national reporters whittled down possible landing spots by identifying 26 of 30 teams as not the high bidders. Monday morning people started doing the Twins-related math and about an hour later news broke that they were the winners.
There are three key questions surrounding Park right now. One is the Twins' chances of actually signing him and how much he'll cost if they do, which is difficult to predict other than to say they intend to sign him and the price tag figures to be reasonable compared to MLB free agents. Last offseason the Pirates won the negotiating rights to Korean shortstop Jung Ho Kang for $5 million and signed him to a four-year, $11 million deal, but Kang's success raised the bar for Park.
Assuming he signs the next question is how he fits in the lineup. It's not a seamless fit given the existing logjam of first basemen, corner outfielders, and designated hitters, but there are simple solutions. Two weeks ago I wrote about the possibility of trading third baseman Trevor Plouffe and moving Miguel Sano to third base, which would open up the DH spot for Park or Joe Mauer. Recently the Twins have talked about giving Sano some outfield action, which might also work.
Whatever the case, getting Park's right-handed power bat into the lineup is certainly doable and the Twins clearly believe he has big-time upside. His jaw-dropping raw numbers during the past three seasons include hitting .322 with an 1.100 OPS while averaging 55 homers and 100 walks per 150 games, but beyond that the Twins have scouted Park extensively in Korea and feel his skill set will translate to middle-of-the-order power in America.
Their scouts may be proven wrong and the lack of data points for KBO-to-MLB transitions makes accurate statistical projections even more difficult than usual, but Kang's success with the Pirates this year is reason for optimism and if nothing else everyone seems to agree that Park has huge raw power. His ability to control the strike zone and make consistent contact are both potential red flags, but the same can be said of untested-in-MLB power hitters from any country.
Park is a gamble, but the money being invested isn't especially huge in an MLB-wide context and he can provide a sizable payoff without even approaching his absurd numbers in Korea. This year MLB first basemen and DHs combined to hit .260/.335/.445. Plouffe has hit .245/.308/.420 for his career. Oswaldo Arcia is at .243/.305/.437. Kennys Vargas is at .259/.299/.408. You get the idea. Those are the standards to which Park should be held.
Park wasn't just good in Korea, he was special. For three years he hit .320 with 50-homer power and 100-walk plate discipline, producing an OPS that led the KBO in 2013, ranked second behind Kang in 2014, and ranked second behind Eric Thames in 2015. Kang headed to America after leading the KBO in OPS two years ago and then hit .287/.355/.461 with 15 homers in 126 games for the Pirates as a 28-year-old rookie, including .310/.364/.548 in the second half.
Thames did the opposite, going to the KBO after struggling to establish himself in MLB as an American-born former Blue Jays prospect and because of that he provides a much less optimistic example. However, even Thames isn't necessarily cause for Park pessimism. For one thing he was hardly a disaster in MLB, hitting .250/.296/.431 with 21 homers in 181 games. Thames' career OPS in MLB is .727. By comparison, Plouffe's career OPS is .728.
Beyond that Thames received fewer than 700 plate appearances in the majors, last played in MLB at age 25, and hit .312/.389/.506 in 200 career games at Triple-A. Considering he posted a .727 OPS in limited playing time through age 25 after faring well at Triple-A it's not a stretch to think he eventually would have developed into a .750-.800 OPS hitter if given more opportunity. At the very least, Thames thriving in Korea isn't reason to brush off Park thriving in Korea.
Obviously the Twins are hoping Park hits .290 with 30 homers and lots of walks. Because of his high strikeout rate in Korea and the uncertainty surrounding his skill set attached to the elite raw power it's also possible he'll fit more into the category of low-average, high-power righty bats like Mike Napoli and Josh Willingham on the high end or Mark Reynolds and Chris Carter on the low end. And there are viable worst-case scenarios too, of course.
Ultimately this comes down to the Twins' international scouting department properly evaluating Park's potential. There's plenty of reason to be skeptical about that related to their track record and Park specifically, but the cost to find out is likely in the same middle range as contracts they gave to "proven" MLB veterans like Phil Hughes, Ervin Santana, and Ricky Nolasco. And if they're right about Park the Twins get a middle-of-the-order bat for a below-market price tag.
---
For a lot more about Park and the domino effect his arrival has on the Twins' lineup and offseason plans, check out this week's "Gleeman and The Geek" episode.