August 27, 2010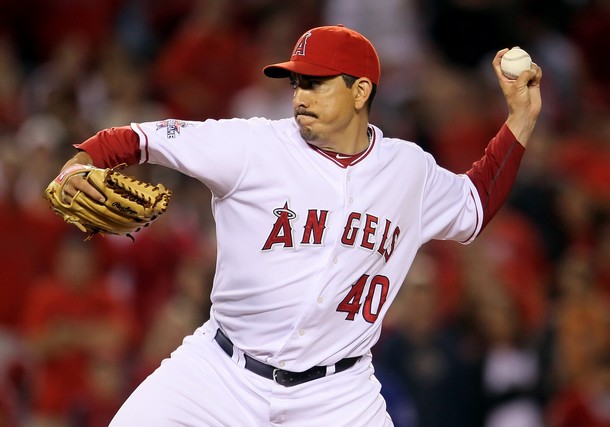 Earlier this week the Twins added Randy Flores, a 34-year-old southpaw reliever who's an iffy fit for the "left-handed specialist" role because he's a marginal big leaguer and not particularly effective against left-handed hitters. Friday evening they added another 34-year-old southpaw reliever by sending a player to be named later to the Angels for Brian Fuentes, but if anything the four-time All-Star and longtime closer is actually vastly overqualified for the same gig.
I'm not sure what the Twins ever saw in Flores, against whom left-handed hitters have batted .290 with a .470 slugging percentage in his last 120 innings, but there's no such mystery with Fuentes. He's no longer the elite reliever he was for the Rockies from 2002-2008, but with his funky sidearm delivery and fastball-slider combo Fuentes remains death to left-handed batters and is potentially still good enough versus righties to be significantly more than a specialist.
Fuentes is perhaps one of the most underrated relievers of this era, posting a 3.48 ERA in 515 career innings despite calling Coors Field home for most of that time. Among all active relievers with at least 500 lifetime appearances Fuentes' adjusted ERA+ of 137 ranks seventh, behind only Mariano Rivera, Billy Wagner, Francisco Rodriguez, Trevor Hoffman, Joe Nathan, and Francisco Cordero. He's no longer quite at that level, but he's a massive upgrade over Flores.
Fuentes has been nearly unhittable against left-handed batters this season, holding them to a .132 batting average and .158 slugging percentage in 44 plate appearances. You can blame the small sample size on opposing managers doing whatever they can to avoid letting lefties face Fuentes, and while no one is that good versus lefties over a larger sample during the past three years Fuentes also held them to a combined .213/.284/.276 line in 192 trips to the plate.
Fuentes was also very strong against right-handed hitters during that same three-year span, limiting them to a .224/.313/.349 mark that, for example, compares well to Matt Capps' career .260/.298/.396 line versus righties. This year Fuentes has allowed a .465 slugging percentage against righties due to five homers and nine doubles in 101 at-bats, but small-sample power numbers can be fluky and he's still held them to a .228 average and .328 on-base percentage.
Based on his 2007-2009 performance Fuentes is now the best reliever on the team. Based on his slightly less dominant performance this season Fuentes is now the best option on the team versus lefties and a capable option against righties. Assuming the player to be named later is no one special this is an ideal stretch-run pickup for the Twins, who add one of MLB's truly elite lefty-on-lefty relievers and someone capable of getting late-inning outs versus righties as well.
I'm hopeful that Ron Gardenhire recognizes Fuentes' strong track record against right-handed hitters and is willing to use him as more of a setup man than a pure lefty specialist, because Fuentes and the new-and-improved, slider-slinging Jesse Crain setting up Capps should be a very effective late-inning trio while leaving Matt Guerrier, Jon Rauch, and perhaps eventually Jose Mijares to work the middle innings. And if not, Fuentes can just shut down lefties.
Fuentes is in the second year of a two-year, $17.5 million deal and is owed $1.9 million for the rest of 2010. His contract also has a $9 million option for 2011 that vests if he has 55 games finished this year, but with just 33 so far it isn't an issue. PTBNLs always make me nervous, but as long as the prospect proves palatable this is a sound move and in fact adding a quality arm so cheaply makes me question trading Wilson Ramos for Capps even more than before.