April 27, 2015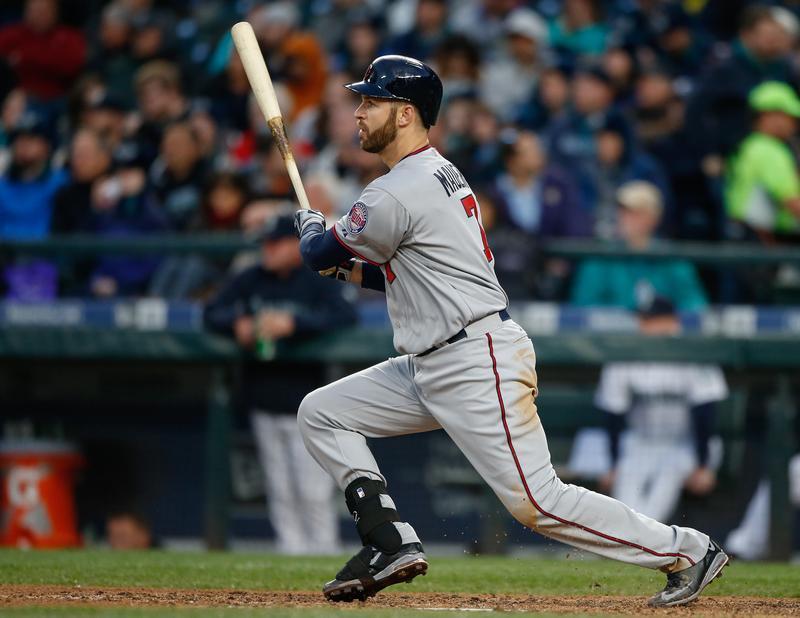 • He's still not showing any power, but Joe Mauer is doing his usual thing (.299 batting average, .392 on-base percentage, 11/11 K/BB ratio) despite dramatically changing his approach at the plate by being more aggressive early in counts and pulling more balls in the air. Whether it will ultimately lead to a better overall performance remains to be seen since it's tough to improve upon a lifetime .318 AVG and .401 OBP, but the new approach is more likely to generate power.
• Mauer is 13-for-34 (.382) against left-handed pitchers this year and has hit .296 with a .368 on-base percentage off lefties for his career. Among everyone since 1965 the only left-handed hitters with a higher career batting average and on-base percentage vs. left-handers than Mauer are Tony Gwynn, Rod Carew, Todd Helton, Larry Walker, and Wade Boggs. So three Hall of Famers and two near Hall of Famers who called Coors Field home. No platoon needed.
• Phil Hughes hasn't pitched particularly well, but his 0-4 record is misleading thanks to awful run support and he's performed better than he did through four starts last season:
YEAR    GS      ERA     IP     SO     BB     HR
2014     4     6.43     21     20      6      3
2015     4     4.39     27     22      2      6
Keeping the ball in the ballpark has been a career-long struggle for Hughes, so serving up six home runs in four starts certainly isn't a positive thing, but everything else is encouraging and Hughes really didn't start rolling last season until May.
• Kyle Gibson continues to be difficult to evaluate because for all the talk of his raw stuff being good he can't generate strikeouts and his control has been poor. Through four starts he has twice as many walks (12) as strikeouts (6) in 22 innings and his career strikeout rate of 5.1 per nine innings in a high-strikeout era puts him in the same category as guys like Scott Diamond, Joe Mays, and Nick Blackburn who couldn't sustain their early success.
• Casey Fien returning from a minor injury has really helped stabilize the bullpen after what was a horrendous start to the season. Not only is Fien clearly the best non-Glen Perkins option in the bullpen--he has a 3.47 ERA and 159/31 K/BB ratio in 169 innings for the Twins--counting on him as the primary setup man has allowed manager Paul Molitor to push replacement-level relievers like Blaine Boyer back into lower-leverage roles.
• On a related note, the sample size is very small but Perkins looks like his usual, pre-injury self after struggling mightily and then being shut down in September last season. His velocity is up, he's generating swinging strikes, and he's allowed just one run in eight innings while striking out eight and walking zero. Perkins, who's under team control through 2018, has a 2.84 ERA and 332 strikeouts in 317 career innings as a reliever.
• Danny Santana hit .319 as a rookie, but his inflated batting average on balls in play, bad plate discipline, and underwhelming track record all suggested he was over his head. Sure enough he's turned back into a pumpkin, hitting .210 with 20 strikeouts and zero walks in 15 games. Santana has 118 strikeouts and 19 walks in 116 total games for the Twins after averaging 91 strikeouts and 23 walks per 116 games at Double-A/Triple-A. That's not the approach of a leadoff man.
• Santana "leads" all American League hitters by swinging at 50 percent of the pitches he's seen outside of the strike zone. Kennys Vargas and Torii Hunter have swung at 40 percent of pitches outside the strike zone, giving the Twins three of the league's nine worst hackers. Santana is still very young and has plenty of talent, but there's a reason his rookie success came as such a big surprise after he hit just .273/.317/.391 in the minors.
• Ron Gardenhire is officially looking for another managing gig. He hired an agent for the first time in two decades and is said to be "willing to consider virtually any position." He's still being paid by the Twins in the final season of his contract, but Gardenhire figures to be a popular name brought up by fans and media members to replace managers on the hot seat. He has a 612-685 (.471) record, one 90-win season, four 90-loss seasons, and zero playoff wins since 2007.
• No. 1 prospect Byron Buxton and No. 2 prospect Miguel Sano are both hitting below .200 at Double-A after injury wrecked 2014 seasons, so don't expect to see that particular cavalry arriving at Target Field anytime soon. However, there's plenty of potential lineup and bullpen help playing well at Triple-A, including Aaron Hicks, Josmil Pinto, Michael Tonkin, and Lester Oliveros.
• Right-hander Kohl Stewart, who was the No. 4 overall pick in the 2013 draft and ranked No. 5 on my annual list of Twins prospects this year, has been shut down with elbow problems.
• Joe Nathan needs Tommy John elbow surgery, which at age 40 means his career may be over.
---
This week's blog content is sponsored by Uber, which is offering a free ride to first-time users who sign up with the promo code "UberGleeman."