August 6, 2015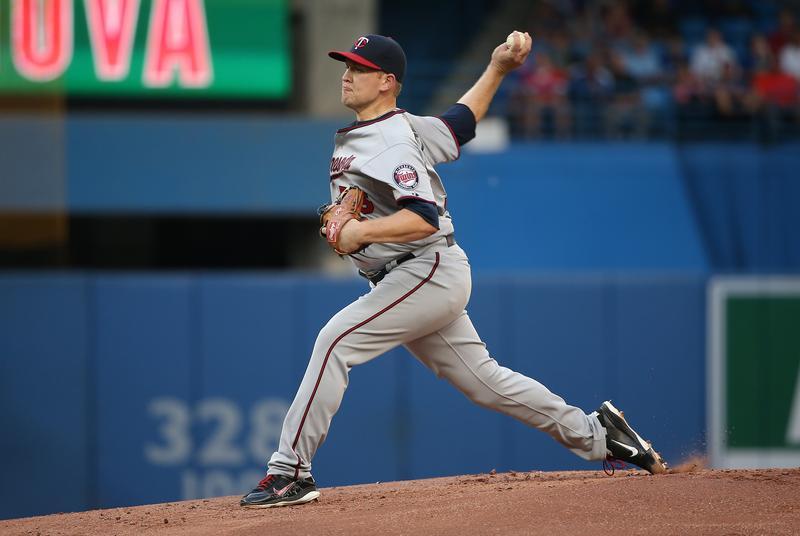 • Tyler Duffey allowed a grand total of one homer in 540 plate appearances between Double-A and Triple-A this season and then served up two homers in his Twins debut, including one to the second MLB hitter he faced. Based on the "game score" statistic Duffey had the seventh-worst debut start in Twins history. Who had the worst? LaTroy Hawkins in 1995. And then 21 years later Hawkins closed out the Blue Jays' win against the Twins in Duffey's debut.
• Trevor May never deserved to be demoted from the rotation to the bullpen in the first place and hopefully the Twins remain committed to him as a long-term starter, but he's looked strong as a reliever. He's got a 3.18 ERA and 10/2 K/BB ratio in 11 innings along with increased velocity, which is probably enough to make him the Twins' best right-handed bullpen option over Blaine Boyer, Casey Fien, and trade deadline pickup Kevin Jepsen.
• Rookie reliever Ryan O'Rourke is living up to the hype of being death to left-handed hitters, who are 2-for-21 (.095) with 11 strikeouts against him since last month's call-up. Using him in a very limited role remains crucial, but the Twins may have found a long-term bullpen piece in the unheralded 27-year-old southpaw. With a strong finish he should be able to secure a spot in next year's Opening Day bullpen, which won't include Brian Duensing.
• Aaron Hicks' improved overall performance is very encouraging from a one-time top prospect who's still just 25 years old, but not being able to hit right-handed pitching remains a big issue. This season he's hit .375/.429/.578 off lefties and .228/.291/.315 off righties. For his career he's hit .288/.374/.466 off lefties and .197/.277/.287 off righties. Hicks is a switch-hitter, but in both the minors and the majors he's shown little ability to be an asset from the left side of the plate.
• Byron Buxton's long-awaited debut was cut short after 11 games by a thumb injury that he's still recovering from six weeks later, but fellow stud prospect Miguel Sano has immediately lived up to the hype. As expected he's struck out a ton and hit for a ton of power, but the 22-year-old has also shown incredible plate discipline with 21 walks in 27 games and an impressive ability to lay off borderline pitches. Twins fans should be thrilled with how he's looked so far.
• There have been occasional signs of life, but sadly Joe Mauer has continued to look like a shell of his former, pre-concussion self. He's hit just .275/.346/.398 in 47 games since I wrote a "What happened to Joe Mauer?" article that examined the numbers since his late-2012 concussion and expressed very little confidence in his getting back on track. Mauer is now in his second season of being a below-average first baseman after a decade of being a Hall of Fame-caliber catcher.
• Danny Santana got a longer leash than most struggling Twins prospects, but he's finally back in the minors after hitting .218/.242/.298 with a ghastly 66/5 K/BB ratio in 74 games and playing mistake-filled defense at shortstop. His great rookie season screamed fluke, but no one could have expected Santana to be this awful as a sophomore. However, his career .272/.316/.392 line and poor strike zone control in the minors are reasons to be skeptical of a big turnaround.
• Liam Hendriks was the Twins minor league pitcher of the year in 2011, but he went 2-13 with a 6.06 ERA in 156 innings as a starter and they lost him on waivers for nothing. Still just 26 years old, he's found a home in Toronto's bullpen with a 2.47 ERA and 50/6 K/BB ratio in 47 innings. As a starter Hendriks always had modest raw stuff, topping out in the low 90s, but this season he's averaging 94.4 miles per hour with his fastball and topping out 97.
---
For a lot more about Jepsen's arrival, Duffey's upside, and Hicks' improvement check out this week's "Gleeman and The Geek" episode with a special guest co-host.