August 21, 2013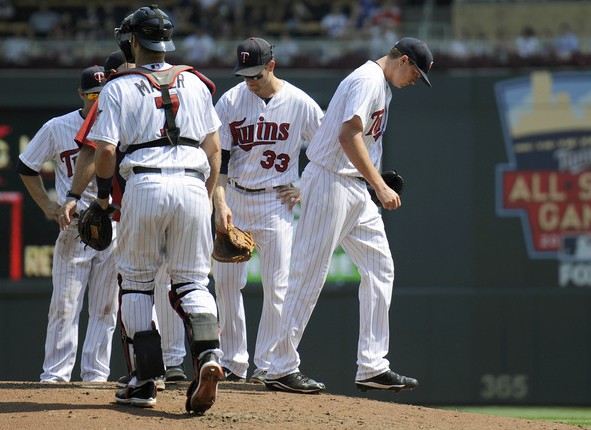 • Kyle Gibson's first taste of the majors likely came to an end Monday, as the Twins demoted him back to Triple-A immediately following his poor outing against the Mets. Gibson pitched well in his Twins debut on June 29, but was mostly a mess after that and returns to Rochester sporting an ugly 6.53 ERA in 10 starts. His secondary numbers are only slightly more encouraging, including just 29 strikeouts in 51 innings and a .327 opponents' batting average with seven homers allowed.
Gibson got knocked around by big-league hitters and looked worn out at times, so considering the expected workload limit in his first full season since elbow surgery shutting him down soon made sense. He's thrown 144 total innings between the majors and minors and by shutting Gibson down after optioning him to Triple-A the Twins keep him from accumulating MLB service time while not pitching, although certainly the demotion could be purely based on performance.
There are some positives to be taken from Gibson's first 10 starts, including an average fastball of 92.2 miles per hour and a ground-ball rate around 50 percent, but the questions about his ability to generate strikeouts remain and overall he looked like anything but a top prospect. Hopefully he can come back strong next season, because Gibson will be 26 years old in a couple months and the Twins desperately need someone to emerge as more than a back-of-the-rotation starter.
• When the Twins traded Drew Butera to the Dodgers on July 31 for a player to be named later or cash considerations my assumption was that their return would be cash and the considerations would be approximately the cost of a bucket of baseballs. Instead they ended up getting Miguel Sulbaran, a diminutive 19-year-old left-hander with a solid track record in the low minors since signing out of Venezuela as a 16-year-old.
As one of the youngest pitchers in the Midwest League this season Sulbaran has a 3.26 ERA and 86-to-26 strikeout-to-walk ratio in 97 innings. For comparison, J.O. Berrios has a 3.45 ERA and 92-to-34 strikeout-to-walk ratio in 94 innings facing the same low Single-A hitters at the same age. Last year the Twins drafted Berrios with the 32nd pick and he has much better raw stuff, so they're hardly prospect equals, but to get any sort of useful player for Butera is shocking.
Sulbaran hasn't cracked any Baseball America or ESPN rankings, but Jonathan Mayo of MLB.com recently rated him as the No. 14 prospect in the Dodgers' farm system. Mayo wrote that Sulbaran "has a good feel for his low-90s fastball" and "his curveball is his best offspeed pitch and both his slider and changeup show promise." Butera is arguably the worst hitter of the past three decades, so any deal would get the "great trade ... who'd we get?" treatment, but this is a nice haul.
• Parting with Butera is the only move the Twins made before the July 31 deadline, but trades can also happen in August via the waiver wire system and they swung another deal by sending Jamey Carroll to the Royals for the familiar player to be named later or cash considerations. If the Twins get anything decent in return for Carroll that would be even more shocking than the Butera deal, because as a 39-year-old impending free agent he had zero value to them beyond this season.
Carroll didn't work out quite as well as the Twins hoped when they signed him as a free agent in November of 2011, but the reasoning behind the two-year, $6.5 million contract made sense. As usual the Twins' infield options were severely lacking and Carroll was a good, versatile defender with strong on-base skills. He did what he was supposed to do in 2012, drawing the third-most walks on the team to get on base at a .343 clip and starting 30-plus games at three positions.
When signing a 37-year-old to a multi-year deal rapid decline is always a risk and unfortunately this season Carroll's usually outstanding strike-zone control vanished and the Twins no longer trusted him to play shortstop at age 39. He was a worthwhile pickup who couldn't hold off father time long enough to provide a great return on a fairly modest investment. And yet among all the middle infielders in Twins history to appear in 150 games only 10 had a better OBP than Carroll.
• As expected, Justin Morneau passed through waivers unclaimed because he's a 32-year-old impending free agent first baseman with a $14 million salary and a .430 slugging percentage. At this point it's unclear if any contending teams are interested in Morneau, but at the very least no teams were interested in Morneau and the possibility of being stuck with the remaining $4 million on his contract.
Clearing waivers means Morneau can be traded to any team, with August 31 as the deadline for postseason eligibility. However, don't expect much if he's moved. Despite a confusing number of fans and media members continuing to act as if Morneau is an impact player he's been a below-average first baseman since the 2010 concussion, batting .257/.317/.409 in 320 games. This year there are 216 major leaguers with at least 300 plate appearances and he ranks 115th in OPS.
• Josh Willingham returning from knee surgery followed by Ryan Doumit coming back from a concussion left the Twins with a roster crunch and they decided to make room by demoting Chris Colabello back to the minors. It's a shame, because Colabello's monstrous Triple-A production warranted an extended opportunity at age 29 and he was just starting to show some promise by hitting .286/.397/.551 with four homers and nine walks in his last 16 games.
Most of the talk surrounding a possible Morneau trade centers on what the Twins might get in return and whether they should try to keep him past this season, but one side effect is that not trading him takes at-bats away from guys like Colabello who could prove useful on a minimum salary for 2014 and beyond if given a chance. Instead, after hitting .354/.432/.652 at Triple-A he got a grand total of 96 plate appearances in the majors.
UPDATE: Well, the good news is that Colabello has already been called back up. Unfortunately it's because Joe Mauer was placed on the concussion disabled list after taking multiple foul tips to the mask Monday. Mauer was dizzy during batting practice Tuesday, which is an awfully scary thing to write following several paragraphs about Morneau being a shell of his former self since a concussion. Brain injuries are impossible to predict, so it's breath-holding time.
• Fort Myers manager Doug Mientkiewicz got into a brawl with the opposing manager Saturday, video of which you can see below courtesy of the Fort Myers News Press:
Because the beginning of the brawl wasn't captured on video it's tough to tell exactly what went on, but by all accounts Mientkiewicz escalated the situation in a huge way by running out of the dugout to tackle the other manager. Twins minor league director Brad Steil issued a statement saying "that's not the example we want him to set for our players" and "he realizes that's not how we want him to represent the Minnesota Twins."
However, general manager Terry Ryan explained that the Twins left any discipline to the Florida State League, saying: "Doug was apologetic. I think it's taken care of." And the FSL merely fined him, providing quite a contrast to the Twins allowing Double-A manager Jeff Smith to bench Miguel Sano four games for showboating on a homer and reacting poorly to being scolded. It's obviously apples and oranges, but imagine Sano tackling another player and only being fined.
• Francisco Liriano is 14-5 with a 2.53 ERA and 126 strikeouts in 121 innings for the first place Pirates, allowing two or fewer runs in 15 of 19 starts while throwing fastballs far less often than he ever did with the Twins. Jenn Menendez of the Pittsburgh Post Gazette wrote a lengthy, quote-filled article about Liriano's post-Twins turnaround, including this comment from Pirates pitching coach Ray Searage:
Because that's Frankie. If I try to make Frankie pitch like [someone else], we wouldn't have what we got. That's force-feeding him to do something that he's not comfortable doing. Frankie does pitch the way he pitches. So just let him be him. That's what we did.
Maybe he simply needed a fresh start somewhere else, but "just let him be him" certainly isn't something Twins coaches said often about Liriano and his improvement can be linked to a clear change in approach that runs counter to what the Twins preached regarding fastball usage. He's averaged 9.4 strikeouts per nine innings for the Pirates, whereas the Twins have used 10 different starters this year and none have averaged more than 5.4 strikeouts per nine innings.
• Whatever slim chance Nick Blackburn had of pitching for the Twins again is over following season-ending knee surgery. Blackburn's contract still includes an $8 million team option for next season, but that will obviously be declined. In signing Blackburn to a misguided long-term deal in March of 2010 the Twins ended up paying $14 million for 408 innings of a 5.56 ERA from a guy who would have been under team control through 2013 even without the guaranteed contract.
• Darin Mastroianni wound up spending four months on the disabled list with an ankle injury that was initially deemed so minor that the Twins let him play through the pain for several weeks. He eventually underwent surgery, but now that Mastroianni is healthy again the Twins activated him from the disabled list and optioned him to Triple-A. In other words, Mastroianni lost his job because of the injury. And his 40-man roster spot might be in danger this offseason.
• For a lot more about Morneau going unclaimed on waivers and a look at the Twins' options for improving the rotation in 2014, check out this week's "Gleeman and The Geek" episode.
---
Interested in sponsoring a week of AG.com and advertising your product, service, local business, or website directly to thousands of readers each day? Click here for details.