April 8, 2014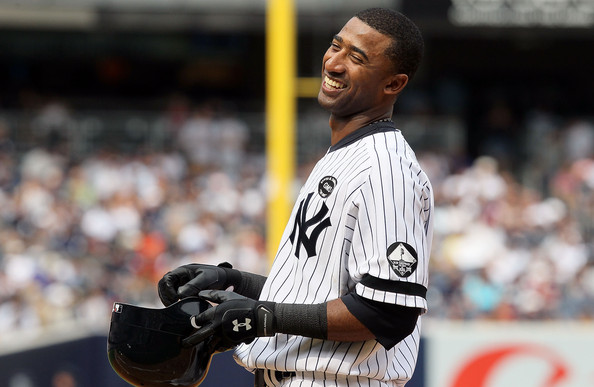 Just a few years ago a not-insignificant number of people in New York talked up Eduardo Nunez as the Yankees' heir apparent to Derek Jeter at shortstop, but that was always pretty far-fetched and now that Jeter is actually ready to retire it looks downright delusional. Nunez's stock dropped so much that last week the Yankees designated him for assignment to clear a 40-man roster spot and yesterday the Twins acquired him for their No. 28 prospect, Miguel Sulbaran.
Nunez proved to be a horrible defensive shortstop when filling in for Jeter, making 30 errors in 1,150 innings (including 124 starts) at the position while Ultimate Zone Rating pegged him as an astounding 31 runs below average. New York also played him occasionally at third base, but his glove rated nearly as poorly there and as a career .267/.313/.379 hitter with even worse numbers at Triple-A his bat is hardly good enough to be an asset at a corner spot.
So what exactly do the Twins want with Nunez? Well, for one thing the price was right. Sulbaran isn't totally without upside, but he's also a Single-A pitcher they acquired from the Dodgers nine months ago in exchange for Drew Butera. Beyond that Nunez is still relatively young at 26 and under team control through 2017, so while he's really only a "middle infielder" like I'm a "radio broadcaster" there's some chance he could be not-horrible at second base or third base.
Mostly, though, the Twins' infield depth is so lacking and the MLB-wide standard for a serviceable backup infielder is so low that it wouldn't take much for Nunez to capably fill the role. He also has a minor-league option remaining, which means for now the Twins can stash him at Triple-A while deciding if they'd rather have Nunez on the roster than, say, the hollowed out remains of Jason Bartlett's skill set.
Nunez isn't a player I'd have given up anything to acquire--can't hit, can't field, and base-stealing isn't worth much on its own--but in general the Twins should be looking to add infield depth and clearly they think his speed and athleticism can still translate into something useful. If the Twins think Nunez represents a viable alternative to Pedro Florimon at shortstop they're likely to be disappointed upon closer inspection, but searching for a viable alternative is a good idea.
---
Advertise your product, service, business, or website to thousands of people each day and support the free content on AG.com by becoming a Sponsor of the Week.