May 31, 2011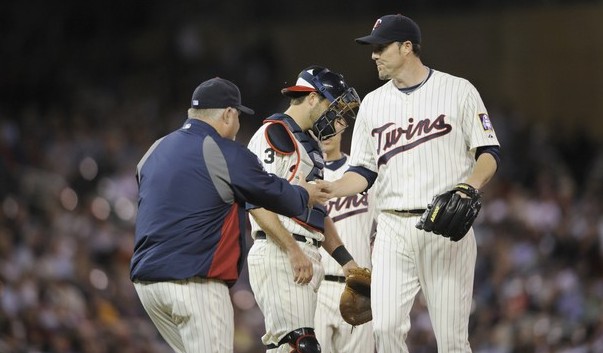 • Joe Nathan's comeback from Tommy John surgery went from bad to worse, as the Twins put him on the disabled list with more elbow pain. The good news is that an MRI exam revealed only inflammation. The bad news is that there's no return timetable and Nathan is "prepared" to be out as long as a month. Tommy John surgery recovery is often said to be 12 months, but as we've seen with Francisco Liriano and now Nathan unfortunately that often isn't the case.
Nathan gradually added velocity after arriving at spring training throwing in the mid-80s, but never approached his pre-surgery stuff and the missing miles per hour also came attached to far worse command. Along with his ERA rising from 2.10 in 2009 to 7.63 this season, Nathan's strikeouts are down 38 percent, his walks are up 50 percent, and his average fastball fell from 93.6 to 91.4 mph. He hasn't been as bad as the 7.63 ERA, but he hasn't been Joe Nathan.
• To replace Nathan in the bullpen the Twins called up Chuck James, for whom the bloggers I read and tweeters I follow have been pining. I'm far from convinced that James can make a big impact, but unlike Dusty Hughes or Phil Dumatrait or Eric Hacker there's at least a chance of James proving to be more than just the latest replacement-level bullpen stopgap. James, like Nathan, is an example of how long the road back from arm surgery can be.
Once upon a time James was a top prospect in the Braves' system, posting great numbers in the minors before debuting in September of 2005. He joined Atlanta's rotation the next season at age 24 and posted a 4.05 ERA with a 207-to-105 strikeout-to-walk ratio in 280 innings over two years before blowing out his shoulder. He missed most of 2008 and all of 2009 following rotator cuff and labrum surgery, returning as a Triple-A reliever for the Nationals last season.
He pitched well with a 2.32 ERA and 69/11 K/BB ratio in 66 innings, signed with the Twins this winter, and forced them to call him up by throwing 29 innings with a 1.57 ERA and 37/9 K/BB ratio out of Rochester's bullpen. James' raw stuff doesn't match those numbers, but even while succeeding as a mid-rotation starter in Atlanta his average fastball was just 88 mph and with 106 strikeouts in 95 innings since returning he's missed bats without overpowering hitters.
Sad as it may be, at this point the Twins' main goals should be to get healthy, play respectable baseball, make some smart trades, and sort out who can help them in 2012. Cycling through more guys like Hughes or Dumatrait accomplishes none of that, but James may still have some upside at age 29. Before surgery he was a young mid-rotation starter with a 4.00 ERA and in coming back he's been a very effective Double-A and Triple-A reliever with great K/BB ratios.
• Trevor Plouffe got off to a fantastic start after being called up from Triple-A to replace Alexi Casilla at shortstop, but the flaws that made him just the 32nd-best Twins prospect heading into the season have since been exposed. Plouffe has 15-homer power and a very strong arm, but that's about it. Or as I wrote in ranking him No. 32 back in February: "A career as a utility man looks like his most realistic upside." Unfortunately the other options aren't any better.
• Liriano's no-hitter got everyone's hopes up and he's sprinkled in a couple of strong outings, but his overall struggles along with decreased velocity suggested something wasn't quite right physically and yesterday the Twins placed him on the DL with shoulder inflammation. For now the official word is that the Twins are hopeful he can return when eligible next week, but then again they initially hoped he'd miss just one start and avoid the DL in the first place.
Compared to last year Liriano's strikeouts are down 36 percent, his walks are up 107 percent, and he's missing 1.7 mph on his average fastball, which is how his ERA has gone from 3.62 to 5.73 and his xFIP has gone from 2.95 to 5.01. Even while posting an impressive-looking 2.52 ERA in four starts this month Liriano also had a sub par 16-to-14 strikeout-to-walk ratio in 25 innings, succeeding because of a ridiculously fortunate .154 batting average on balls in play.
• Anthony Swarzak took a no-hitter into the eighth inning Saturday while starting in Liriano's place against the Angels, so naturally he'll stay in the rotation during the DL stint. However, much like Plouffe the longer Swarzak remains in a prominent role the more obvious his faults will become. He also started very strong as a rookie in 2009, tossing seven shutout innings in his debut and sporting a 3.90 ERA after five starts, only to finish with a 6.25 ERA in 59 innings.
And since then Swarzak has a 5.67 ERA and 94-to-45 strikeout-to-walk ratio in 144 innings at Triple-A, although he was pitching reasonably well prior to the latest call-up. Swarzak may do a nice job filling in for Liriano and may even prove to be a capable back-of-the-rotation starter or middle reliever, but don't let the great first impressions fool you into thinking he's more than a marginal prospect at age 25.
• To replace Liriano on the roster the Twins called up reliever Anthony Slama, who's similar to James this year in that his outstanding minor-league numbers have always screamed out for an extended opportunity. Slama has a 2.11 ERA and 369 strikeouts in 273 total innings in the minors, including a 2.73 ERA and 117 strikeouts in 105 innings at Triple-A, yet he's 27 years old and has just five appearances in the big leagues.
Slama isn't destined to become an elite reliever, but like James there's at least some reason to think he could be useful to the Twins this year and beyond. Obviously having the worst record in baseball at the end of May is a nightmare scenario for the Twins, but hopefully they can find small positives within the huge negative by giving legitimate opportunities to guys like Slama, who deserves 50 innings to sink or swim even if they've never trusted his minor-league stats.
• Danny Valencia batting around .350 for much of his half-season debut last year had many people willing to dismiss his underwhelming minor-league numbers, but he's now played 136 games in the big leagues while hitting .280/.329/.412. He played 120 games at Triple-A and hit .289/.322/.421. Funny how that tends to work. Valencia's defense, however, has been much better than advertised and makes him a solid regular despite a mediocre bat.
• For a while the Twins kept saying Tsuyoshi Nishioka was ahead of schedule in his recovery from a fractured fibula, but he was initially given a 4-6 week timetable on April 7. Monday will be two months since the injury and Nishioka hasn't even started a minor-league rehab stint. When it comes to the Twins and injuries, there's no such thing as "ahead of schedule."
• Orioles manager Buck Showalter was full of praise for Wilson Ramos after an interleague series versus the Nationals, saying: "I love that Ramos kid. He's about as good a young player as I've seen this year. The kid they got from Minnesota. He's really impressive." Ramos has slumped recently, but the 23-year-old's .731 OPS still ranks 14th among the 32 catchers with at least 100 plate appearances and he's the youngest starting catcher in baseball.
• Old friend Brian Fuentes hasn't made many new friends in Oakland, although in fairness it sounds like he's not the first late-inning reliever to have a problem with manager Bob Geren's communication methods.
• Speaking of old friends in Oakland, the A's dealt former Twins minor leaguer Steven Tolleson to the Padres for a player to be named later. Tolleson was never a particularly good prospect, but he looked like a potentially useful role player and ranked 37th on my list last year only to be claimed off waivers by the A's literally the day the rankings were posted in January.
• Dusty Hughes has been a horrendous pickup, but at least Rob Delaney hasn't thrived for the Rays after being waived to make room for Hughes on the Twins' roster. Tampa Bay designated Delaney for assignment, meaning the Twins could potentially use their No. 1 waiver priority to claim him back. Don't count on it, though. He's still my second-favorite Rob Delaney.
• Martire Garcia ranked 31st on my list of the Twins' top prospects after throwing 73 innings with a 3.31 ERA and 93-to-38 strikeout-to-walk ratio between rookie-ball and low Single-A as a 20-year-old. Sent back to Beloit to begin this season, Garcia posted a 5.57 ERA and 22/25 K/BB ratio in 21 innings ... and the Twins released him. Those are ugly numbers, for sure, but there must be a little more to the story too.
• As a team the Twins have an adjusted ERA+ of 84 through 52 games. Among all the pitchers in team history with at least 300 innings Pat Mahomes is the only one with a worse adjusted ERA+ at 81. In other words, after about one-third of the season the Twins have pitched like an entire staff full of Pat Mahomes. And their hitting has been even worse.
• Jim Hoey has a 10.45 ERA in 10 innings. The last Twins pitcher with a higher ERA than Hoey in at least 10 innings was Mike Lincoln, who had a 10.89 ERA in 21 innings in 2000. He went on to post a 2.96 ERA in 113 innings for the Pirates in 2001 and 2002, so perhaps there's still some hope for Hoey yet.
• Last season the Twins allowed 67 runs in the eighth inning. This season they've allowed 51 runs in the eighth inning. And there are still 112 games to go.