June 30, 2011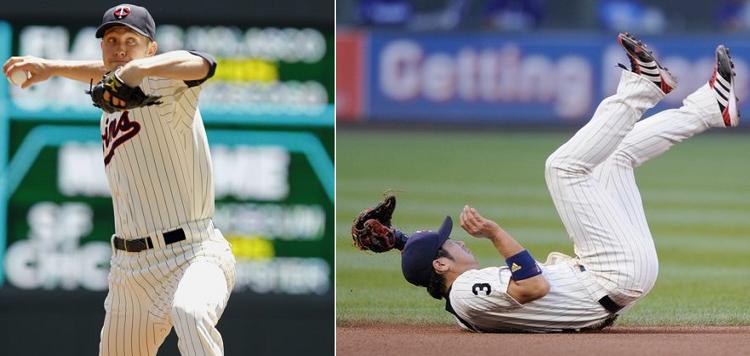 • Scott Baker was excellent again yesterday afternoon, allowing zero or one run for the third time in four starts by shutting out the Dodgers for 7.1 innings. Baker racked up nine strikeouts without a walk until issuing a free pass to the final batter he faced, finishing June with a 1.46 ERA in six starts. And not only does his 3.15 ERA overall this season lead the team by a wide margin, Johan Santana is the only Twins starter with a lower ERA since Kevin Tapani in 1991.
Here are the best single-season ERAs posted by Twins starters during that 20-year span:
                   ERA     YEAR
Johan Santana     2.61     2004
Johan Santana     2.77     2006
Johan Santana     2.87     2005
SCOTT BAKER       3.15     2011
Joe Mays          3.16     2001
John Smiley       3.21     1992
Johan Santana     3.33     2007
Scott Erickson    3.40     1992
Carlos Silva      3.44     2005
SCOTT BAKER       3.45     2008
Two things stand out on the above list. One is that Santana was really amazing, posting four of their top seven marks since 1991. Two is that Baker is really underrated, joining Santana as the only starters to crack the top 10 twice. And unlike, say, Joe Mays in 2001, he isn't doing it with smoke and mirrors, as Baker ranks eighth among AL starters with 8.6 strikeouts per nine innings and seventh in the league with a 101-to-29 strikeout-to-walk ratio in 106 frames.
• Tsuyoshi Nishioka has been considerably less impressive, struggling so much on both sides of the ball that e-mails and comments are beginning to pile up from people wondering exactly what the Twins saw in him that was worth a $14 million investment. Nishioka has batted just .197/.254/.252 in 19 games, showing little power with zero homers and three total extra-base hits in 66 at-bats and terrible strike-zone control with a 17-to-4 strikeout-to-walk ratio.
And as awful as Nishioka's hitting has been his defense might be even worse or at least more discouraging given his reputation as a standout defender with Gold Glove awards at shortstop and second base in Japan. Kaz Matsui showed previously that defensive accolades in Japan don't necessarily transfer to America, proving to be a sub par shortstop despite winning a total of four Gold Glove awards there before signing with the Mets in 2004.
I'm certainly not ready to conclude that Nishioka will follow that same fate after just 19 games, but his arm strength and hands haven't looked nearly reliable enough to be a significant asset at shortstop and moving back to second base would be a scary proposition after breaking his fibula in part due to his lack of comfort with hard-sliding runners around the bag. Joe Mauer is struggling on both sides of the ball too, but he also has a long track record of MVP-level play.
Nishioka had a strong career in Japan, but his MLB projections based on that track record were anything but jaw-dropping. I pegged him for .275/.335/.375 while noting the combination of a high strikeout rate and less power than any previous Japanese imports. He's certainly capable of adjusting and improving at the plate with experience, but it worries me that his glove might not be good enough to make him a big asset even if he reaches the .275/.335/.375 projection.
• J.J. Hardy is hitting .307/.369/.547 with 11 homers, 13 doubles, and one error in 50 games for the Orioles and has started contract extension talks to stay in Baltimore.
• Twins top prospect Kyle Gibson has been named to the United States' roster for the Futures Game during the All-Star break, while preseason No. 8 prospect Liam Hendriks was picked for the World team. I'm always more interested in the Futures Game than the actual All-Star game and alumni of the prospect showcase include Mauer, Justin Morneau, Jason Kubel, Michael Cuddyer, Francisco Liriano, Delmon Young, Ben Revere, Rene Tosoni, and Luke Hughes.
Gibson has an ugly win-loss record thanks to terrible run support, but he's pitched very well at Triple-A as a 23-year-old with a 3.87 ERA and 83-to-21 strikeout-to-walk ratio in 81 innings. He has the International League's third-highest ground-ball rate at 57 percent and ranks sixth in both strikeouts per nine innings and strikeout-to-walk ratio, which adds up to a 3.25 FIP that's fourth-best in the league. He continues to look like a future No. 2 starter and is nearly ready.
Hendriks has followed a breakout 2010 performance between two levels of Single-A by proving it was no fluke with a 2.71 ERA and 74-to-17 strikeout-to-walk ratio in 83 innings at Double-A as a 22-year-old. He's allowed just four homers and has the third-best strikeout-to-walk ratio in the Eastern League, posting a 2.77 FIP that also ranks third-best. If there was a midseason version of my top 40 prospect list the Australian right-hander would join Gibson in the top five.
• Speaking of prospects, Trevor Plouffe has been destroying Triple-A pitching since being sent back down to Rochester four weeks ago and is now hitting .295/.365/.610 with 11 homers in 38 games overall. The bad news is that he's still a career .259/.312/.443 hitter in 323 games at Triple-A and the Twins were so put off by his defense at shortstop that they've been giving him starts in right field. I'm skeptical, but when the alternative is Matt Tolbert, why not?
• LaVelle E. Neal III of the Minneapolis Star Tribune did a nice job mixing reporting and stats for an article about Glen Perkins' success in the bullpen, examining his increased velocity and adjustment to a role change spurred by injuries and struggles as a starter. Perkins has never thrown this well before regardless of role and struck out right-handed-hitting MVP front-runner Matt Kemp in a dominant outing yesterday. He has a 1.93 ERA and 29 strikeouts in 28 innings.
• Old friend Matthew LeCroy managed the All-Star game at high Single-A last week.
• Against all odds, the man in this picture is not me: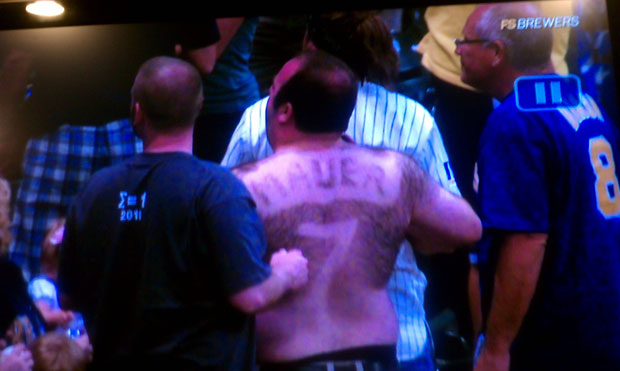 As far as you know, at least.
This week's content is sponsored by Wholesale Gold and Diamond Distributors in Minneapolis, so please help support AG.com by considering them for your jewelry needs.