August 31, 2012
As the Twins head for a second straight 90-loss season one of the few positives about all the losing is that it provides an excuse to give extended looks to marginal prospects, career minor leaguers, and various other players who wouldn't get the same opportunities for a 90-win team. There's a finite amount of playing time available over the course of 162 games and losing teams can squeeze value out of that by uncovering players who might be future assets.
In rare cases giving those chances to players who might not otherwise get them leads to guys like Trevor Plouffe and Scott Diamond emerging as potential long-term building blocks, but most of the time it simply means finding a decent fifth starter or solid middle reliever or capable fourth outfielder. Either way, as they play for little more than draft position and pride down the stretch the Twins can evaluate role players for jobs in 2013 and beyond. Players such as ...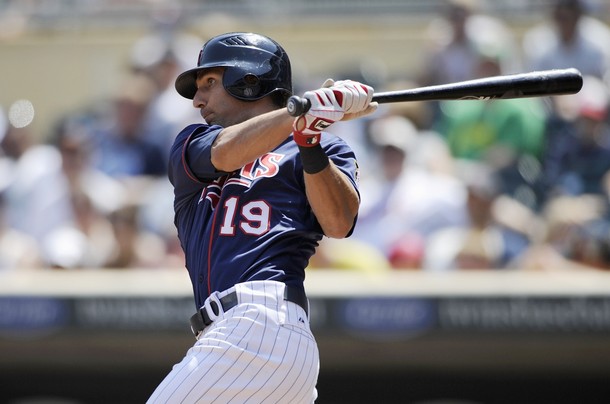 Back in February the Twins claimed Darin Mastroianni off waivers after the 26-year-old former 16th-round pick was designated for assignment by the Blue Jays. Aside from a one-game cup of coffee last season Mastroianni had spent his entire five-year career in Toronto's farm system, including three different stints at Double-A. And that's where the Twins sent him to begin this season after Mastroianni failed to win an Opening Day roster spot in spring training.
He got off to a 5-for-35 (.143) start, but when Rochester's roster was depleted by early injuries and call-ups the Twins promoted Mastroianni to Triple-A anyway. And he showed up with a hot bat, hitting .346 in 20 games, and when the Twins demoted Danny Valencia to Triple-A on May 10 it was Mastroianni who replaced him. He's played sparingly, starting 34 of 100 games, but has shown the speed and on-base skills that were evident in his track record.
Mastroianni has hit .280/.372/.368 in 255 games at Double-A and .290/.365/.395 in 99 games at Triple-A, and per 150 games between the two levels he averaged 80 walks and 55 steals at an 82 percent success rate. When a hitter draws that many walks despite a grand total of just eight Double-A and Triple-A homers in 1,600 plate appearances it shows excellent patience and strike-zone control, and Mastroianni has carried over enough of that to the majors.
Small sample size caveats apply, but through 154 plate appearances he's hit .272 with 14 walks for a .338 on-base percentage. He's also shown a bit more power than expected, going deep three times on the way to a .390 slugging percentage. He's looked great defensively, albeit almost exclusively as a corner outfielder, and has stolen 16 bases at an 89 percent clip. He's been exactly the player his track record showed, with a little extra pop.
He hasn't played much center field because Denard Span and Ben Revere are around and without seeing Mastroianni in action there it's tough to fully evaluate his long-term potential, but he played primarily center field in the minors and given his elite speed it's probably safe to assume he'd be at least decent out there. He's certainly a plus defender and then some in left field and right field, and Mastroianni even has some experience at second base in the minors.
He might be playing a bit over his head offensively, but Mastroianni's on-base skills are legitimately very solid and his speed is spectacular. Toss in the defensive versatility to play all three outfield spots while being an emergency option at second base and Mastroianni looks like an ideal bench player who could potentially platoon with a left-handed-hitting outfielder and wouldn't be overmatched stepping into the everyday lineup on a short-term basis.