January 30, 2013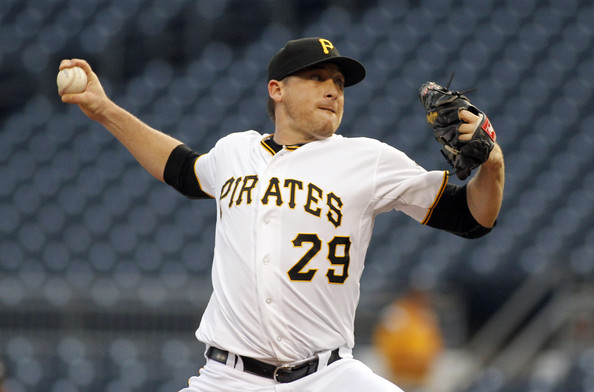 Last week I wrote about how the Twins giving Kevin Correia a two-year, $10 million deal looks even worse now than it did back in December because so many equal or better starters have since signed one-year deals. That list then added another name when Shaun Marcum took a one-year deal from the Mets worth $4 million plus incentives. Marcum is an injury risk, but from 2010-2012 he threw 520 innings with a 3.62 ERA compared to 470 innings with a 4.77 ERA for Correia.
Here's an updated list of free agent starters who signed one-year contracts:
Brett Myers         Indians       $7.0 million
Scott Feldman       Cubs          $6.0 million
Scott Baker         Cubs          $5.5 million
Shaun Marcum        Mets          $4.0 million
Mike Pelfrey        Twins         $4.0 million
Roberto Hernandez   Rays          $3.3 million
Bartolo Colon       Athletics     $3.0 million
Jason Marquis       Padres        $3.0 million
John Lannan         Phillies      $2.5 million
Jeff Karstens       Pirates       $2.5 million
Jair Jurrjens       Orioles       $1.5 million
Jeff Francis        Rockies       $1.5 million
Freddy Garcia       Padres        Minor League
Erik Bedard         Astros        Minor league
Correia has topped 175 innings just once in his career and of the 91 pitchers to throw at least 400 innings as starters since 2010 he ranks 88th in ERA, 76th in xFIP, 81st in strikeout rate, and 80th in strikeout-to-walk ratio. Clearly the Twins are aware of those numbers, so why did they target Correia and feel the need to give him a two-year contract in a market where similar pitchers were available for one-year commitments? Here's what Terry Ryan told Phil Mackey of 1500 ESPN:
Well, I always go back to the scouting evaluation, people that have seen him, and we saw him a lot with the Pirates, and certainly before that when he was with the Padres and the Giants. We like his makeup, he has stuff, we had evaluators tell us and me in particular that this guy is better than the numbers.

I have a lot of faith and trust in people that have seen him, and they were adamant that this guy can help us. ... I don't think we overpaid drastically in this situation. People that know him say that he's a good teammate and all that type of stuff, so you take all of that into consideration. We needed pitching badly, so we went and got him.
I've been very skeptical of the recent talk about the Twins increasing their involvement in and reliance on statistical analysis and that quote is a prime example of why. Correia is 32 years old with a decade-long track record of mediocre or worse pitching, but for the Twins that abundance of data took a backseat to "makeup" and being "a good teammate" and their scouts saying "this guy is better than the numbers."
All of which would be fine if Correia were, say, 24 years old with just a couple hundred innings under his belt. In that case relying on scouting would be hugely important and could potentially give the Twins a significant advantage if done well. But at age 32, with 10 seasons and 1,066 innings of experience, Correia is exactly as good as his numbers. And those numbers include a 4.60 ERA in 159 career starts spent exclusively in the NL and a plummeting strikeout rate.
It's also worth wondering why exactly the Twins are so confident in their scouting when it comes to free agent starting pitchers, because their recent track record isn't pretty. They trusted their scouts and overlooked poor numbers to sign Jason Marquis last year and Livan Hernandez, Ramon Ortiz, and Sidney Ponson before that. Numbers would have told them to stay away from all four pitchers, who combined to throw 302 innings with a 5.90 ERA for $13 million.
I'd certainly like to see the Twins do more than dip their toes in the statistical analysis pool while so many other teams are swimming laps, but out-scouting other teams remains hugely important. In fact, an argument could be made that the value of out-scouting teams has increased as the MLB-wide reliance on statistical analysis has increased. Teams that zig while other teams zag will always have an opportunity to benefit.
Of course, the "out-scouting" part is what makes that actually work. If instead a team is miles behind many other teams in statistical analysis and continues to target players based on scouting that hasn't done a particularly good job ... well, that's an awfully dangerous combination. And unfortunately when it comes to free agent starting pitchers that's exactly where the Twins find themselves and how they ended up overpaying a mediocre-at-best 32-year-old.
For a lot more about the Twins' rotation plans, plus a lengthy interview with Twins president Dave St. Peter, check out this week's "Gleeman and The Geek" episode.
---
This week's blog content is sponsored by Peter David Benson's book "All Babies Suck," which is available on Amazon.com as a free Kindle download. Please support him for supporting AG.com.