August 31, 2013
Waiting until the last moment just hours before the August 31 deadline for postseason eligibility, the Twins traded Justin Morneau to the Pirates for Alex Presley and a player to be named later believed to be Duke Welker, saying goodbye to one of the best hitters in team history after 11 years. Morneau passed through waivers unclaimed two weeks ago, meaning the Twins were able to trade him to any team, but interest in the 32-year-old impending free agent was minimal.
Picked by the Twins in the third round of the 1999 draft out of a Canadian high school, Morneau emerged as a stud prospect in 2001, made his MLB debut in 2003 at age 22, and replaced Doug Mientkiewicz as the starting first baseman in mid-2004. After some initial growing pains he was one of the elite left-handed bats in baseball, hitting for both average and power with low strikeout rates while racking up huge RBI totals behind on-base machine Joe Mauer.
He was named AL MVP in 2006, finished runner-up for the award in 2008, and hit .298/.372/.528 with an average of 30 homers, 40 doubles, and 120 RBIs per 150 games from 2006-2010. That includes hitting .345/.437/.618 with 18 homers through 81 games in what was shaping up to be a career-year in 2010, until Morneau slid into second base trying to break up a double play against the Blue Jays on July 7 in Toronto and took a knee to the helmet.
Morneau suffered a concussion, missed the final three months of the season, and has never been the same, hitting just .256/.316/.412 in 330 games since returning from the brain injury in 2011. It's a damn shame, because Morneau was an exceptional all-around hitter at the absolute peak of his skills and formed a near-perfect pairing with Mauer in the middle of the lineup. Mauer got on base, Morneau knocked him in, and the Twins boasted two of baseball's top dozen hitters.
Unfortunately it's been three years since Morneau was even an above average first baseman, let alone an impact bat, and watching him hit .230/.282/.467 with a 36-to-12 strikeout-to-walk ratio in 41 games since the All-Star break provided little reason to believe that's going to change. He still has some value, particularly if the Pirates shield him from left-handed pitching, but Morneau simply hasn't produced enough at an offense-driven position to remain in the Twins' plans.
Rather than watching him leave for nothing a month from now as a free agent the Twins picked up potentially useful players in Presley and Welker, saved some money, and sent Morneau to a team with a chance to make a deep playoff run. Just in case you weren't already rooting for a team that hasn't had a winning record since 1992, the Pirates have Morneau as their starting first baseman and Francisco Liriano as the No. 1 starter.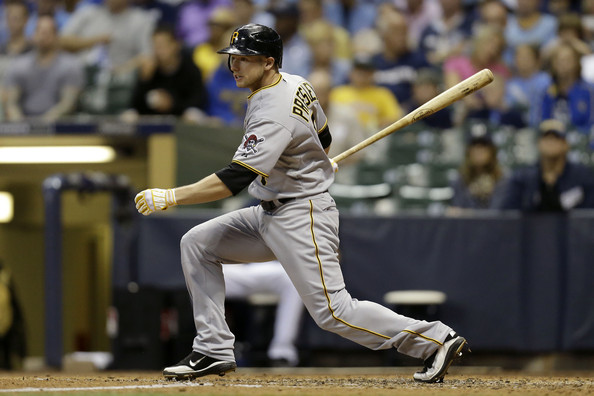 Presley and Welker are a modest return for a big name, but accurately represent the type of diminished value Morneau has at this point thanks to his remaining salary, mediocre production, and impending free agency. Presley turned 28 years old in July and was drafted in the eighth round out of the University of Mississippi in 2006, so he's a non-prospect whose most likely fit is a fourth outfielder with plus speed and experience in all three spots defensively.
Presley had a nice 52-game stretch for the Pirates as a 25-year-old rookie in 2011, but struggled in an expanded role last season and has spent most of this year at Triple-A. Overall he's played 285 games at Triple-A in parts of four seasons there, hitting .309/.377/.460 while averaging 13 homers and 28 steals per 150 games. He draws a decent number of walks, doesn't strike out much, and shows a fairly typical platoon split for a left-handed hitter.
In his various stints with the Pirates totaling 204 games Presley hit .261/.299/.419 with an ugly 138-to-33 strikeout-to-walk ratio in 699 plate appearances. He'll need to control the strike zone much better to have any kind of sustained success in the majors, but he showed decent power and while the on-base percentage isn't pretty a .718 OPS isn't that far below the .750 average for MLB outfielders. Given the current state of the Twins, he could be a regular for a little while.
Welker is a 6-foot-7 reliever with a mid-90s fastball and was the Pirates' second-round pick in 2007 out of the University of Arkansas, but he's already 27 years old and has all of one career appearance in the majors. During the past two years Welker struck out 94 batters in 93 innings at Triple-A, which is good but not great for a hard-throwing reliever, and his control is terrible with 4.6 walks per nine innings.
He also has a 2.91 ERA and .219 opponents' batting average with just three homers allowed in 385 plate appearances at Triple-A, so it's easy to see why the Twins would take a flier on the big, hard-throwing right-hander, but for now Welker is merely a bullpen lottery ticket. He could fill a middle relief role next year, although the Twins were already pretty deep in right-handed bullpen options and will soon need to find room for Michael Tonkin too.
Because of how things ended with Morneau in Minnesota and because the concussion (and other injuries) robbed him of a typical decline phase it's somewhat difficult to evaluate his place in team history. It's natural to wonder what could have been if Morneau hadn't suffered a brain injury, but what actually was ... well, it was pretty damn good for a long time. Here are the Twins' all-time leaders in adjusted OPS+ among hitters with at least 3,000 plate appearances:
                     PA     OPS+
Harmon Killebrew   8018     148
Rod Carew          6980     137
Joe Mauer          5060     135
Tony Oliva         6880     131
Bob Allison        4643     131
Kent Hrbek         7137     128
Kirby Puckett      7831     124
JUSTIN MORNEAU     5350     121
Corey Koskie       3257     116
Chuck Knoblauch    4573     114
Even with the concussion cutting his peak very short and hastening his decline Morneau's adjusted OPS+ ranks eighth in Twins history at 121. His adjusted OPS+ was 128 before the concussion and 99 after it. His other all-time Twins ranks include second in slugging percentage, third in homers, fifth in doubles, extra-base hits, and RBIs, sixth in total bases, seventh in games and hits, eighth in walks, and ninth in runs.
I'll always imagine what could have been had Morneau stayed healthy, but I'll also remember his incredible raw power, his ability to do damage spraying line drives from foul pole to foul pole, the little inhale he took in the moment just before bat met ball, and the corkscrew follow-through that ended with the bat raised above his head. Morneau was a helluva player for the Twins, but it was time for both sides to move on. Here's hoping he gets some big hits for the Pirates.
---
This week's blog content is sponsored by Ticket King, a local ticket broker that doesn't charge check-out fees, offers in-store pickup, and specializes in Twins tickets. Please support them for supporting AG.com.