November 28, 2013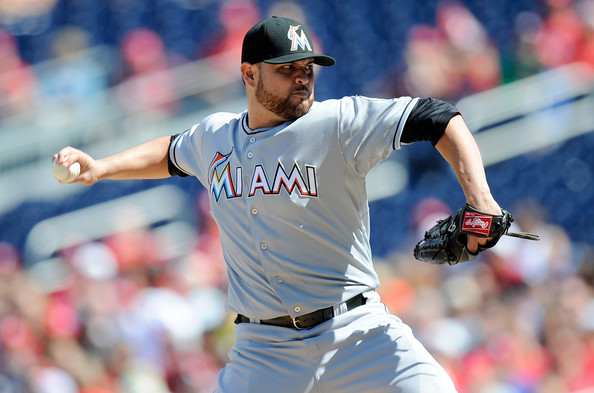 In a move that more than doubles their previous largest investment in an outside free agent the Twins signed former Marlins and Dodgers right-hander Ricky Nolasco to a four-year, $49 million contract that includes a $13 million team option for 2018. In breaking down this offseason's free agent class I ranked Nolasco atop the middle-of-the-rotation starter category, concluding that his performance has been too inconsistent to consider him a sure-fire top-of-the-rotation starter.
His contract fits that description pretty well, comparing similarly to Edwin Jackson's four-year, $52 million deal with the Cubs last offseason and Mark Buehrle's four-year, $58 million deal with the Marlins two winters ago. Nolasco immediately becomes the Twins' best starter, but obviously that isn't saying much and in terms of MLB-wide salaries his contract pays him like a good but not great veteran starter.
Nolasco has been very durable through age 30, starting at least 30 games and logging at least 185 innings in five of the past six seasons, including 33 starts and 199 innings this year. His ability to prevent runs unfortunately hasn't been as impressive, with ERAs of 5.06, 4.51, 4.67, and 4.48 from 2009-2012 before a 3.70 mark this year. However, his secondary numbers have consistently been much better than his lackluster ERAs.
Expected Fielding Independent Pitching (xFIP) attempts to remove randomness and luck from a pitcher's performance, isolating what he can control (strikeouts, walks, ground balls) as opposed to what he can't control (batting average on balls in play, bullpen strand rate, homers per fly ball). For his career Nolasco has a 3.75 xFIP versus a 4.37 ERA and his xFIP has been better than his ERA in each of the past five seasons, including three seasons of at least a full run better.
All of which suggests that if you give Nolasco a solid defense behind him and some decent luck he'll perform better than his 4.37 career ERA, although moving to the AL after spending his entire career in the NL calling pitcher-friendly ballparks home could complicate things. Among all MLB starters with 150-plus innings Nolasco ranked 33rd, 65th, and 27th in xFIP during the past three seasons and earlier in his career he cracked the top-20 in back-to-back seasons.
Nolasco doesn't throw particularly hard, averaging 90.3 miles per hour with his fastball this year, but he also relies on his fastball less than half the time and features a very effective low-80s slider and decent mid-70s curveball. He misses an above-average number of bats, with a strikeout rate of 7.4 per nine innings this year and for his career, although that number has varied significantly from year to year and dipped as low as 5.9 per nine innings in 2012.
Among the 79 pitchers to log at least 400 innings as starters from 2011-2013 he ranked 37th in strikeout rate, 13th in walk rate, 47th in ground-ball rate, and 32nd in swinging strike rate. Not spectacular, but Nolasco has better raw stuff than a typical strike-throwing pitcher in the Twins' mold. Based on ERA he's a fourth or fifth starter, based on secondary numbers he's a second or third starter, and the Twins are paying him to perform somewhere in between.
Nolasco is hardly a franchise-altering addition, but he's a massive step up from any recent Twins starter and gives them some semblance of an MLB-caliber rotation that will hopefully also include Alex Meyer at the top and Kyle Gibson in the middle at some point soon. And while $49 million is a ton of money within the context of the Twins' previous lack of free agent spending it's more or less the going rate for a pitcher of Nolasco's caliber and they still have plenty of money to spend.
---
Interested in sponsoring a week of AG.com and advertising your product, service, local business, or website directly to thousands of readers each day? Click here for details.