August 7, 2012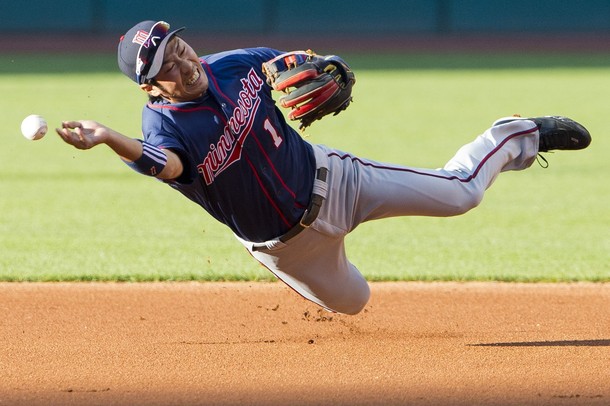 • Trevor Plouffe's thumb injury and the lack of other decent, healthy infielders on the 40-man roster convinced the Twins to turn back to Danny Valencia despite his hitting .250/.289/.399 with a 40-to-15 strikeout-to-walk ratio in 69 games at Triple-A following his mid-May demotion. Plouffe remains on the disabled list, but after one week with Valencia the Twins decided they'd seen enough and traded him to the Red Sox for rookie-ball outfielder Jeremias Pineda.
Pineda's lofty .421 batting average looks pretty, but a month of Gulf Coast League action doesn't mean much and his 22-to-5 strikeout-to-walk ratio isn't particularly impressive from a 21-year-old competing against teenagers. He's fast and might some day develop into a decent prospect, but Pineda is little more than a toss-in right now. Make no mistake about it: Valencia was essentially given away by the Twins. And it's hard to blame them.
Valencia hit .311 with good defense in an 85-game debut in 2010, but his track record showed he was playing over his head on both sides of the ball. He came crashing back down to earth last season and then completely fell apart this year, making him a career .260/.301/.393 hitter in 1,062 plate appearances. Jason Tyner had a higher OPS as a Twin. Toss in poor defense at third base from a soon-to-be 28-year-old and Valencia just isn't a starting-caliber player.
He does potentially have some value as a backup third baseman/first baseman or platoon guy versus left-handers, against whom he's hit .318/.363/.472. Of course, since Plouffe is also a right-handed bat and it's hard to imagine Ron Gardenhire platooning Justin Morneau or even Chris Parmelee with Valencia at first base there wasn't going to be much room for a part-time role in Minnesota. He's a marginal player who wore out his welcome on and off the field.
• Tsuyoshi Nishioka was even worse than Valencia in Rochester, hitting .245/.309/.301 in 84 games, yet he was called up to fill the roster spot and immediately thrown into the lineup at second base last night. It took literally one play for the ball to find Nishioka and for Nishioka to commit a brutal error, and then later he made a second error just for good measure, although he did manage to successfully turn a double play without getting his leg broken. Baby steps.
Nishioka has no business being in the majors--he was terrible for the Twins and overmatched at Triple-A--but he's making $3 million this season and is owed another $3 million next season. At some point perhaps they'll decide he's simply a sunk cost and move on, but in the meantime he'll get a chance to show any sort of offensive or defensive ability. It probably won't be pretty, but it's not as if Nishioka is blocking any promising middle infielders from playing time.
• In early May former first-round pick Alex Wimmers was diagnosed with a partially torn ulnar collateral elbow ligament and the Twins, as they've often done with injured pitchers, advised him to rest and rehab in attempt to avoid surgery. Rarely, if ever, has that accomplished anything but delaying the inevitable and pushing back the eventual recovery timetable, and sure enough after resting for three months Wimmers had Tommy John surgery last week.
He'll be sidelined for 12 months and because he waited until now to undergo surgery that means Wimmers may not pitch at all next season. Wimmers was said to be one of the most MLB-ready pitchers available when the Twins drafted him out of Ohio State with the 21st pick in 2010, but the combination of last season's extreme control problems and this year's elbow injury means he'll likely see his next game action in 2014 as a 25-year-old with 62 pro innings.
• Wimmers' story is depressingly similar to Kyle Gibson's story, as the 2009 first-round pick injured his elbow last July, was diagnosed with a partially torn ulnar collateral ligament in August, and underwent Tommy John surgery in September. And because of the delayed surgery Gibson is just now seeing game action again in rookie-ball, where both his raw stuff and results have been very encouraging so far.
When back-to-back first-round picks touted as close to MLB-ready need Tommy John surgery that helps explain how the Twins' pitching situation became so dire. Neither projected as aces, but things would have been much different had Gibson joined the rotation as a No. 3 starter in the middle of last season and Wimmers got the call-up as a No. 4 starter this year. That's bad luck, but as has far too often been the case the Twins' medical staff didn't help matters.
• Speaking of the medical staff, the aforementioned Plouffe is the latest player to miss significant time with a supposed "day-to-day" injury that the Twins initially didn't deem worthy of a DL stint. Plouffe hurt his thumb on July 20, remained on the active roster for a week without actually being available to play, and then finally went on the DL. And now he'll remain on the DL well beyond the minimum 15 days, which is an all-too-familiar story.
To invest hundreds of millions of dollars in the MLB roster and seven-team farm system only to frequently have "day-to-day" injuries turn into month-long absences, terrible performances attributed after the fact to playing through injuries, and surgeries delayed by half a season has to be maddening for ownership and the front office. And yet just like after last season the question is how much more of that needs to take place before substantial changes are made?
• One month ago Morneau was hitting .238/.306/.431. Since then he's hit .368/.413/.611 with five homers and eight doubles in 24 games, including a pair of homers last night. During that time Morneau reduced his strikeout rate from 20 percent to 9 percent and went from hitting under .100 versus lefties to hitting nearly .500 against them. He's up to .275/.335/.481 on the season, which is very close to his .280/.351/.495 career mark.
• FSN showed this stat last night and I had to double-check to make sure it was true. Sure enough Josh Willingham now has the most homers in baseball since July 29 of last season:
JOSH WILLINGHAM       45
Curtis Granderson     42
Ryan Braun            41
Josh Hamilton         41
Jose Bautista         39
Albert Pujols         38
During that year-plus span Willingham has played 161 total games, hitting .260/.365/.555 with 45 homers, 33 doubles, 82 walks, and 129 RBIs. Mercy.
• Lester Oliveros, who made one appearance for the Twins in mid-June, will miss the rest of the season following surgery to remove bone chips from his elbow. Oliveros has a mid-90s fastball and logged 48 innings between Double-A and Triple-A with a 2.42 ERA and 51-to-15 strikeout-to-walk ratio, so if healthy the right-hander acquired from the Tigers in the Delmon Young trade could be an Opening Day bullpen option for 2013.
• I'm assuming anyone reading this blog understands Samuel Deduno's success isn't sustainable unless he makes major changes, but just in case: Pitchers with more walks than strikeouts don't stay in the majors for long, let alone maintain sub-3.00 ERAs, and as a 28-year-old journeyman with 5.1 walks per nine innings in the minors he's an unlikely candidate for sudden improvement. It sure is interesting to watch while it lasts, though.
• Thursday night Glen Perkins became the first Twins reliever since Craig Breslow in 2008 to pitch two or more innings while recording a save, which has happened a total of 11 times since Gardenhire took over as manager in 2002. On a related note Breslow, who pitched for the Red Sox against the Twins this weekend, has a 3.02 ERA in 235 innings since they misguidedly waived him in favor of Sean Henn in mid-2009.
• Pat Neshek was traded from the Orioles to the A's and called up to Oakland after spending all season at Triple-A. Neshek struggled for the past two years following Tommy John surgery, but pitched like his old self in the minors with a 2.66 ERA and 49-to-7 strikeout-to-walk ratio in 44 innings and then struck out the side in his A's debut Friday. Oakland and Baltimore play in September, so a Neshek-Lew Ford matchup that would blow Twins fans' minds is possible.
• Matthew Kory of Baseball Prospectus noticed that Francisco Liriano is all but certain to lead the Twins in strikeouts for the season with 109 despite being traded on July 28. Scott Diamond has the second-most with 62. In his 17 starts Liriano averaged 9.7 strikeouts per nine innings and the 10 other pitchers to start a game for the Twins this season have combined for 4.8 strikeouts per nine innings, including none above 6.3.
• While watching Friday night's game I wondered if Darin Mastroianni, Denard Span, and Ben Revere are the fastest (and maybe best defensive) outfield to start multiple games together in Twins history. Impossible to say for sure, but it's hard to imagine a group with more range. Other candidates from my lifetime include the "Soul Patrol" of Jacque Jones, Torii Hunter, and Matt Lawton or the World Series trio of Dan Gladden, Kirby Puckett, and Shane Mack.
• Jamey Carroll, who's 38 years old and hitting .245 with zero home runs and a .292 slugging percentage, is five RBIs away from a new career-high.
• For a lot more (and some might even say too much) talk about Valencia, Nishioka, and the Twins' medical staff, listen to this week's Gleeman and The Geek episode.
This week's blog content is sponsored by DiamondCentric's new "Walks Will Haunt" t-shirt, which looks good on any Twins fan. Please support them for supporting AG.com.