June 24, 2011
This week's Link-O-Rama is sponsored by the Minnesota salsa company Curt's Salsa, whose stuff I've enjoyed on several occasions and personally recommend ...
UPDATE: I'll have more later/Monday, but for now ... Justin Morneau is having neck surgery.
• Needless to say I've been doing it for comedic purposes too. Just not intentionally.
• My mom's favorite news of the week/month/year/decade/century.
• Mary-Louise Parker in a uniform, playing baseball. That's all.
• The local media has been rough on Kevin Slowey, but at least he doesn't play in Atlanta.
• I've become a Bruce Springsteen fan relatively recently, but even before learning to really appreciate all the great music Clarence Clemons made I was always a fan of The Big Man for his heroic attempts to woo Robin Quivers. She missed out on the chance to be the sixth wife at his funeral.
• Ryan Dunn also passed away this week, which made me really sad because I'd just watched (and enjoyed) the third Jackass movie and then made me really mad when I read the details of his death. Epic beard, funny guy, unfortunate end.
• Supermodel mom shows up to her kid's school looking like a supermodel, causing a blogger's head to explode.
• For the journalism school graduates out there: 1500-ESPN is looking to hire a beat reporter to cover Gophers sports for their website, which is a great opportunity.
• Last week I wondered why Idris Elba "isn't in everything, ever." This week he replaced Tom Cruise in a Guillermo del Toro-directed movie. Never doubt the power of Link-O-Rama.
• In the span of one year Harris Wittels has gone from leaving Link-O-Rama comments here to writing articles for Grantland. #humblebrag
• This ranks as Megan Fox's worst decision since getting all those tattoos.
• Speaking of bad decisions: Jamey Toney versus Ken Shamrock.
• Sebastian Pruiti from NBA Playbook wrote an incredibly detailed Ricky Rubio scouting report that includes charts, video, and hardcore numbers. Must-read stuff, although I'm still skeptical and the incredible amount of hype is setting him up to disappoint early on.
• By far the highlight of Rubio's introductory press conference was Dana Wessel of 1500-ESPN reacting to Sid Hartman asking a question: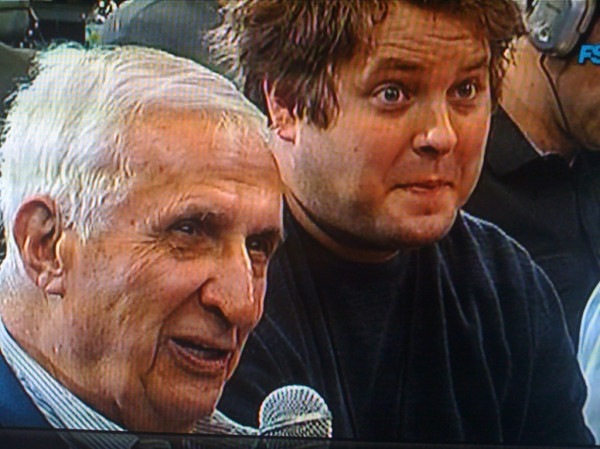 Someone really needs to start a blog devoted exclusively to pictures of other media members reacting to Hartman doing things. If nothing else I'd link to it every week.
• Does anyone know if David Kahn truly made Kurt Rambis write a report before firing him? If so, Rambis ought to add one final chapter and post that sucker online. Kahn isn't much of a general manager, but it takes some special talent to make people feel sorry for a coach who went 32-132. He made the right call picking Derrick Williams, at least.
• Jon Krawczynski of the Associated Press displays the "Kahn is talking again" face.
• Dwane Casey, who never should have been let go by the Timberwolves in the first place, is now the Raptors' new coach. Casey was 20-20 when the Timberwolves fired him--in the middle of a season, no less--and they've gone 90-280 since then.
• Joe Morgan is getting his own radio show just in time to comment on the Moneyball movie.
• Rashida Jones is making a strong push for Official Fantasy Girl of AG.com contender status.
• My latest podcast discovery is "Walking The Room" with Dave Anthony and Greg Behrendt, which is as funny as two guys sitting in a room talking to each other while eating Tim Tams can possibly be and has quickly become a must-listen for me.
• Good news for Mad Men fans, but that seems like an awful lot of money for the 1960s.
• In my mind, this whole mess started with Jim Riggleman asking Mike Rizzo: "Where do you see this relationship going?"
UPDATE: It looks like Riggleman rebounded well enough.
• It seems sort of crazy to me that there are rankings for the best 15-year-old baseball teams in Minnesota, but my uncle is excited because he's coached Hopkins to No. 6 on the same list that has the Scott Leuis-coached Plymouth/Wayzata team at No. 4 and the Anthony LaPanta-coached Totino Grace team at No. 10. If they crack the top five maybe I'll calculate everyone's Wins Above Replacement.
• I ate here twice this week with a total of 15 people and without exception they liked it.
• As someone who recently became slightly less fat, I enjoyed the "Put This On" episode about finding clothes that fit better.
• I'd quit my diet just to eat this ice cream.
• Will manager Ned Yost's friendship with Jeff Foxworthy offset the Royals' young talent?
• I talked Michael Cuddyer, pennant races, and All-Star picks with not one, but two Seidmans.
• I'm addicted to WhatIfSports.com's great Hardball Dynasty game and my league has a pair of franchises open with the new season set to begin next week. Hardball Dynasty is not fantasy baseball and in fact has nothing to do with fantasy baseball. It's much better. From rookie-ball to the majors it's an incredibly detailed simulation of running a fictional MLB organization, with fictional players and everything from the Rule 5 draft to international signings.
Due to the steep learning curve involved in the game and extensive time commitment required to master it we're looking first and foremost for owners with some previous Hardball Dynasty experience. Mostly, though, we're just looking for good owners and despite the sales pitch-like tone of this note I get absolutely nothing in return for someone signing up (except for a better league to enjoy, of course). If you're interested, let me know.
• Finally, in honor of Dunn this week's AG.com-approved music video is the theme song to the Jackass movies, "If You're Gonna Be Dumb" by Roger Alan Wade: