May 14, 2015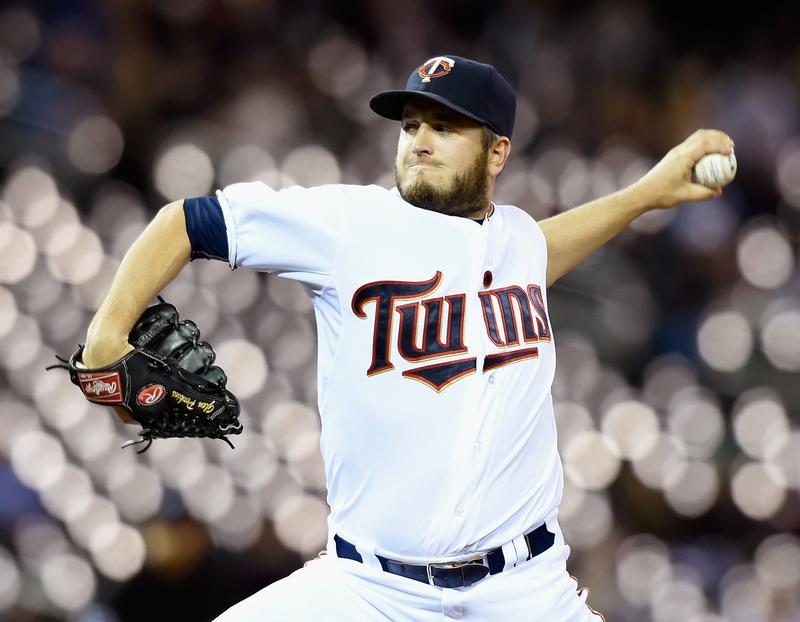 Glen Perkins struggling in September before being shut down with forearm and elbow injuries last season was the rotten cherry on top of a rancid Twins sundae, turning one of the team's few bright spots into a question mark at the end of a fourth straight 90-loss season. Perkins had been his usual brilliant self through late August, converting 32 of 36 saves with a 2.44 ERA and 64/9 K/BB ratio in 55 innings. And then things fell apart.
In eight appearances from August 26 to September 16 he allowed 10 runs and struck out just two of the 32 batters he faced. And in the surest sign of something being very wrong, he served up five home runs in 6.1 innings after giving up a grand total of five home runs in his previous 102.1 innings dating back to 2013. Perkins was finally shut down for the final two weeks of the season after allowing runs in four consecutive games.
All offseason Perkins and the Twins insisted he was healthy, but a strained oblique muscle early in spring training further complicated his comeback and left doubts heading into Opening Day. Those doubts have now vanished, to say the least. Perkins has been nearly flawless, converting all 11 of his save chances with a 1.17 ERA and 14/0 K/BB ratio in 15.1 innings while holding opponents to a .193 batting average and zero home runs.
His fastball velocity is back to where it was before the late-season arm issues, he's inducing the least "hard contact" and second-most "soft contact" of his career, and his swinging strike rate is right in line with his career norms as a reliever despite throwing a career-high 60 percent of his pitches in the strike zone. Perkins combines good raw stuff and command with intelligence and an interest in analytics, and the result is pretty close to a perfect pitcher.
He pounds the strike zone and rarely walks anyone, yet still manages to miss plenty of bats and give up very few home runs while being nearly as effective against righties as lefties. Perkins will go through rough patches at some point this season, because that's just how baseball works, but aside from a brutal two-week stretch in which he was clearly playing through an injury he's been an elite reliever since moving to the bullpen full time in 2011.
During that span he has a 2.65 ERA and .227 opponents' batting average in 275 appearances, striking out 300 and walking 68 in 272 innings. He's also been difficult to run on, allowing seven steals compared to seven caught stealings, which is a nice bonus skill to have in the ninth inning. Oh, and Perkins has converted 88 percent of his save chances since replacing Matt Capps as the Twins' closer in mid-2012. By comparison, Mariano Rivera had a career save rate of 89 percent.
Expected Fielding Independent Pitching is a metric that attempts to remove defense and luck from the mix to judge pitchers based strictly on what they can control and since 2011 the only relievers with 250 or more innings and an xFIP under 3.00 are Perkins, Craig Kimbrel, Aroldis Chapman, Kenley Jansen, David Robertson, Greg Holland, and Mark Melancon. In five seasons as a full-time reliever his xFIP has never been higher than 3.13.
As for his rank among the best relievers in Twins history, it's important to note Perkins is pitching as well as ever at age 32 and is under team control through 2018. With that disclaimer, he already ranks fourth in Win Probability Added behind Joe Nathan, Eddie Guardado, and Rick Aguilera, and by the end of this year he'll likely trail only Nathan and Aguilera in saves. Here are the Twins' strikeout, walk, and strikeout-to-walk ratio leaders among relievers with at least 200 innings:
                 SO/9                      BB/9                      K/BB
Joe Nathan       10.9     Carl Willis       2.0     GLEN PERKINS      4.3
Tom Hall         10.1     Jeff Reardon      2.2     Joe Nathan        4.2
GLEN PERKINS      9.4     GLEN PERKINS      2.2     Jeff Reardon      3.3
Eddie Guardado    8.6     Bob Wells         2.3     Rick Aguilera     3.2
Juan Rincon       8.5     Rick Aguilera     2.4     Carl Willis       2.8
Perkins ranks third in strikeout rate behind Nathan and Tom Hall, third in walk rate behind Carl Willis and Jeff Reardon, and is the only Twins reliever to crack the top five of both categories. All of which adds up to Perkins boasting the best strikeout-to-walk ratio by a reliever in Twins history at 4.3 whiffs per walk, edging out Nathan, Reardon, and Aguilera. And last but not least Nathan is the only Twins reliever to allow fewer baserunners per nine innings than Perkins.
Perkins was a first-round pick at the University of Minnesota, a top prospect in the Twins' farm system, and a decent starter in the Twins' rotation, but moving to the bullpen enabled him to add 3-4 miles per hour to his fastball and he's complemented that added velocity with an increasingly smart approach to pitching to become an absolute stud. By the time he hangs up his cleats, zips his fly, and shaves his neck beard he'll be one of the 2-3 best relievers in Twins history.
Glen Perkins, Proven Closer.
---
This week's blog content is sponsored by Uber, which is offering a free ride to first-time users who sign up with the promo code "UberGleeman."