March 16, 2012
• Ricky Rubio is adorable, with or without a functioning ACL.
• Try as she might, Mila Kunis is in no danger of losing Official Fantasy Girl of AG.com status.
• My theory is that they didn't know what to do with 1,200 crumpled one-dollar bills.
• I've always wondered about the origins of my last name and this obviously fits.
• Glen Perkins signed a $10 million contract extension and met Elton John.
• Pamela Hill Nettleton was one my favorite professors (and people, period) at the University of Minnesota, so it's not surprising that she raised a helluva son.
• I was really getting into Luck on HBO, so this is unfortunate on multiple levels.
• As a television junkie, the history and process of naming shows is fascinating and weird.
• Not only did I drive all the way to Uptown for this week's "Gleeman and The Geek" episode, I parallel parked for the first time since I used to regularly go to a dentist on Grand Avenue in 1999. Seriously, so you better listen.
• My trek to Uptown was so out of character that it spawned an amusing Twitter hashtag.
• Gerald Green returned to the NBA with one of the best in-game dunks you'll ever see:
It seems like a decade since he disappointed with the Timberwolves, but Green is only 26.
• Merrill Markoe describes why I always attend blogger get-togethers, but rarely plan them.
• Shockingly, it turns out that eight-pound hamburgers named after people with reconstructed elbows are really, really bad for you.
• Just in case you thought the Dodgers' ownership situation couldn't get any crazier.
• Lifelong residents know "Minnesota Nice" often equals "Minnesota Passive Aggressive."
• My blog-mate Craig Calcaterra wrote an interesting post about why access in sports writing isn't as important as what you actually do with the access.
• Ozzie Guillen got his first ejection as Marlins manager out of the way early.
• As always any mention of being a John Mayer fan opens me up for mockery, but this is sad.
• David Ortiz's life should be hosted by Maury Povich.
• Last week I wrote about eating Hormel "natural choice" chicken on a regular basis while losing 150 pounds in one year and then this showed up on my doorstep: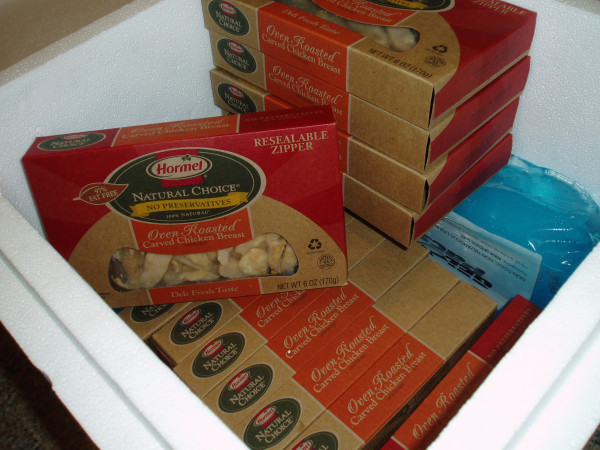 I talked about buying a new car for months without getting a freebie, but I'll certainly take it.
• On a related note, people are actually using my recipes.
• My first thought upon reading this story? It makes me feel better about buying a Honda Fit.
• My longtime boss was named to Sports Business Journal's annual "40 Under 40" list.
• New manager Robin Ventura won't have to watch that clip of Nolan Ryan beating him up when the White Sox are in the Texas.
• I finally saw The Descendants. It wasn't bad and I'm a big George Clooney fan, but it's easily one of the most overrated movies I've ever seen.
• I've never not enjoyed Harris Wittels on a podcast and his appearance on "Who Charted?" with Howard Kremer and Kulap Vilaysack is no exception.
• My latest podcast subscription: "Stop Podcasting Yourself" with Graham Clark and Dave Shumka. Their recent episode with the aforementioned Vilaysack is a good place to start.
• If you liked the new "Gleeman and The Geek" theme song, check out the band responsible.
• Thanks to Jay Boller for the kind words and for including me in such good company.
• Finally, in honor of Perkins' new best friend this week's AG.com-approved music video is "Amoreena" by Sir Elton: