July 5, 2012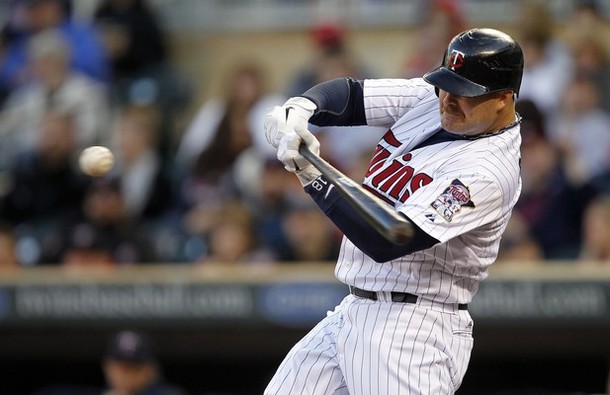 • Assuming the Twins decide to become sellers at the trade deadline Ryan Doumit likely would have drawn a decent amount of interest from contending teams, but instead they took him off the market with a two-year, $7 million extension that will pay the catcher/designated hitter $3.5 million in both 2013 and 2014. Handing out multi-year deals to 31-year-old non-stars isn't usually a great plan for a rebuilding team, but the price is right and Doumit is a good fit.
I liked adding Doumit on a one-year, $3 million deal this offseason because he essentially replaced Jason Kubel as a quality left-handed bat for a fraction of the price and was also a much-needed alternative to Drew Butera behind the plate in case Joe Mauer struggled to stay healthy again. Doumit has a good enough bat to be useful at DH and a good enough glove to be useful at catcher, and that's the kind of versatility the Twins needed.
He's been exactly what they hoped, hitting .282/.344/.449 versus a .271/.334/.442 career line and proving to be a more palatable defensive catcher than his awful reputation. His defense in the outfield and at first base is a different story, as Ron Gardenhire soured on Doumit there almost immediately and has used him for all of 52 non-catcher innings in the field, but the ability to basically have Mauer and Doumit alternate between catcher and DH has been ideal.
Doumit for $3 million this year was a nice pickup, so Doumit for $3.5 million in 2013 represents the same solid value and paying him $3.5 million in 2014 will hardly cripple the Twins even if he declines at age 33. Jason Marquis got $3 million for seven awful starts and Nick Blackburn is owed $5.5 million next year, so $3.5 million for a .750-.800 OPS hitter who can catch is enough of a bargain to be worth the risk of a multi-year commitment. And they can trade him later too.
• Speaking of Blackburn, yesterday he was dumped from the rotation and demoted to Triple-A for the second time since the Twins misguidedly gave him a four-year contract extension in March of 2010. I hated that signing at the time, noting that the Twins already had Blackburn under team control through 2013 via arbitration and his miniscule strikeout rate limited his upside and made him far more likely to decline than improve.
Sure enough since the Twins guaranteed him $14 million instead of going year-to-year he's got a 5.51 ERA and among all pitchers with 50-plus starts he has the fewest strikeouts per nine innings (4.2) and the highest opponents' batting average (.309) and slugging percentage (.500). Some of that can certainly be blamed on injuries, but that's one of the reasons to avoid making unnecessary commitments to mediocre pitchers you already control for years to come.
Had the Twins smartly chosen to go year-to-year with Blackburn via arbitration they'd have presumably already cut him, if not after his 5.42 ERA and demotion to Triple-A in 2010 than at least after his 4.49 ERA and forearm injury in 2011. Instead they're paying him $4.75 million this season and owe him $5.5 million next season, which would have been his final year under team control via arbitration anyway.
• Liam Hendriks will be joining Blackburn in Rochester after struggling for the third time in three chances with the Twins. Hendriks came into the season as the team's top pitching prospect, but that was mostly by default and despite being the Twins' reigning minor league pitcher of the year his long-term upside has always been mid-rotation starter. He was rushed to the majors, much like Chris Parmelee, and is still 23 years old with 16 starts at Triple-A.
Obviously his 6.71 ERA through 12 career starts is ugly, but a 39-to-16 strikeout-to-walk ratio in 62 innings isn't far off from what you'd expect based on Hendriks' track record. He'll need to show better control because mediocre raw stuff and modest strikeout rates in the minors make it hard to imagine many missed bats, but his biggest problem was serving up 13 homers in 62 innings after allowing three homers in 94 innings at Triple-A. Don't give up on him yet.
• This season's international prospects became eligible to sign Monday and the Twins spent $1.4 million for one of the top-rated hitters in 16-year-old Dominican infielder Amaurys Minier. Ben Badler of Baseball America ranked Minier as the 12th-best international prospect available, saying the 6-foot-2 switch-hitter will likely shift from shortstop to third base and "has drawn attention for his bat speed and plus power from both sides of the plate." Here's a bit more:
He has some noise in his setup, but he has a smooth stroke with good balance and whips the bat head through the zone. With his power, he can put on a good show in batting practice. Scouts have reservations about his ability to hit in games, so his pitch recognition skills will have to improve. Many players with Minier's body type--thick lower half and below-average speed--are already at third base. ... He has a strong arm but will have to work on his infield actions to avoid a move further down the defensive spectrum.
In addition to Minier the Twins also spent $500,000 on 16-year-old Australian southpaw Lewis Thorpe, who Baseball America called the country's top prospect. As part of the new collective bargaining agreement they have $1 million left to potentially spend on international signings.
• Mauer has played 72 of 80 games while hitting .332 with a league-leading .420 on-base percentage and his Wins Above Replacement (WAR) total of 2.8 leads the Twins while ranking 10th among the league's position players. If your reaction to his being selected for the All-Star team at baseball's thinnest position was anything other than "of course he made the All-Star team" then you're likely better off booing him at Target Field than reading this blog.
• Parmelee was recalled from Triple-A because he responded to a mid-May demotion by hitting .375/.500/.708 in three weeks there. Since rejoining the Twins he's started a total of four times in 26 games. How that helps him or the Twins in the short or long term is beyond me.
• Danny Valencia had 23 homers in 266 games for the Twins. Trevor Plouffe has 18 homers in 39 games since replacing him on May 15. Plouffe has shown no signs of turning back into a pumpkin and Valencia is hitting .245/.286/.410 in 49 games at Triple-A.
• I somehow neglected to include this in my SABR convention recap, but I was at Target Field last Friday night to witness one of the better "security guards chasing an idiot who ran onto the field" moments in recent memory. Shockingly he wasn't part of the SABR group.
• Since the Twins changed catchers nine seasons ago Mauer has been on base 306 more times than A.J. Pierzynski while making 534 fewer outs.
• Paul Bargas, the pitching prospect the Twins acquired from the Rockies for catcher Jose Morales in 2010, has died from brain cancer. He was just 23 years old.
• Miguel Sano's high error total at third base has the Twins concerned about his defense at low Single-A, but his odds of sticking at third base have never been very high anyway.
• Pitcher wins are hilarious, part infinity: Jeff Gray is 5-0. He's thrown 35 innings with a 4.08 ERA and 18-to-16 strikeout-to-walk ratio.
• If you missed it last week, Dave Beal of the St. Paul Pioneer Press wrote a good article about the Twins' involvement with sabermetrics.
• Michael Cuddyer is hitting .233 away from Coors Field for a 31-50 team while earning $10.5 million, but some things never change.
• When he's not riding elevators with me Jose Mijares has a 1.69 ERA and 29 strikeouts in 32 innings for the Royals, which is why cutting him loose for $750,000 never made much sense.
• Frank Viola's daughter, Brittany Viola, made the Olympic diving team.
• Along with being one of MLB's best relievers Glen Perkins also has great taste in podcasts.
This week's blog content is sponsored by Curt's Salsa, a locally owned salsa company that believes in fresh ingredients and rooting for the little guy. Please support them for supporting AG.com.