July 19, 2011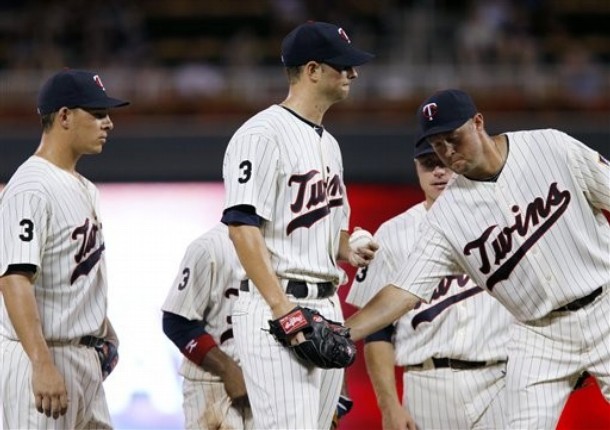 • Scott Diamond had a decent big-league debut, particularly for a mid-level prospect called up for an emergency spot start after posting a 4.70 ERA at Triple-A. He was very efficient early on and ended up using 90 pitches in 6.1 innings, allowing four runs on seven hits and two walks against an Indians lineup that ranks 11th among AL teams in OPS versus lefties. He served up a homer to Lou Marson, which is pretty tough to do, but also induced 12 ground-ball outs.
In terms of projecting his future performance Diamond looked basically like you'd expect based on his minor-league track record, showing good control and ground-ball tendencies along with mediocre raw stuff. He averaged just 88.9 miles per hour with his fastball, topping out at 90.3 miles per hour, and wasn't very successful with his off-speed pitches. Diamond struck out just one of the 26 batters he faced and also managed only one swinging strike on 90 pitches.
• In yesterday's doubleheader Joe Mauer made a pair of good defensive plays at first base in Game 1, threw out one of the two runners attempting to steal against him in Game 2, and was 6-for-8 at the plate while the rest of the Twins' lineup went 10-for-60 (.167). Mauer struggled initially after returning from a two-month stay on the disabled list and was hitting just .186 on June 24, but since then he's 27-for-72 (.375).
Mauer still hasn't shown any power yet, but he's hitting .375 with a .456 on-base percentage and .431 slugging percentage during the past 21 games, raising his batting average from .186 to .290 in three weeks. During that same time his on-base percentage rose from .234 to .361, which ties Denard Span for second-highest on the team. Oh, and the Twins are 19-15 when Mauer starts and 25-36 when he doesn't. It's almost as if he's still really good or something.
• In an interview with Tom Pelissero of 1500-ESPN assistant general manager Rob Anthony said that the Twins will be looking for middle relief help going into the July 31 trade deadline, which makes sense assuming they should be buyers at all. Glen Perkins has been fantastic all year in a setup role and Joe Nathan has thrived since returning from the disabled list, but with Matt Capps basically relegated to mop-up duties they could use another right-handed option.
Alex Burnett has been thrust into a high-leverage role almost by default and has the potential to some day be a viable late-inning asset, but for now he's an overmatched 23-year-old rookie with a 6.21 ERA and 20-to-13 strikeout-to-walk ratio in 29 innings and has struck out just two of the last 30 hitters he's faced. Joe Christensen of the Minneapolis Star Tribune speculates the Twins may try to reacquire Jon Rauch from the Blue Jays, which would certainly be interesting.
• Over the weekend the Twins released 25-year-old former 11th-round pick Steve Singleton, who'd been starting regularly at shortstop and second base at Triple-A. Singleton is hardly an elite prospect, but the release still raised eyebrows considering the Twins' organization-wide lack of middle infield depth and Rochester's ongoing struggles just to put a competitive lineup on the field thanks to the big-league team calling up most of their best hitters.
Sure enough, LaVelle E. Neal III of the Minneapolis Star Tribune reports that Singleton was let go due to "off-the-field issues." Singleton cracked my annual list of the Twins' top 40 prospects just once, ranking 33rd in 2009, but since then he's hit just .273/.320/.414 with twice as many walks (117) as strikeouts (58) in 265 games between Double-A and Triple-A. Singleton never projected as more than a potential utility man and even that seems like wishful thinking now.
• Justin Morneau has been cleared to resume "baseball activities" three weeks after surgery to address a pinched nerve in his neck, which according to trainer Rick McWane means "he's ready to take ground balls, play catch, and run around." Swinging the bat will come later, so even setting aside the Twins' inability to get any injured players back within their initial return timetables this season Morneau is unlikely to be ready before mid-August.
• Last but certainly not least: Delmon Young's adorable reaction to Jim Thome's monstrous 596th career homer is now in GIF form. If he never played baseball and only reacted to Thome homers, Young would be my favorite Twin of all time.
This week's content is sponsored by Wholesale Gold and Diamond Distributors in Minneapolis, so please help support AG.com by considering them for your jewelry needs.