January 16, 2012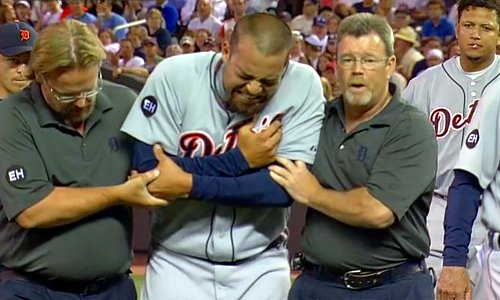 Joel Zumaya hasn't appeared in a major-league game since gruesomely fracturing his elbow while throwing a pitch to Delmon Young at Target Field on June 28, 2010, but the oft-injured reliever was healthy enough to impress the dozens of scouts attending his workout last month and yesterday the Twins signed him. Assuming that Zumaya passes a physical exam, Jason Beck of MLB.com reports that the one-year deal is for $800,000, with $900,000 in incentives.
According to Joe Christensen of the Minneapolis Star Tribune the contract is a big-league deal that includes a spot on the 40-man roster, but is not fully guaranteed and "the Twins would be able to cut Zumaya in spring training and not be on the hook for all of the guaranteed money if something doesn't look right." All of which means the signing falls somewhere between no-risk and low-risk, with the upside of a late-inning reliever who does anything but pitch to contact.
Of course, given his incredibly lengthy injury history the far more likely scenario is that Zumaya spends most of the year on the disabled list or perhaps doesn't even make it through spring training. Zumaya was a 21-year-old rookie phenom for the Tigers in 2006, posting a 1.91 ERA and 97 strikeouts in 83 innings while holding opponents' to a .187 batting average, but in the five years since then he's thrown a grand total of 126 innings while undergoing six surgeries.
Zumaya ruptured a tendon in his finger in early 2007, separated his shoulder while helping his father move boxes prior to the California wild fires in late 2007, underwent a second shoulder surgery for a stress fracture in late 2008, needed a third shoulder surgery after aggravating the injury in mid-2009, and has been under the knife twice since his elbow exploded in June of 2010. And sprinkled in with all the operations have been several other brief disabled list stints.
What makes Zumaya worth taking a flier after all the injuries is that he's still just 27 years old and has never lost his high-90s fastball. Most pitchers see velocity vanish as the arm problems pile up, but Zumaya actually threw slightly harder in 2010 than he did as a rookie in 2006. For his career Zumaya's fastball has averaged 98.5 miles per hour, which is the highest in baseball among all pitchers with at least 50 innings since 2006:
                      MPH
JOEL ZUMAYA          98.5
Henry Rodriguez      98.3
Aroldis Chapman      98.2
Jordan Walden        97.8
Daniel Bard          97.5
Stephen Strasburg    97.0
He had MLB's fastest fastball in 2006, 2007, 2008, and 2009 before narrowly finishing second to Aroldis Chapman in 2010 and wasn't simply lighting up radar guns. Zumaya also remained effective after the surgeries with a 2.58 ERA and 34-to-11 strikeout-to-walk ratio in 38 innings before his elbow snapped in 2010. None of that guarantees the recent elbow surgeries won't sap his velocity, but Zumaya was reportedly clocked in the mid-90s at last month's workout.
Odds are Zumaya won't stay healthy, so if the Twins are viewing him as the final piece of their bullpen and the guy to fill the vacant right-handed setup man role that's a mistake. However, assuming that they're still in the market for a low-cost veteran right-hander like Todd Coffey or Dan Wheeler or Chad Qualls or Michael Wuertz the addition of Zumaya on a low-risk deal makes all kinds of sense. He still has plenty of upside and the contract has no real downside.