October 25, 2013
• Watching the evolution of the most popular girls names since 1960 is very fascinating and a little freaky. And there's a boys version too, although it's not nearly as interesting.
• Remember that "Twin Cities ladies you've probably dated" article from last week? There's a "Twin Cities guys you've probably dated" follow-up version, but as expected it doesn't include a "Blogger Guy" because none of us have ever actually had a date.
• Bloggers must be the coolest people in Japan.
• Twins Daily just posted their annual "Offseason Handbook" for the low, low price of $6.95, which includes a lengthy interview with Terry Ryan that I found maddening.
• Wednesday night Minnetonka police shot and killed a man less than a mile from my house.
• I took Time.com's "which state matches your personality" test and it said Wisconsin, which makes sense because I've always hated myself.
• I swear this is a headline from 2013: "Mase denies beef with Cam'ron."
• And in other 1990s rapper news, Ja Rule wants to write a cookbook of microwave recipes that he learned in jail and he broke that news to "Chopped" favorite Geoffrey Zakarian.
• I'm going to tonight's Jason Isbell concert at Varsity Theater. If any AG.com readers are going, let me know and I'll buy you a drink.
• This week's "Gleeman and The Geek" episode was recorded while sitting outside in the rain with a bunch of people staring at us and I sang a cappella Boyz II Men during the mailbag segment.
• My future wife sang another song, mashing up "The Middle" by Jimmy Eat World and "Cough Syrup" by Young The Giant:
I'm committed to linking to her videos until she marries me or becomes super famous.
• What should the Twins do with Trevor Plouffe and will they actually do it?
• On a related note, Plouffe doesn't seem too broken up by me saying he shouldn't be a starter.
• Meatsauce from KFAN is hosting "Singles Night" at Xcel Center after a Wild game next month, which sounds like something I'm going to have to attend.
• I've become obsessed with reading about other people's dates and locally the woman behind "Meeting Flannel" is writing some really entertaining stuff.
• And of course Christina Walkinshaw remains the queen of date blogging. Are there any other good date recappers I should be reading and/or following on Twitter?
• My favorite excerpt from Maureen O'Connor's article in New York Magazine titled "There Is No Difference Between Online Dating and 'Real-Life' Dating":
Though most adults have never used a dating website, 30 percent of those who dated sometime in the last decade admit to using social media to research potential dates. One in five have asked someone on a first date online. Though only one in three "single and looking" adults use dating websites, half have used the internet to flirt.
I use the internet exclusively to flirt.
• Aw, dang. They're not even going to blow up the Metrodome, it turns out.
• Thanks to Dodgers.com now you can carve Vin Scully's face into a pumpkin for Halloween.
• Congratulations to Lenovo for becoming the first people interested in buying a Blackberry in at least five years.
• I had a college teacher from North Carolina and it was one of my favorite classes just because I liked hearing her talk, so I'll sign off on a study rating "southern" as the most attractive accent.
• I dare you to find a sexier picture: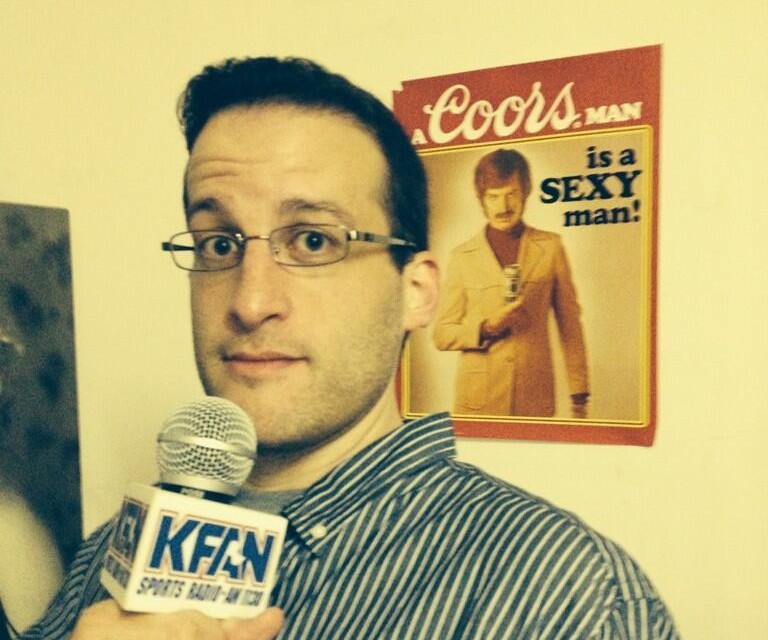 Well, maybe this one from earlier in the night.
• Giddy up.
• Multiple people sent me this same GIF, which tells me I've properly established my persona.
• I do my "manfluencing" every Sunday night at Cub Foods. Also: Men are dumb and predictable.
• Speaking of which, the manager at Cub Foods in Minnetonka is campaigning for us to record a podcast there and I'm actually thinking about it. Gonna give Knollwood some time to step up.
• I want to be at Thanksgiving dinner when the researchers' parents ask what they've been up to and they explain figuring out that men walk slower when they're on a date with women.
• Good news for "Brooklyn Nine-Nine" and Chelsea Peretti fans.
• I think Bill Withers is probably the most underrated musician of all time and Jesse Thorn got him to do a rare interview.
• My favorite quote from Esther Povitsky's chat with Lauren Greenberg: "I've been having to see a lot of doctors and dentists lately because I'm Jewish."
• DMX and Snoop Dogg combined for one of the sweetest tweets you'll ever see.
• Francisco Liriano was named Comeback Player of the Year by The Sporting News.
• Very proud to say I'm a part of this, although I guess it means I need to start writing.
• Some of this week's weird and random search engine queries that brought people here:
- "Paul Molitor speaks Spanish"
- "Jim Thome net worth"
- "Doug Bernier new and exciting for the Twins"
- "What kind of diet should an 87-pound person be on?"
- "Best workout for a 29-year-old on an elliptical machine?"
- "Joe Nathan hot tub commercial"
- "Lean Cuisine diet success"
- "Link-O-Rama qualifications"
• Finally, this week's AG.com-approved music video is "Alabama Pines" by Isbell:
---
This week's blog content is sponsored by Twins Daily's new "2014 Offseason Handbook" featuring everything you need to prepare for the Twins' winter moves for just $6.95. Please support them for supporting AG.com.