October 14, 2011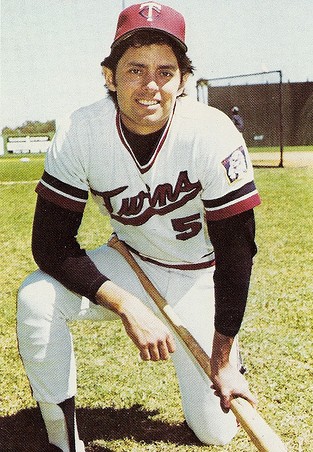 Roy Frederick Smalley III | 1976-1982, 1985-1987 | SS/3B | Career Stats
Roy Smalley was born into a baseball family. His father, Roy Smalley II, spent 11 years in the majors as a shortstop in the 1940s and 1950s, and his mother, Jolene Mauch, was the sister of longtime big-league manager Gene Mauch. And together they made one hell of a player, as Smalley starred on back-to-back national championship teams at USC and was drafted by four different MLB teams before finally signing with the Rangers as the No. 1 overall pick in 1974.
He jumped right to Double-A as a 21-year-old and hit .251/.382/.433 with 14 homers and 86 walks in 125 games. Smalley was called up to the majors a month into his second pro season and struggled, hitting .228 in 73 games for the Rangers, but the switch-hitting infielder hit .340 in 43 games at Triple-A and opened 1976 as Texas' starting second baseman. However, after a slow first two months the Rangers traded him to the Twins in a June 1 blockbuster.
Not many 23-year-old former No. 1 picks are traded just two years after being drafted, but the Rangers parted with Smalley (plus Mike Cubbage, Jim Gideon, Bill Singer, and $250,000) in order to get 25-year-old Twins ace Bert Blyleven, whose contract squabbles led to his exit from Minnesota. Blyleven went on to have a Hall of Fame career, but spent just one-and-a-half seasons with the Rangers and eventually returned to the Twins a decade after the trade.
Aside from the Hall of Fame part Smalley had a similar Twins career. He spent parts of seven seasons with the Twins, emerging as an All-Star shortstop before being traded to the Yankees in an April of 1982 deal for Ron Davis, Paul Boris, and Greg Gagne, who eventually replaced him at shortstop. Then, after a few years with the Yankees and a half-season with the White Sox, he was traded back to the Twins in February of 1985 and finished his career in Minnesota.
Smalley's first go-around in Minnesota was without question his best, as he immediately took over as the starting shortstop in mid-1976 and hit .271/.353/.344 in 103 games for an 85-win team managed by his uncle. Shortstop was almost exclusively a defense-driven position in the 1970s and Smalley's now-modest .697 OPS was 82 points above the AL average. He slumped back to the rest of the shortstop pack in 1977, hitting just .231/.316/.315 in 150 games.
Mauch stuck with his nephew and he responded with a big 1978, batting .273/.362/.433 with 19 homers, 53 total extra-base hits, and more walks (85) than strikeouts (70) in 158 games. Smalley's adjusted OPS+ of 122 led all MLB shortstops, with only Dave Concepcion (114) and Robin Yount (110) also topping 100, and still stands as the best single-season mark by any shortstop in Twins history ahead of even Zoilo Versalles in his MVP-winning 1965 campaign.
It looked like Smalley was going to build on that great 1978 and take the next step to stardom in 1979 when he hit .341 with 15 homers, 65 RBIs, and a .959 OPS in the first half to make the All-Star team, but he slumped terribly in the second half, hitting just .185 to finish with a nearly identical-to-1978 overall line of .271/.353/.441. Despite the second-half fade he played all 162 games and led the league with 729 plate appearances, but Smalley's durable days were over.
He remained very productive during the next two seasons, hitting .274/.364/.415, but Smalley missed 29 games in 1980 and 53 games in the strike-shortened 1981 season because of back problems. Mauch was fired as manager in late 1980 and in 1981 owner Calvin Griffith publicly criticized Smalley for his alleged failure to treat the injury during the two-month strike. And four games into the 1982 season Smalley and his then-giant contract were traded to the Yankees.
Smalley split time between shortstop and third base, forming quasi-platoons with Bucky Dent and Graig Nettles while hitting .257/.346/.418 in 142 games. He was even better in 1983, hitting .275/.357/.452 in 130 games, but after a poor first half in 1984 the Yankees sent him to the White Sox for future Cy Young winner Doug Drabek. He hit .170 in 47 games for Chicago and that offseason Smalley was traded to Minnesota for the second time.
By that point Smalley was 32 years old and spent as much time at designated hitter as he did at shortstop, so there were no future Hall of Famers leaving Minnesota in the swap. In fact, neither player traded to the White Sox for Smalley played in the majors after the deal. And six months later the Twins re-acquired Blyleven from the Indians, teaming him with Smalley nine years after they were traded for one another.
Smalley still had plenty of gas left in the tank, at least offensively. He played some shortstop in 1985, but was primarily a DH while batting .258/.350/.419 in 382 games during the next three seasons. Those numbers may not seem like much from a DH by today's standards, but his .768 OPS was solidly above the 1985-1987 league average of .752 and Smalley's outstanding plate disciplined remained a big asset as he drew 167 walks versus 197 strikeouts.
He went out on a high note, hitting .275/.352/.411 in 110 games as a part-time DH, occasional third baseman, and emergency shortstop in 1987, as the Twins won their first World Series. Smalley didn't play at all in the ALCS and was limited to pinch-hitting duties in the World Series as Randy Bush and late-season pickup Don Baylor split time at DH, but he made the most of a minor role by going 1-for-2 with a double and two walks against the Cardinals.
Smalley's career with the Twins is somewhat hard to evaluate because he not only spent two multi-year stints with the team, they came a decade apart and he was a totally different player in each stint. In his twenties Smalley was a switch-hitting shortstop with great plate discipline and 20-homer power. In his thirties Smalley brought most of those same offensive skills to the table, except they came in the form of a slightly above average part-time DH.
His final three years as a role player were plenty valuable and being on the World Series team in 1987 was no doubt the highlight of Smalley's career, but his spot on this list is largely due to the six-season run he had as the Twins' starting shortstop from 1976 to 1981. During that time he hit .264/.350/.394 in 3,330 plate appearances, which was good for a 104 OPS+. To put that in some context, here are the OPS+ leaders among all MLB shortstops from 1976 to 1981:
Roy Smalley         104
Garry Templeton     104
Dave Concepcion     101
Robin Yount         100
Alan Trammell        94
During his first six-year stint with the Twins he was arguably the best-hitting shortstop in all of baseball, which is a remarkable feat that gets overlooked because shortstops back then rarely put up the type of lofty raw numbers they do today. Not many players in Twins history can say they were the top hitter at their position for more than half a decade and while his glove was never considered an asset Smalley's all-around game makes him the Twins' best shortstop.
TOP 25 ALL-TIME MINNESOTA TWINS RANKS
Walks                 549     5th
Plate Appearances    4675     8th
Times On Base        1607     9th
Games                1148    10th
Hits                 1046    10th
RBIs                  485    12th
Runs                  551    12th
Homers                110    12th
Runs Created          578    12th
Total Bases          1602    13th
Extra-Base Hits       315    14th
Doubles               184    15th
On-Base Percentage   .350    22nd
Triples                21    24th