March 31, 2010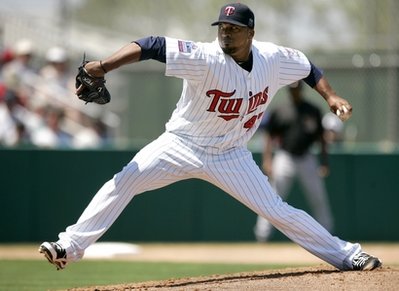 Francisco Liriano made his final spring start yesterday afternoon, tossing six shutout innings versus the Pirates, and afterward the 26-year-old southpaw revealed that he's been promised the final rotation spot despite the Twins holding off an official announcement for now. Liriano created many doubts by going 5-13 with a 5.80 ERA in 137 innings last year, but turned heads by dominating the Dominican Winter League and kept rolling with a great spring training.
Yesterday's eight-strikeout, three-hit outing against the Pirates leaves Liriano with a 2.70 ERA this spring and his 30-to-5 strikeout-to-walk ratio in 20 innings is incredibly promising. Better yet reviews of his raw stuff have been equally positive and he appears to have regained some of the velocity lost following Tommy John surgery in late 2006. Combined between winter ball and spring training Liriano racked up 97 strikeouts with just 12 walks in 68.2 innings.
That dominance came against inconsistent, often mediocre levels of competition and even with some of his velocity returning Liriano isn't the unhittable phenom who overpowered the league with a mid-90s fastball, parachute changeup, and high-80s slider of death in 2006. However, his confidence has seemingly returned, he's throwing strikes with a far livelier fastball than we saw last season, and his slider/changeup combo still misses tons of bats.
The jaw-dropping revelation of an ace from 2006 isn't coming back, but if Liriano stays healthy and continues to pitch like he has during the past few months he'll make for one hell of a fifth starter and could even be capable of re-emerging as a front-of-the-rotation option. Obviously the real test will begin April 9 against Chicago, but in the meantime I've gone from skeptical to cautiously optimistic about Liriano's progress and it's great to see him thriving again.