March 5, 2014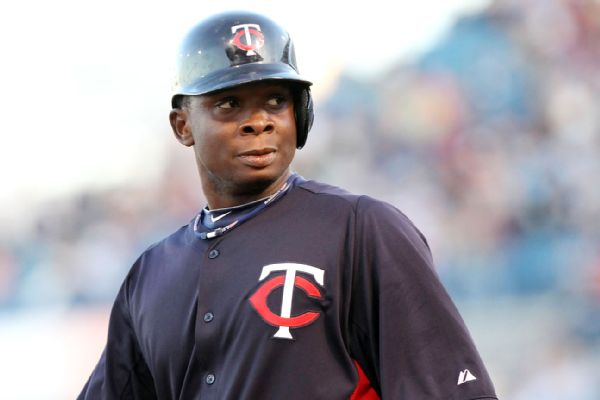 Dang.
Maybe there just aren't that many players who have problem-free careers without bumps and detours and bad news. Maybe there just aren't that many players who avoid injuries and live up to their full potential to the point that when they're all finished and headed to Cooperstown fans who've watched them for two decades can say: "Well, that was exactly what we all were hoping for."
But after watching Joe Mauer, Francisco Liriano, Justin Morneau, and Jason Kubel all get derailed by injuries recently--and after watching Kirby Puckett's career get cut short during my childhood--I'd sure like to see it happen soon. Sadly it won't be with Miguel Sano, as the best power-hitting prospect in baseball--and one of the truly elite prospects in Twins history--will now be forced to come back from a major injury before even reaching the majors.
Tommy John elbow surgery is less awful for hitters than pitchers, but in Sano's case whatever chance he had of sticking at third base long term relied heavily on his arm strength and that's now going to need some good rehab and good fortune to return intact. Beyond that his range, footwork, instincts, and athleticism--all things that caused people to doubt his ability to stay at the position--will be put on hold right in the middle of the prime developmental time at age 21.
It's a damn shame, not only because Sano seems like a decent person who deserves better and not only because it hurts the Twins' chances of reestablishing themselves as consistent contenders, but also because it robs Twins fans--and baseball fans in general--of their chance to see what Sano was fully capable of. Hopefully he'll recover well from the early injury and go on to have a great career. Mauer did that following rookie knee surgery, after all.
But even if that happens there will always be the lingering feeling that we'll never quite know what Sano could have been capable of without any bumps in the road. Without the time off and the surgery and the lost development and the year spent doing something other than fielding ground balls and smacking fastballs. And if healthy Sano almost surely would have seen action for the Twins this season, perhaps as soon as May or June.
Instead now the best-case scenario likely involves seeing some late-season action in the minors as a designated hitter only and then continuing to hit while avoiding throwing in the Arizona Fall League or winter ball. And then, if everything goes well there, it's possible that Sano could show up to Twins camp next spring training with essentially the same status he showed up to Twins camp this spring training: Ready to claim a full-time gig in the majors.
Whether that'll be at third base is somewhat irrelevant since the odds were stacked against him sticking there anyway and he was unlikely to ever be a huge asset defensively. Sano's value is going to come from his bat. That was true the moment the Twins signed him out of the Dominican Republic for $3.15 million as a 16-year-old and it'll be true when he's ready to put on a uniform again late this season or early next.
Instead of being a big bat with a mediocre glove at third base he may have to settle for simply being a big bat--at first base or designated hitter or maybe an outfield corner--but the goal is still the same: Get him in the middle of the Twins' lineup, slamming homers, drawing walks, and driving in Mauer and Byron Buxton. And if Sano can still hack it at third base after the surgery--for one year or his whole career--then that's just a bonus.
If there's one positive to be taken from Sano's injury it's his absence from the 40-man roster. Mauer, Liriano, and Kubel were already in the majors at the time of their major early career injuries and because of that they burned through MLB service time while on the disabled list recovering. That meant essentially wasting team-controlled seasons, pushing them closer to big paydays and free agency without the Twins actually getting value.
However, because Sano hasn't been added to the 40-man roster yet and hasn't debuted in the majors yet he'll be doing his DL stint in the minors and his service time clock won't start ticking. If he makes a full comeback and turns into a middle-of-the-order monster, the Twins will have him under their control for six full seasons instead of five seasons and a year wasted on the disabled list.
It's rare for one team to have two truly elite prospects like Buxton and Sano in their farm system at the same time and last year when I looked into the history of teammates being top-five Baseball America prospects I was surprised to see that the duos usually failed to produce a pair of stars. In fact, based on my admittedly subjective definition of "stars" it has happened exactly once in 25 years.
Two good players? Definitely. One star and one good player? Sure. But two no-doubt-about-it stars? Once since 1990. Obviously the Twins are hoping that Buxton and Sano can break that trend and it's absolutely still possible, but Sano's injury is an example of why dreaming about prospects can be so damn frustrating and why ... well, shit happens. And maybe--just maybe--Buxton can still have that elusive problem-free career.
For a lot more about Sano needing Tommy John surgery and what it means for his future, check out this week's "Gleeman and The Geek" episode.