April 15, 2010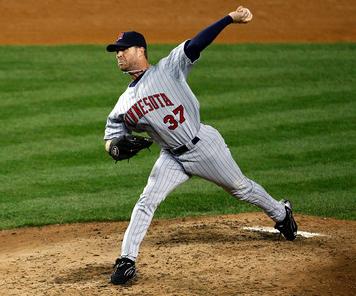 Following yesterday afternoon's loss to the Red Sox the Twins optioned Alex Burnett back to Triple-A and called up Ron Mahay, transferring Joe Nathan to the 60-day disabled list to make room on the 40-man roster for the veteran left-hander. Even at 39 years old Mahay should be a decent middle reliever and the Twins will use him primarily as a lefty specialist, pushing Jose Mijares into more of a pure setup role (if he gets on track) and Brian Duensing into long relief.
Burnett looked good in his first taste of the big leagues, flashing a low-90s fastball with the type of quality off-speed stuff you'd expect from a former starter, but at 22 years old and with a grand total of just 57 career innings above Single-A he'll likely benefit from some additional seasoning at Rochester. In calling up Mahay the Twins once again bypassed Anthony Slama, and unlike with Burnett the 40-man roster situation can't be blamed.
Mahay obviously fills a different role than Slama would and apparently the Twins feel strongly about needing a third left-hander in the bullpen, but it'll be interesting to see what happens once Clay Condrey is ready to come off the disabled list. Burnett initially replaced Condrey and he or Slama could have simply been sent back to Triple-A when the time came, but there's no such option with Mahay, who'd have to clear waivers and accept an assignment to the minors.
Perhaps when Condrey and his $900,000 salary are ready to return the Twins will keep Mahay as the bullpen's second lefty and send Duensing to Triple-A to work as a starter, but short of that or simply releasing Mahay if he doesn't impress right away I'm not sure what the plan is now. And then of course there's the issue of whether a seventh reliever is even more useful to the Twins than a fifth bench guy could be, although they seem committed to a 12-man staff.
Certainly there are times during a 162-game season when the extra bullpen arm comes in very handy, but more often than not it's tough to find consistent work for 12 pitchers when not so long ago the average staff had 10 or 11 guys. Burnett was with the Twins for 10 days, during which time they had just one off day and the starters had a fairly light workload of 6.1 innings per outing, yet he was called upon for just 2.1 innings and a total of 38 pitches.
Whether used on a pitcher or a position player the 25th spot on the roster won't have much of an impact, but with Drew Butera and Alexi Casilla extremely limited in their usefulness and Jim Thome more or less strictly a pinch-hitter the Twins' current four-man (or maybe 3.5-man) bench could probably make better use of an extra body than the bullpen has so far. Along with Burnett barely seeing action in 10 days, Mijares and Duensing have combined for 5.1 innings.