April 16, 2010
• If a 76-year-old talk-show host can't find life-long happiness with his three-decades-younger seventh wife, what chance do the rest of us have?
• Ben Roethlisberger doesn't sound like such a great guy. Also, I predict "DTF" name-tags start showing up in bunches at clubs across the country starting this weekend.
• KSTP-1500 has officially become ESPN Twin Cities, with Tom Pelissero and friend of AG.com Phil Mackey doing quality work on the revamped website. In addition to the usual radio stuff they're pumping out Twins articles and funny videos like this one featuring Patrick Reusse. In fact, if his article about Francisco Liriano's start yesterday is any indication Mackey might be the first local writer to combine traditional reporting and sabermetrics on a regular basis.
• Speaking of Liriano yesterday, here's my take on arguably his most impressive performance since Tommy John surgery.
• The Situation and his Jersey Shore cast-mates are doing a fine job milking their 15 minutes of fame. Last week he appeared in an amusing commercial alongside Mets third baseman David Wright and this week they're posing with Bar Refaeli.
• How is Cameron Diaz just like Franklin Gutierrez?
• Dave Chappelle crawled out from whatever rock he's been under and immediately went for the high degree of difficulty jokes:
"Caught me sleeping."
• Not only did Twins third base coach Scott Ullger screw up by waving J.J. Hardy home to get thrown out at the plate by about 30 feet Sunday, he probably cheated in the process.
• Longtime Minneapolis Star Tribune columnist and current MinnPost contributor Doug Grow has written a new book entitled We're Gonna Win, Twins! which "chronicles a half-century of Twins baseball, season by season."  He interviewed me for one of the chapters, so even if you're not into tons of great content about the history of the Twins you can check it out just to read my usual babbling in book form.
• Josh Beckett is marrying a NASCAR-loving rocket scientist.
• I haven't done a weight-loss update in a while, so ... I'm down 60 pounds since February 1, although sadly the pace has slowed to a crawl over the past couple weeks. I'm hoping adding more late-night workouts on the elliptical machine while watching Dodgers games announced by Vin Scully can jump-start things, since boredom often cuts my sessions short. And as you'll soon see, I have plenty left to lose.
• Aimee Mann vs. Ice-T, on Twitter. Who ya got? Incidentally, his "go eat a hot bowl of dicks" comeback is fantastic even if it is sort of copying a Louis C.K. bit.
• Three years after his terrible Twins stint, Ramon Ortiz is still in the majors and still stinks.
• This story in the Minneapolis Star Tribune caught my attention because a) I was expelled from the after school/night classes at the same school once upon a time and b) quoted in the article is one of my classmates back then, Leora Maccabee.
• I didn't take any pictures while in the press box for the Target Field opener Monday because I was told not to, but some other people took photos with me in them and passed them along. First, here's me on the field during batting practice standing next to Seth Kaplan from FOX: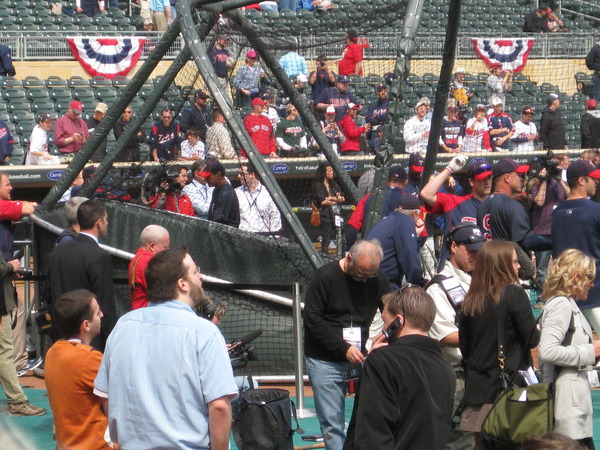 Here's me standing behind the real reporters (Joe Christensen, Kelly Thesier, Kelsie Smith) as they interview Jim Thome: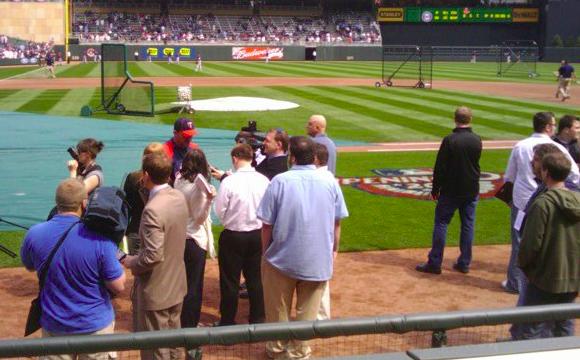 And here's a kind of "Where's Waldo?" shot of my section of the massive press box: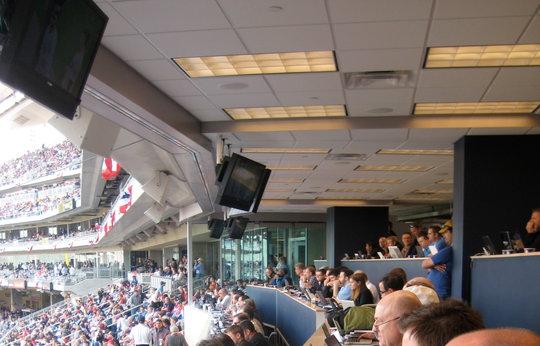 Good times.
• Baseball player by night, toilet paper-shopping superhero by day. Or something.
• One of my favorite television critics, Tim Goodman of the San Francisco Chronicle, appeared on Bill Simmons' podcast this week to discuss Conan O'Brien's surprising move to TBS.
• I'll probably post another reminder later, but I'm scheduled to be the guest on Travis Aune's podcast Monday night at nine o'clock. I'm not really sure how it happened, but at this point I'm seemingly one of the few Twins bloggers without a podcast. Laziness, probably.
• Best of luck to Joe Schmit as he begins cancer treatment.
• Some of the highlights from my NBCSports.com blogging this week:
- Phillies may not hand closer duties back to Lidge right away
- No ligament damage, so Montero due back in 4-6 weeks
- Ortiz benched against Liriano
- Another year, another slow start for Teixeira
- Rangers haven't ruled out Feliz starting
- Blue Jays see $10 million shortstop Hechavarria as 'the total package'
- Back injury sends Angels closer Fuentes to disabled list
• Finally, this week's AG.com-approved music video is Crash Kings doing "Mountain Man" live: