April 19, 2010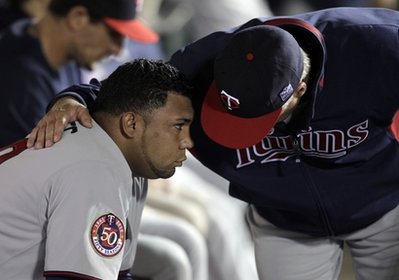 All of my talk about how the Twins could best use the 25th roster spot became sort of a moot point over the weekend, as Jose Mijares was put the disabled list with a strained elbow and Pat Neshek received a cortisone shot in his injured middle finger that has him unavailable for a few days (and perhaps headed to the DL himself). Alex Burnett replaced Mijares, turning right around after being optioned to Triple-A, and they'll be short-handed while waiting on Neshek.
Assuming nothing serious Mijares' injury may not be such a bad thing, because he struggled in five early appearances after thriving as a rookie and the Twins reportedly aren't happy about the big left-hander getting back into bad conditioning habits. Placing him on the DL also clears (or at least delays) any potential bullpen logjam once Clay Condrey gets healthy and rather than demoting Mijares they can now give him some time at Triple-A via a rehab assignment.
Neshek's finger injury is unfortunate because he spent 16 months recovering from Tommy John surgery and has looked very close to his old self in four appearances. Hopefully a few days off and a cortisone shot can do the trick, and if not at least the injury is unrelated to his surgically repaired elbow and perhaps some time on the sidelines right now could help him stay strong down the stretch. Still, a tough break for someone who deserves better on and off the field.
In other injury news, Nick Blackburn complained of elbow soreness following his poor outing Saturday against the Royals and his next turn in the rotation has been pushed back one day. Carl Pavano will move up one spot to take his usual turn, giving Blackburn an extra day to rest before facing Kansas City again this weekend. For now at least the Twins have indicated Blackburn's elbow problems are minor, although true or not they almost always say that first.
I'm on record as saying that the Twins made a mistake in handing Blackburn a long-term deal and the risk of injury is one of the reasons why, but it'd be a shame if he got hurt before the new contract even got a chance to kick in. With even fewer strikeouts than usual while serving up six homers in 19.1 innings and showing what's for him at least poor control he certainly has not looked good through three starts, and apparently the elbow soreness predates Saturday.
* * * * * * * * * * * * * * * * * * * * * * * * *
• Since the Twins have tonight off I'll be doing a "live chat roundtable" with Phil Mackey, Seth Stohs, John Bonnes, and Parker Hageman at 1500ESPN.com. We'll start at 8:00 p.m. and you can ask us questions, make comments, or just read our ongoing discussion. I'm not sure how long the whole live chat will last, but I'll stay for the first 45 minutes or so because ...
• I'm also scheduled to be the guest on Travis Aune's podcast tonight at 9:00 p.m. I've never been on Travis' show before, but we're slated to chat for about 30 minutes and you can listen online by clicking here.
• And since I'm just listing off plugs at this point, you can also find me blogging throughout the day at Hardball Talk on NBCSports.com and get my in-game commentary, random thoughts on non-Twins stuff, and links to articles by following me on Twitter.