April 22, 2010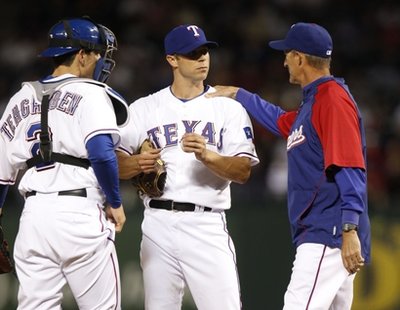 Back in early December the Twins offered free agent Carl Pavano arbitration, which is basically a one-year contract for a salary to be determined later. Pavano eventually accepted the offer and later the two sides avoided a hearing by agreeing to a one-year, $7 million contract, but had he declined arbitration I'm told by a very reliable source that the Twins were preparing to make a serious run at free agent Rich Harden.
Harden ended up signing with the Rangers about 48 hours after Pavano accepted arbitration, getting a one-year, $6.5 million deal that includes another $3.5 million in potential incentives and an $11 million mutual option or $1 million buyout for 2011. Even considering his lengthy injury history I was surprised that Harden could manage only $7.5 million in guaranteed money and that proved to be a mere $500,000 more than Pavano officially signed for a month later.
I liked the Twins' decision to offer Pavano arbitration and thought $7 million was a worthwhile investment for a veteran pitcher who, despite a massive injury history of his own, was durable in 2009 and projected to be a solid middle-of-the-rotation starter if healthy in 2010. However, there was little doubt that Harden possessed far more upside than Pavano, at least in terms of what each pitcher was capable of if fully healthy and working with their peak stuff.
Among all pitchers with at least 25 starts Harden had baseball's highest strikeout rate in each of the past two seasons, joining back-to-back NL Cy Young winner Tim Lincecum as the only starters with more than 10 strikeouts per nine innings in both years. During that two-season span he had a 3.05 ERA with 352 strikeouts in 289 innings while holding opponents to a .208 batting average. When healthy enough to take the mound few pitchers were as dominant.
Pavano has never been that type of pitcher and certainly wasn't going to approach that type of dominance at age 34, and while he logged 199 innings without missing a start last season he actually threw fewer innings than Harden in 2008, 2007, 2006, and 2005. In other words, if Pavano was more of a sure thing than Harden for 2010 it probably wasn't by much and Harden possessed significantly higher upside. Or so it seemed, at least.
Pavano began this season with back-to-back Quality Starts before turning in a clunker Sunday versus the Royals, making him 2-1 with a 4.96 ERA through three turns in the rotation. Harden actually has a 4.73 ERA through his first three starts, but that's misleading. He has one Quality Start and in fact has made it out of the fourth inning just once, lasting 3.2 innings against both the Blue Jays and Yankees with a solid outing versus the Indians sandwiched in between.
Now, don't get me wrong: I'm not suggesting that three April starts mean much of anything in terms of whether the Twins would be better off with Pavano or Harden. However, what does mean something is that Harden has looked terrible--or at least like nothing resembling his old self--in all three outings. He has 14 walks in 13 innings--for comparison, Pavano has a total of 17 walks in 90 innings since joining the Twins--and his velocity is way down from years past.
Harden's average fastball has dropped from 94.4 miles per hour in 2004/2005 and 93.6 mph in 2006/2007 to 92.1 mph in 2008/2009 and barely above 90 mph this season, so all the injuries may have finally caught up to him. In terms of the rotation I'm told Harden was the Twins' first or second offseason target alongside Pavano, so while Orlando Hudson, Jim Thome, and J.J. Hardy stand out as strong additions a move they didn't make may work out just as well.
* * * * * * * * * * * * * * * * * * * * * * * * *
Francisco Liriano was fantastic again last night, following up seven shutout innings last week against Boston with eight scoreless frames against Cleveland. In those 15 innings he got 14 strikeouts versus four walks while inducing 23 ground-ball outs, which along with significantly increased velocity is creeping ever closer to 2006 territory. Best of all the back-to-back gems aren't the extent of his reemergence, as Liriano also dominated winter ball and spring training.
Liriano looks like a top-of-the-rotation stud again, the offense leads the AL in walks and ranks second in runs per game while grinding out tough at-bat after tough at-bat, and for the first time in franchise history the Twins have won five straight series to begin a season. There are some injuries to worry about and playing time issues to sort through, but the Twins are firing on nearly all cylinders right now and the division doesn't look capable of keeping pace for long.