April 26, 2010
• After playing short-handed for a week the Twins finally placed Nick Punto on the disabled list Friday, calling up Luke Hughes from Triple-A to fill his roster spot. In the past Punto has often tried to play through injuries, resulting in the odd combination of a horrible performance being praised, but this time he at least managed to stay out of the lineup with a strained groin while Brendan Harris filled in at third base.
Danny Valencia is a better prospect than Hughes, but the Twins think he needs more work on defense and he's hitting just .176 at Triple-A. Plus, because Punto may not miss a ton of time Hughes makes more sense in much the same way Drew Butera filling in for the injured Jose Morales makes more sense than calling up Wilson Ramos to back up Joe Mauer. Valencia isn't as promising as Ramos, but if the Twins do call him up they'll want it to be for years not weeks.
None of which is to suggest that Hughes is any more ready than Valencia to be a starting third baseman in the majors, because his glove generally receives even worse reviews and his bat projects similarly. However, he's a better candidate to sit on the bench for a couple weeks and Ron Gardenhire would stick with Harris at third base until Punto returns no matter the call-up. I'd like to see Hughes get some starts at designated hitter or left field against lefties.
For more on Hughes, see my write-up ranking him as the No. 23 prospect in the Twins' system.
• Kelsie Smith of the St. Paul Pioneer Press notes that the Twins' league-leading walk total has them on pace to draw 70 percent more walks than in 2005. The change began last year, when they ranked fourth in walks after years of being among the league's worst, but the additions of Jim Thome and Orlando Hudson combined with Denard Span's continued development and sudden walk rate spikes by Jason Kubel and Justin Morneau have taken things to new levels.
Homers are nice, but getting on base and working counts to knock starting pitchers out early is an ideal recipe for putting runs on the board and it's great to see the lineup evolve from a free-swinging Jacque Jones approach to an ultra-patient Mauer approach. Span put it best: "If they throw it over the plate we're going to swing, but if not we're going to take pitches until we get what we want." Amusingly, he then called Delmon Young "the guy who never walks."
• Jon Rauch blew his first save Saturday and not only didn't the world end, the Twins actually won the game. Aside from the fact that he's helping the team, the best part of Rauch going 6-for-7 in save opportunities so far is that it keeps hyperbolic fans and media members from attaching the usual mythical importance to a role that has an 85 percent success rate. As long as Rauch keeps pitching like he always has as a setup man, he'll continue to be just fine.
• I've long speculated that the front office is behind Anthony Slama still being in the minors at age 26, because he's repeatedly been passed over for call-ups and isn't even on the 40-man roster yet despite Gardenhire and pitching coach Rick Anderson praising him as someone they would like to take a look at. As always he's putting up great numbers in the minors with a 1.80 ERA, .147 opponents' batting average, and 14 strikeouts in 10 innings at Rochester this year.
Combined over the past two years he now has a 2.57 ERA, .190 opponents' batting average, and 126 strikeouts in 91 innings between Double-A and Triple-A. Much like Pat Neshek back in 2005/2006, high-minors dominance like that simply warrants a shot regardless of skepticism or question marks, but as Patrick Reusse of the Minneapolis Star Tribune wrote recently the front office remains unwilling to call up Slama despite his being Gardenhire's "preferred pitcher."
• David Brown of Yahoo! Sports recently chatted with Mauer and showed why he's one of the best interviewers in the business by actually getting the reigning MVP to say a few interesting things. Among them is that Mauer loves hip-hop music, which gives me an excuse to re-run this amusing photo from his high school days: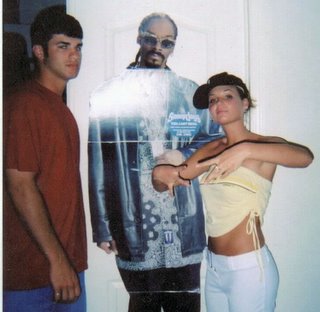 Obviously those Cretin-Derham Hall boys roll hard.
• Mauer went 5-for-6 in Saturday's extra-inning win over the Royals for his third career five-hit game, which ties him for the second-most in baseball history among catchers and puts him one behind all-time leader Ernie Lombardi, who's also the only other catcher with multiple batting titles. For all positions Pete Rose (10) and Tony Gwynn (9) are the five-hit leaders and Kirby Puckett (6), Rod Carew (5), and Tony Oliva (4) are the only Twins with more than Mauer.
• Shooter Hunt was a mess last season with 58 walks, 15 wild pitches, and seven hit batters in 33 innings between rookie-ball and low Single-A, and the 2008 first-round pick allowed five runs without a recording an out in his 2010 debut at high Single-A. However, as LaVelle E. Neal III of the Star Tribune notes Hunt has allowed just one run in eight innings since then, including five shutout innings with nine strikeouts and zero baserunners in his last two games.
• Last winter there was talk of the Twins pursuing free agent reliever Juan Cruz, who posted a 2.88 ERA, .199 opponents' batting average, and 158 strikeouts in 112.1 innings the previous two years. They ultimately balked because signing him would have meant losing a first-round pick and Cruz got a two-year, $6 million deal from the Royals, who by virtue of their bad record only had to forfeit a second rounder. Cruz was released Friday after a 5.50 ERA in 56 innings.