May 3, 2010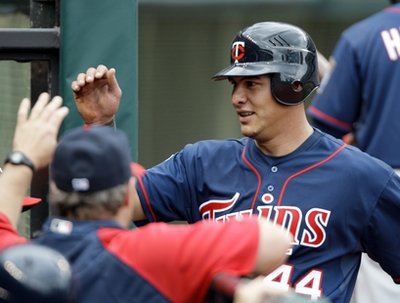 Twenty-five games into the season and the Twins have the second-best record in the league at 16-9, but the Tigers refuse to fade away in the AL Central and injuries are chipping away at the team's depth. Joe Nathan, Jose Morales, and Clay Condrey all began the season on the disabled list, with Nathan out for all of 2010 following Tommy John elbow surgery, and shortly after that Jose Mijares and Nick Punto joined them on the DL.
Punto came off the shelf Saturday, but now Pat Neshek has taken his place on the DL with a finger injury that sidetracked his own comeback from Tommy John surgery. Four of the Twins' top eight relievers and their backup catcher are currently out, but suddenly all of that seems unimportant with Joe Mauer's status up in the air because of a heel injury. So far Mauer hasn't been put on the DL, but Ron Gardenhire indicated it could be more than a day-to-day issue.
In the meantime, Wilson Ramos was called up from Triple-A and will draw most of the starts over Drew Butera for however long Mauer is out. For all of the people (Gardenhire included) pushing for Ramos to make the Opening Day roster as Mauer's backup, it's worth noting that he was hitting just .179 with a 15-to-3 strikeout-to-walk ratio at Triple-A. So, naturally he went 4-for-5 yesterday, becoming the first Twin with four hits in his MLB debut since Kirby Puckett.
Of course, Ramos getting off to a terrible start at Triple-A matters little when the reigning MVP goes down and his initial backup is already on the DL. Ramos and Butera are the only healthy catchers on the 40-man roster and so will play for as long as Mauer can't, with Ramos at least getting consistent starts as opposed to the sporadic playing time he would've gotten opening the season as Morales' fill-in and Mauer's caddy.
Ramos has a very bright future, ranked No. 3 on my annual list of Twins prospects, and looked like a Hall of Famer against the Indians yesterday, but I'm still somewhat skeptical of his ability to thrive as a starting catcher in the majors right now, at age 22 and with a grand total of 70 career games above Single-A. Throw in Butera's non-existent offensive ability and the catching situation may not be particularly pretty if Mauer needs an extended stint on the DL
Fortunately even if Ramos proves human the lineup is deep enough to handle being without Mauer relatively well--at least for a little while--especially if Jason Kubel gets on track following an awful April and the absence of Mauer's left-handed bat convinces Gardenhire to start Jim Thome more versus righties. Ramos taking the AL by storm would be nice, but I'd settle for the Ramos-Butera duo holding their own defensively and hitting .225 with the occasional gapper.
This admittedly sounds silly after Ramos' big debut, but Ramos/Butera replacing Mauer figures to cost the Twins about three runs per week. Not a ton within the context of a few games on the bench or even a 15-day stay on the DL, but with the general rule of thumb that each 10 runs added or subtracted equals one win the three runs per week will begin to add up quickly and have a clear impact on the standings if Mauer's heel injury proves any more serious.
On paper the Twins were an elite team going into spring training, but now they're without one of baseball's premier relievers, half of his setup men, and the reigning MVP and his backup. All those injuries combined with the Tigers starting 16-10 has made life a lot more difficult, but the Twins are on a 100-win pace, remain the class of the division if Mauer returns relatively soon, and perhaps some of young fill-ins stepping up will even make them better off in the long run.