May 5, 2010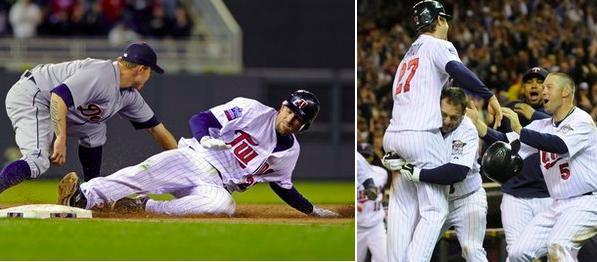 Rather than making history by beginning his career with three or more hits for a third straight game, Wilson Ramos went 0-for-3 with a strikeout and grounded into a double play last night. Now the bum's hitting a measly .583. Thanks to a Carlos Silva-esque 11-hit, 95-pitch complete game from Nick Blackburn and J.J. Hardy's ninth-inning heroics on both sides of the ball the Twins still improved to 18-9 and now lead the AL Central by 2.5 games over the Tigers.
In other good news, an MRI exam on Joe Mauer's injured heel revealed merely a deep tissue bruise, so the Twins are reportedly confident he'll avoid the disabled list and perhaps even be back in the lineup at some point later this week. Once he's ready to return it'll be interesting to see what the Twins do with Ramos, because while a historic start has many fans clamoring for him to stick around realistically two games should have no impact on the team's plan for him.
Even if Ramos stuck around to back up Mauer and perhaps start at designated hitter against left-handed pitching he'd probably only get a few starts per week. Burning through his service time in that type of role when playing every day at Triple-A would seemingly be better for his long-term development is questionable and amazing first two games aside Ramos is unlikely to be a huge upgrade as a part-time DH right now anyway. I'm very curious to see what they do.