May 10, 2010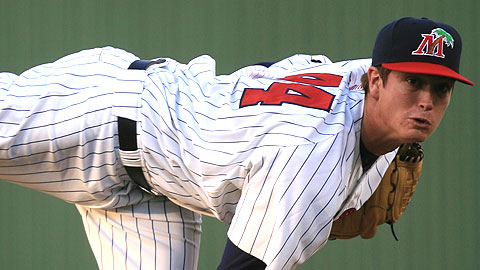 • Kyle Gibson had a rough pro debut at high Single-A, but since then the 2009 first-round pick has thrown 33 innings with a 1.36 ERA and 25-to-7 strikeout-to-walk ratio, including a one-hit shutout in which Gibson allowed just one infield single and one walk, immediately erasing both runners with a pickoff and a double play. Gibson faced the minimum of 27 batters on just 91 pitches while finishing with six strikeouts and 16 ground-ball outs.
He fell to the Twins with the 22nd pick last June because of a short-term injury and high bonus demands, but Gibson was widely considered a top-10 talent and he's certainly showing why after skipping rookie-ball and low Single-A, with a 1.96 ERA, .214 opponents' batting average, and 32-to-9 strikeout-to-walk ratio in 36.2 innings. Better yet, he's induced four grounders for each fly ball and his ground-ball rate of 67 percent would've led MLB by a wide margin in 2009.
UPDATE: Gibson has been promoted to Double-A.
• In addition to non-existent power making his offensive upside appear more or less like Juan Pierre, one of the other reasons I'm skeptical of Ben Revere developing into an impact player is that his defense draws mixed reviews. His awful throwing arm has been a talking point since Revere was drafted back in 2007 and during spring training the Twins uncharacteristically went public with criticism of his routes and overall outfield defense. Here's a Ron Gardenhire quote:
I like him. I think he could go out there in the big leagues and get some hits. Can he play defensively? No. He's got some things to learn. He can run and can outrun some of his mistakes. There's a lot to learn but he's not that far out. Everyone is not blessed with the greatest arm strength. You have to learn how to get rid of the ball quicker.
And here's a quote from Ben Badler of Baseball America:
Revere ... still has a ways to go to become a plus defender in the outfield. Revere's arm strength is below-average at best, but his speed alone should translate to better outfield play than he showed this spring. One scout who watched Revere for a week liked Revere's speed and short, quick stroke, but came away disappointed with his outfield instincts and reads off the bat.
None of which is to suggest that Revere isn't a good player, as he ranked No. 5 on my annual list of the Twins' prospects. However, a huge part of his long-term value depends on defense and for now at least the assumption that he'll have a great glove simply because he has great speed is an iffy one. Offensively, he's batting .287/.367/.319 with three extra-base hits, nine steals, and a 16-to-10 strikeout-to-walk ratio in 25 games at Double-A as a 22-year-old.
• Aaron Hicks is somewhat surprisingly repeating low Single-A after the 2008 first-round pick hit a relatively disappointing .251/.353/.382 in 67 games at Beloit last season. He got off to a brutal 1-for-30 start, but is 29-for-69 (.420) with nine extra-base hits, 16 walks, and five steals since to raise his overall line to .303/.425/.455. Much of his game is still a work in progress, but drawing 89 walks in 622 career plate appearances is great to see from a toolsy 20-year-old.
• Hicks' dramatic early season turnaround actually qualifies as merely the second-largest by a prominent Twins prospect. After imploding last year with 58 walks, 15 wild pitches, and seven hit batters in 33 innings Shooter Hunt began this season heading down the same dangerous path, walking three and allowing five runs without recording an out in his debut at Fort Myers. However, since then he has a 2.20 ERA and 23-to-5 strikeout-to-walk ratio in 16.1 innings.
• Many fans wanted Danny Valencia on the Opening Day roster, but he's hit .275/.318/.363 in 26 games at Triple-A and now has a .283/.309/.429 line with a 55-to-15 strikeout-to-walk ratio in 97 total games at Rochester. He's also four months from his 26th birthday and gets worse reviews for his defense than Revere, so Valencia's window of opportunity could be closing. I'll be surprised if he spends major time in Minnesota this year unless an infielder has a big injury.
• Anthony Slama keeps dominating at Triple-A and keeps being bypassed for call-ups because the front office doesn't believe he's for real and refuses to place him on the 40-man roster. He has a 1.77 ERA, .121 opponents' batting average, and 25 strikeouts in 20 innings at Rochester while the rest of the Triple-A staff has a 5.66 ERA. Slama is 26 years old with a 1.85 ERA and 296 strikeouts in 204 pro innings, yet the Twins won't even give him a look as a middle man.
• For whatever it's worth after one month, some other prominent Twins prospects off to good starts: Rene Tosoni, David Bromberg, Angel Morales, Deolis Guerra, Trevor Plouffe, Robert Delaney, Tom Stuifbergen, Dustin Martin, Daniel Osterbrock, Liam Hendriks. And some off to poor starts: Chris Parmelee, Joe Benson, Carlos Gutierrez, Danny Rams, Josmil Pinto, Reggie Williams, Juan Portes, Steve Singleton, Deibinson Romero, Estarlin De Los Santos.
• He no longer qualifies as a prospect and his performance at Triple-A goes well beyond a poor start, but Glen Perkins is 0-3 with a 10.90 ERA and .388 opponents' batting average through five outings. Unless he just forgot how to pitch at age 27 and with a 4.73 ERA in 281.2 innings as a major leaguer, it seems fairly likely that Perkins is still hurt. Either way, he's gone from the doghouse to the outhouse and the Twins' odds of finding a decent trade for Perkins look slim.