May 17, 2010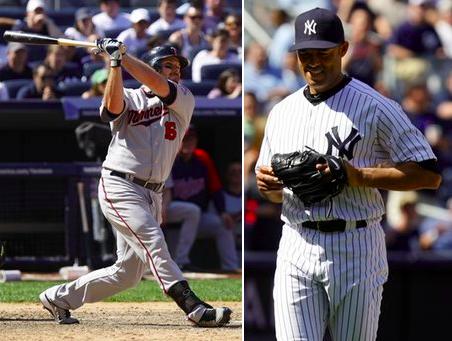 With the Yankees leading 3-1 and the bases loaded yesterday afternoon Joe Girardi called on Mariano Rivera to get the final out of the eighth inning. An unusually difficult spot for a closer to be sure, but not an unusually difficult spot for the best closer of all time. Rivera had gotten more than three outs for a save 144 times between the regular season and postseason in his career. By comparison, the Twins' leader is Rick Aguilera with 57 and Joe Nathan has 11.
It wasn't quite just another day at the office for Rivera, because he strolled in from the bullpen tied for the all-time record with 51 consecutive saves converted at home dating back to 2007. Oh, and the Yankees had also beaten the Twins in 12 straight games. So, naturally he handed out his first bases-loaded walk since 2005 and then served up his first grand slam since 2002, as Jim Thome's patience and Jason Kubel's power turned a 3-1 deficit into a 6-3 lead.
All of that is apparently what it takes for the Twins to win a game against the Yankees. Finally.
Including the regular season and playoffs, Ron Gardenhire has 738 wins and 620 losses since replacing Tom Kelly as Twins manager in 2002. That works out to a .543 winning percentage, which is the equivalent of going 88-74 in a 162-game season. During that nine-year span the Twins have a winning record against 10 of the 13 other teams in the AL and are 92-52 against NL teams in interleague play. And they're now 17-52 against the Yankees.
To understand just how unfathomably horrendous their record is against the Yankees, take a look at the Twins' record under Gardenhire broken down by opponent:
OPPONENT        W      L     WIN%     1YR
Rays           36     18     .667     108
Interleague    92     52     .639     104
Royals         96     59     .619     100
Tigers         93     62     .600      97
Rangers        41     31     .569      92
Orioles        33     26     .559      91
Mariners       40     33     .548      89
White Sox      82     72     .532      86
Red Sox        28     25     .528      85
Indians        81     74     .523      85
Athletics      40     40     .500      81
Blue Jays      26     30     .464      75
Angels         33     46     .418      68
Yankees        17     52     .246      40

Total         738    620     .543      88
Along with wins, losses, and winning percentage the above table has a "1YR" column showing the Twins' record against each opponent prorated to one 162-game season. For instance, the 36-18 record versus the Rays is equivalent to going 108-54 in one full season, while the 92-52 record in interleague play is equivalent to 104-58. Not surprisingly they've also dominated the Royals, with a .619 winning percentage that's akin to 100-62.
In fact, if you remove the Yankees from the equation the Twins are 721-568 under Gardenhire for a .559 winning percentage, which is like a 91-71 record over a 162-game season. They're below .500 against just two non-Yankee teams, going the equivalent of 75-87 versus the Blue Jays and 68-94 versus the Angels. And versus the Yankees? They'd be 40-122, which happens to match the fewest wins ever for an actual team (the Mets in 1962) in a 162-game season.
All of which is a very long way of saying that, even after yesterday's much-needed victory, the Twins' ineptitude against New York is startling. I'm not sure how to explain it because I'm not sure there is an explanation, although certainly many factors have played a part. Chief among them is that the Yankees have simply been better than the Twins (and just about every other team in baseball) during Gardenhire's tenure, winning an average of 98 games per season.
Of course, based strictly on the Yankees' superior teams you might expect the Twins to have a similar record against them as their 33-46 mark against the Angels, but 17-52 is clearly a long way from 33-46. One factor that makes the matchup more lopsided than the strength of the overall teams would suggest is that the Twins' pitching staffs have been filled with fly-balling control artists who're particularly susceptible to power-laden lineups like New York's.
Another factor is that Gardenhire seems to over-manage against the Yankees, making tactical decisions he'd otherwise not bother with in a "normal" setting. Making more matchup-based, mid-inning pitching changes rather than trusting his typical bullpen usage and calling for more bunts and steals despite playing for one run being an especially poor strategy against a lineup that powerful are two examples. And last but not least, simple bad luck has also been a factor.
Whether yesterday's dramatic victory can help reverse the Twins' nearly decade-long struggles against the Yankees obviously remains to be seen, but for now at least 17-52 feels a whole lot better than 16-52 and they'll get another crack at New York when Rivera and company come to Target Field for the first time next week. In the meantime, Yankees-related teeth gnashing aside the Twins have MLB's fourth-best record at 23-14 and lead the AL Central by 1.5 games.