May 24, 2010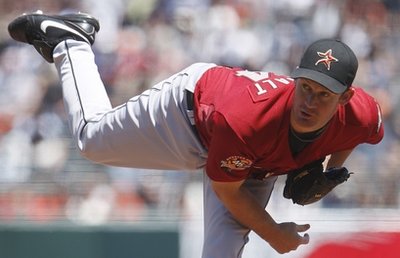 Roy Oswalt requested a trade from the Astros over the weekend and judging from the e-mails and tweets I received on the topic many fans are wondering if the Twins should pursue a deal for the 32-year-old right-hander. Oswalt has been one of baseball's elite pitchers for a decade, yet generally seems underrated for someone fourth among active pitchers in ERA and winning percentage while winning more games than everyone his age or younger except CC Sabathia.
He's started at least 30 games in seven of the past eight seasons while posting an ERA above 3.55 just once during that span, yet is only a three-time All-Star and has never finished higher than third in the Cy Young balloting. Last year back problems limited Oswalt to fewer than 200 innings for the first time since 2003 and he posted a career-worst 4.12 ERA, but he's been as good as ever this season with a 2.66 ERA and 60-to-16 strikeout-to-walk ratio in 61 innings.
One of the issues for the Twins in terms of possibly upgrading the rotation is that they already have five solid starters, and while not all of them have performed as well as hoped early on in 2010 there isn't an obvious Ramon Ortiz or Sidney Ponson or Livan Hernandez to jettison. In other words, it's tough to trade a mid-level prospect or two for a Carl Pavano type when you already have the actual Pavano and a rotation full of similarly solid but unspectacular pitchers.
If the Twins want to legitimately upgrade the rotation they'd have to target an upper-echelon starter, which brings up two other issues. First, those guys tend to be very expensive in terms of both salary and cost to acquire. Beyond that, unless one of the current starters is part of the trade package for that upper-echelon guy a deal would involve dumping someone from the rotation who doesn't really deserve it and is a perfectly good big-league starter.
As for whether Oswalt fits that upper-echelon bill, the answer is a pretty clear yes even if he's just as clearly declined some from his prime. Beginning with Oswalt's first full season in 2002, he's ranked 4th, 15th, 13th, 13th, 9th, 25th, 11th, 26th, and now 8th among MLB starters in Expected Fielding Independent Pitching, which removes factors like bullpen and lineup support, defense, and luck from the equation to evaluate pitchers based strictly on things they control.
At age 32 and with his two worst years coming in 2007 and 2009 he seems more likely to be a top-25 starter than a top-15 starter at this point, but even at his worst he's been a low-end No. 1 guy and Oswalt's strong work so far this year suggests getting back to the top-15 range isn't out of the question (although moving to the AL would make that tougher). Relative to the Twins, he's had a better xFIP than any of their current starters in 2007, 2008, 2009, and 2010:
2007        xFIP      2008        xFIP      2009        xFIP      2010        xFIP
Oswalt      4.08      Oswalt      3.55      Oswalt      3.88      Oswalt      3.29
Baker       4.41      Slowey      4.02      Pavano      3.96      Liriano     3.37
Slowey      4.78      Baker       4.14      Baker       4.22      Baker       3.70
Liriano      N/A      Liriano     4.31      Slowey      4.23      Pavano      3.72
Pavano       N/A      Blackburn   4.48      Liriano     4.55      Slowey      4.66
Blackburn    N/A      Pavano       N/A      Blackburn   4.56      Blackburn   5.12

Some of Oswalt's advantage over the Twins' current starters is definitely due to his pitching in the much weaker league, but I feel safe in saying he'd be a clear upgrade and likely the team's top starter (depending on Francisco Liriano's progress). However, the Astros would no doubt demand several of the Twins' top prospects in return for Oswalt and he's making $15 million this year with another $16 million in 2011 and a $16 million option or $2 million buyout in 2012.
While around $26 million for 1.5 seasons or $40 million for 2.5 seasons is essentially the going rate for a true No. 1 starter, even with the new ballpark boosting revenue higher than ever the Twins seemingly aren't in a position to add another big salary given their commitments to Joe Mauer, Justin Morneau, Joe Nathan, Michael Cuddyer, Scott Baker, Nick Blackburn, and Denard Span, plus upcoming arbitration-fueled raises for several other players.
There's zero question Oswalt would be an upgrade and his remaining contract is more or less commensurate with his skills, but it's not that easy. Is he better than, say, one of Blackburn, Baker, or Kevin Slowey plus two top prospects and $30 million? Because in trading for Oswalt the Twins would also be dumping one of their current starters from the rotation, giving up at least one and perhaps multiple highly rated prospects, and taking on the rest of his deal.
Without knowing the Astros' demands it's impossible to say for sure, but those factors would make me think twice about a move and my guess is Oswalt's contract alone takes the Twins out of the running. Oswalt is an outstanding pitcher with gas left in the tank, but between the costs to acquire him and lack of an obvious rotation weak spot pursuing him doesn't seem to be a great fit unless the Astros like Slowey, Blackburn, or Baker as a major part of the deal.