June 2, 2010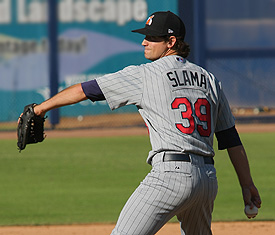 In addition to his duties as Baseball America editor-in-chief John Manuel also announces games for the Rays' longtime Triple-A affiliate in Durham, North Carolina. With the Rochester Redwings in town for a series this week he got a first-hand look at various Twins prospects, posting tons of interesting notes about them via Twitter. Manuel was also kind enough to answer a few of my questions specifically about Anthony Slama and his amazing minor-league numbers ...
Gleeman: I think a lot of Twins fans assume Slama's raw stuff must be poor because the team is unwilling to call him up despite the great numbers, but my impression from seeing him a few times (on television and online) is that his stuff is probably no worse than average. At the very least, it's not as if he's throwing in the mid-80s. What were your impressions of his raw stuff?
Manuel: He's definitely got average raw stuff. I can't say what the assumptions may be, but we've reported on him in our [team] Top 30 ever since he was signed, he was in instantly, and he's got two average pitches. That's how they looked Saturday. He also does have deception; I thought I caught him doing a couple of different things, such as varying his tempo and even varying what he does with his glove during his delivery, just to create a little deception.
But I'd want to study the video to confirm that. Mostly, he showed command of two average pitches and some moxie; he trusts his stuff, throws pitcher's pitches and attacks hitters with confidence. Seems like his fastball has some life to it [note: Manuel listed his velocity at 89-92 miles per hour] and that his slider's break, while not extraordinary, is late.
Gleeman: Talk of his delivery being atypical seems kind of overblown to me, because while his throwing motion does have some funk to it he's hardly doing anything crazy. Obviously there's something going on that makes it tougher for hitters to pick up the ball coming out of his hand, though. Any thoughts on what it is and whether it'll play in the majors?
Manuel: I agree on the deception but I think it's little things, like you said. It's not a completely different delivery.
Gleeman: Bill Smith and company have repeatedly said that Slama isn't on the 40-man roster because he doesn't need to be added until the offseason, but obviously that doesn't really explain anything. They could add him now if they felt he was ready, but my sense is no one in a decision-making position believes he's for real. What's the general sense on Slama in terms of deserving a shot in the majors given that he's already 26 years old?
Manuel: I think the Twins haven't added him to the 40-man roster because they have other options they want to evaluate first who have to be on the 40-man. Guys like Alex Burnett, Anthony Swarzak, and Glen Perkins, or guys who have to be on the 40-man, like Loek Van Mil, Deolis Guerra, Estarlin del los Santos. I don't see a ton of dead weight on the 40-man roster.
That said, Slama is clearly better than Rob Delaney to me. Going into the 2009 season I think they liked Delaney better and after last season I think they preferred Slama. Slama's in the higher-leverage role at Rochester, but Delaney probably would have been lost in the Rule 5 had he been exposed to it. All that is to say, I understand why he's not on the 40-man yet, I understand why they are being patient.
Is Slama so much better than what they have in the majors that he's worth losing a player to another organization by removing him off the 40-man? I think they consider that answer to be no, and I can see that. Stuff-wise, Slama isn't better than what they have. He's just better in terms of his minor-league dominance, which has gone on for three years.
Gleeman: Shouldn't the success of someone like Pat Neshek show the Twins that, at some point, consistently amazing numbers warrant an opportunity even if there's a lot of skepticism?
Manuel: I see where fans are coming from but I don't think Slama still being in the minors is costing the Twins games. Jesse Crain seems like the guy you'd replace, but I also can see giving Crain more chances to dig out of his funk. One thing to watch is how heavily Slama is being used. He's been used in back-to-back games six times already, and he and Delaney are tied for the International League lead in appearances with 24 through 51 team games.
* * * * * * * * * * * * * * * * * * * *
Thanks to John for answering the questions. We occasionally disagree, whether about Slama now or Nick Blackburn a few years ago--we have an over/under bet on Blackburn winning 70 career games--but I'm a huge fan of his work and Baseball America is the only magazine I still subscribe to. Following him on Twitter is also a must for anyone interested in prospects, if only because he writes stuff like: "Slama sporting an 80 porn stache on the 20-80 scale."