June 16, 2010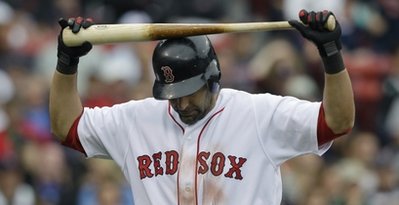 Ken Rosenthal of FOXSports.com reported recently that the Twins are involved "in trade talks" with the Red Sox for Mike Lowell, who has been relegated to bench duties after an offseason deal to the Rangers was nixed by thumb surgery. According to Rosenthal "the Twins' field staff is lobbying for Lowell" because "the need is obvious" but the "front office would need to work through money and durability concerns."
Rosenthal is my choice for the best, most plugged-in national reporter in baseball and on the surface at least the Twins being interested in Lowell makes sense. Twins third basemen have been awful this season, hitting .207/.275/.274 with just two homers in 64 games to rank dead last in the league in batting average, slugging percentage, OPS, homers, extra-base hits, and RBIs while also ranking second-worst in on-base percentage and runs.
Lowell has barely played for the Red Sox thanks to the winter signing of third baseman Adrian Beltre and the resurgence of designated hitter David Ortiz, logging a grand total of 90 plate appearances in 65 team games. He hasn't fared well in the extremely limited action, batting just .215/.311/.354, but 90 trips to the plate spread over three months is hardly a significant sample size and his OPS still beats Twins third basemen by 117 points.
Lowell is 36 years old and has undergone hip and thumb surgeries within the past 20 months, so the risks are obvious. However, he's said to be reasonably healthy now and when given a chance to actually play last season batted .290/.337/.474 with 17 homers and 29 doubles in 119 games. In fact, his current poor production in sporadic action marks just the second time in 11 full seasons as a big leaguer that Lowell hasn't posted an OPS above .785.
If you're curious, the last time someone started at least 100 games at third base and posted an OPS above .785 for the Twins was Corey Koskie in 2004. Lowell's lack of consistent work this season makes it nearly impossible to say exactly what he's capable of offensively at age 36, but there's no doubt that he'd be an obvious upgrade over the horrendous production the Twins have gotten from third base so far and the improvement would likely be significant.
Lowell is also a right-handed hitter and has batted .287/.354/.493 versus left-handed pitching during his career, making him a good fit for a Twins lineup heavy in lefty bats. When healthy his overall production has essentially been identical to Michael Cuddyer, with Lowell batting .279/.342/.466 and Cuddyer batting .270/.343/.457. Cuddyer has obviously been a key cog in the Twins' lineup for a long time, so adding a similar right-handed bat would help a lot.
Defensively is another story, because while Lowell was once a Gold Glove-winning defender at third base age and injuries may have turned him into a liability there. He graded out very well in Ultimate Zone Rating all the way up to 2008, but had hip surgery that offseason and came back to rate 10.7 runs below average in 107 games there last season. He's started just four games at third base this season, which makes it impossible to say if his range has recovered.
I'd be confident calling him a worthwhile, sensible target if the Twins are comfortable pursuing Lowell after presumably having access to his health status and scouting some of his starts this year. He could provide a big offensive upgrade at third base while holding his own defensively and even if his range is gone for good the tradeoff may be worth making. Worst case, if Lowell proved to be a huge liability in the field they'd benefit from his righty bat in a platoon at DH.
Lowell will be a risky acquisition however you slice it, so the potential move comes down to what the Twins would have to trade the Red Sox to take that risk. Back in December they had a deal worked out to send Lowell and $9 million of his $12 million salary to the Rangers for an intriguing but ultimately mid-level catching prospect named Max Ramirez and obviously teams haven't been banging down their door since the trade was nixed.
Money isn't as much of a factor at this point in the season, but assuming the Twins have some room to add salary they presumably should be able to get Lowell for a prospect clearly outside their top 20. It's tough to speculate any more specifically than that in terms of which players the Red Sox would target, but if the Twins can get Lowell for a prospect in the 30 range (now, not based on preseason rankings) they should pull the trigger.
He's a risk, but if reasonably healthy and productive Lowell would fill a clear area of need with a massive offensive upgrade in the form of a right-handed bat with some pop and might even surprise some people with his glove. Old, injured players are scary and I'm as hesitant as the Twins when it comes to parting with even mid-level prospects, but if the price is right Lowell was good enough as recently as last season to potentially give the team a major boost.