June 17, 2010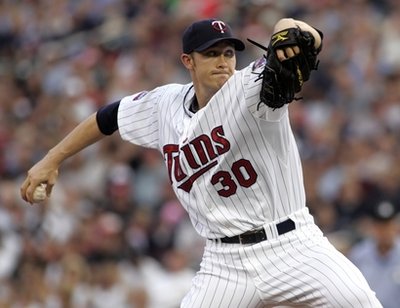 Some random notes on Scott Baker racking up a career-high 12 strikeouts over seven shutout innings against the Rockies last night ...
• Bert Blyleven had 12 or more strikeouts 22 times, including 15 for the Twins. Johan Santana had 14 such games for the Twins and Camilo Pascual had 10. No one else in team history has as many as five.
• Baker joined Santana, Blyleven, Pascual, Eric Milton, Jim Kaat, Joe Decker, Jim Merritt, and Francisco Liriano as the only pitchers in Twins history with seven or more shutout innings and 12 or more strikeouts. Santana did it six times, while Blyleven and Pascual did it twice apiece.
• Baker also joined Randy Johnson, Pedro Martinez, Jake Peavy, Pete Harnisch, and Hideo Nomo as the only pitchers to throw seven or more shutout innings with 12 or more strikeouts against the Rockies. Martinez is the only pitcher to do so versus the Rockies at Coors Field.
Note: If you're a nerd like me and enjoy looking up stuff like that, I highly recommend purchasing the "Play Index" at Baseball-Reference.com. It'll be the best and dorkiest money you've ever spent.