June 28, 2010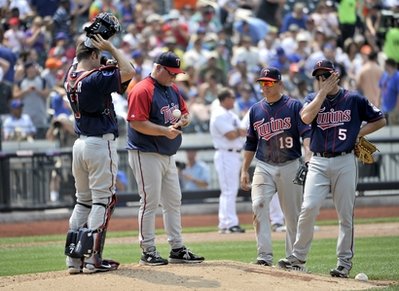 Early this season it looked like the Twins might run away and hide from the rest of the division, but after yesterday's loss to the Mets they're now just a half-game in front of the Tigers and 1.5 games ahead of the White Sox. They finished May on a five-game winning streak that gave them a season-high 4.5-game lead, with the Tigers looking like their only real competition and the White Sox on the verge of trading away veterans, but since then the Twins are just 10-14.
Nearly all teams go through sub-.500 stretches like that, but the Twins' division lead vanished in a hurry because their rough patch coincided with the White Sox shockingly winning 15 of 17 games after beginning the season 24-33 as reports swirled about their manager and general manager feuding. Toss in the Tigers staying steady this month with a 14-10 mark and ... well, no one in the AL Central is going to be doing any running away or hiding for a while.
When a bad stretch like the one the Twins are on now follows a good season-opening stretch like they put together in April and May there's a tendency to assume things are falling apart and the team is doomed. Certainly the Twins' recent poor play is discouraging and takes some of the air out of their World Series aspirations, but it's important to put things in the context of a six-month, 162-game season.
Had the timing of the good and bad stretches been flipped, with the Twins starting 10-14 and then playing well for two months, the perception of their current situation would be different. It's similar to how a player who follows a big April with a mediocre May through September will spend most of the season with nice-looking numbers, but a player who follows a terrible April with a strong May through September will spend much of the season with bad-looking stats.
They may both end up hitting the same .300 with 25 homers and an .850 OPS, but one guy will probably make the All-Star team while people spend months talking about how the other guy is slumping. At the end of the day a hit in April or May counts the same as a hit in September, and along those same lines while it certainly would have been nice for the Twins to go through the entire season without a lengthy rough patch that was never particularly likely.
No matter how they got here, it's late June and the Twins are atop the AL Central and on pace for 89 wins. In their first eight years under Ron Gardenhire the Twins' average win total was ... 88.6. Shaking off the loss of Joe Nathan to start 31-20 raised expectations to the point that the current 10-14 stretch has people scrambling for answers and lobbing criticism everywhere, but if offered on Opening Day a half-game lead and 89-win pace would've sounded just fine.
Longtime readers of this blog may not think of me as a voice of optimism and I'm obviously not against criticism when it's warranted (and sometimes when it's not), but far too often fans and media members seem to forget that baseball is a six-month marathon of ups and downs. This isn't football or even basketball, and treating each winning streak or losing streak like it is will just lead to overreactions and hyperbolic analysis.
Without question the Twins' recent play is worrisome and exposes some flaws that likely need to be addressed, but whether it comes in April or June or September winning baseball teams are going to experience stretches like this and baseball fans should probably know better than to react as if they're doomed. Right now the Twins look like a good but not great team capable of winning a poor division, which was true on Opening Day and for most the past decade.
And now the Tigers are in town for a three-game series at Target Field.