July 22, 2010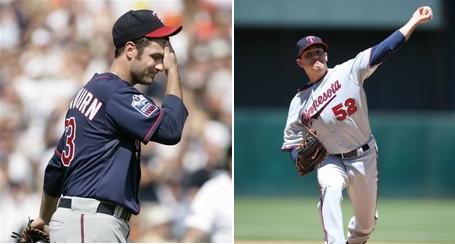 Because of his low strikeout rates and mediocre ground-ball percentages Nick Blackburn was always walking a very fine line between success and failure, which is why I criticized the Twins for signing him to a four-year, $14 million deal this offseason when they already controlled him through 2013 and could have instead gone year-to-year with his contract status. Of course, not even I expected the wheels to come flying off this quickly or this completely.
Blackburn began the year by going 6-1 with his usual 4.28 ERA through the end of May despite just 17 strikeouts in 61 innings, but in nine starts since June 1 he's 1-6 with a 9.88 ERA, .378 opponents' batting average, and nearly as many walks (14) and home runs (11) as strikeouts (18) in 41 innings. His latest sub par outing Sunday pushed his ERA to an MLB-worst 6.53 and after 18 starts the Twins decided to demote Blackburn to the bullpen yesterday.
Brian Duensing will replace Blackburn in the rotation after posting a 1.67 ERA in 43 innings as a reliever. He's yet to throw even 50 pitches in a game this year, so Duensing will likely be on a pitch count for his first matchup tomorrow night against the Orioles, but he was a starter throughout his minor-league career and pitched well in nine starts down the stretch last year. With that said, those expecting Duensing to be a rotation savior are going to be disappointed.
His secondary numbers haven't been particularly great despite working mostly as a one-inning reliever facing more left-handed hitters than he'll see as a starter. So while his 2.98 ERA in 127 career innings looks great, his 4.59 xFIP is considerably less promising. His minor-league track record is also underwhelming, with a 4.00 ERA, .275 opponents' batting average, and just 207 strikeouts in 331 innings as a starter at Triple-A.
Of course, it won't take much for Duensing to be a huge improvement over Blackburn and he's certainly capable of putting together a solid half-season as a mid-rotation starter. Making the switch was absolutely the right move, but expectations for Duensing need to be held in check and everyone involved should be happy if he posts an ERA under 4.50. As for Blackburn, in the short term he'll get some low-leverage work as a mop-up man and long reliever.
In the long term it's tougher to say because the contract really complicates things. Blackburn is owed $3.75 million next year, $4.75 million in 2012, and $5.5 million in 2013, so simply cutting him loose won't be an option and the Twins have unnecessarily forced themselves into being heavily invested in getting him turned around. I'm not optimistic about those odds, but just as Blackburn wasn't as good as he looked in 2008/2009 he's not as bad as he's looked this year.
He is, however, a 28-year-old with the third-lowest strikeout rate among all active pitchers, a lifetime .302 opponents' batting average, and a 5.02 career xFIP. For comparison, Scott Baker and Kevin Slowey have career xFIPs of 4.23 and 4.33, so there should be zero doubt that the Twins booted the correct guy from the rotation. Blackburn bucked the odds and out-pitched his secondary stats for two years, but you can only walk that tightrope for so long without falling.