July 30, 2010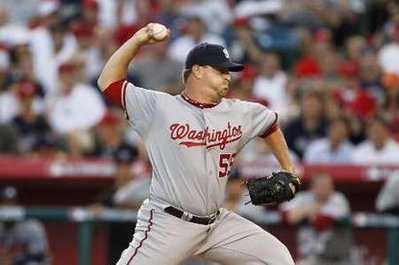 Matt Capps was available for nothing this offseason. Non-tendered by the Pirates in December following a career-worst campaign that saw him post a 5.80 ERA and .324 opponents' batting average while serving up 10 homers in 54.1 innings, Capps became a free agent and signed a one-year, $3.5 million deal with the Nationals in large part because they were one of the only teams willing to promise him an opportunity to remain a closer.
And last night the Twins decided to overpay for that closing experience, acquiring Capps from the Nationals for Wilson Ramos and Joe Testa. To be clear, Capps is a good, solid late-inning reliever. He bounced back nicely in Washington with a 2.74 ERA and 38-to-9 strikeout-to-walk ratio in 46 innings and has a 3.50 ERA in 317 career innings. However, if not for his racking up 93 saves for bad teams I'm convinced the Twins never would have even considered this move.
Much like the Twins turning to Jon Rauch with Joe Nathan sidelined, Capps' reputation as an "experienced closer" comes largely from teams simply giving him a shot to accumulate saves. Rauch has done a perfectly fine job filling in for Nathan, converting 21-of-25 saves with a 3.05 ERA and 27-to-9 strikeout-to-walk ratio in 38.1 innings, and if given a longer opportunity may have turned himself into an "established closer" just like Capps did. Seriously.
Take a look at their respective career numbers as relievers:
           IP     ERA     FIP    SO/9    BB/9     AVG     OBP     SLG     OPS
Capps     317    3.50    3.80     7.0     1.7    .263    .302    .415    .717
Rauch     402    3.54    3.90     7.5     2.7    .242    .297    .390    .687

Capps has had better control, Rauch has been tougher to hit, and their overall effectiveness is nearly identical across the board. If pressed I'd pick Capps over Rauch because he's younger and has fared better in Expected Fielding Independent Pitching (xFIP), but by far the biggest difference between them is that one has accumulated saves for four seasons while the other has accumulated saves for one season.
No one would ever suggest that trading Ramos for a reliever who's slightly better than Rauch is a sound idea, yet by focusing on the save statistic the Twins have done just that and many fans will instinctively be on board with the move for an "established closer." Now, don't get me wrong: Capps is a quality reliever and represents a clear upgrade to the Twins' bullpen. What he's not is an elite reliever or enough of an upgrade to part with Ramos.
Capps is under team control as an arbitration-eligible player next season as well, which means the Twins essentially traded Ramos and Testa for 1.5 seasons of him. Unfortunately part of his inflated perceived value includes his likely price-tag in arbitration, which is sure to rise from this year's $3.5 million salary to over $5 million (and perhaps well over $5 million) thanks to those same shiny-looking save totals.
Capps makes the Twins better for the final two months of this season and all of next year, but the improvement isn't nearly as large as the "All-Star closer" label would have you believe and the cost involved is significant in terms of both players and money. Next season the Twins will pay a premium for a quality setup man they perceive as something more because of a reliance on a flawed statistic and they gave up a good catching prospect for the right do that.
In fairness, Ramos' value is inflated as well. His historic debut caused the Twins fans who don't know any better to assume that he was destined for stardom and his subsequent struggles at Triple-A have exposed him as a good but not great prospect. However, he still projects as a good defender behind the plate and a 22-year-old being overmatched in his first experience at Triple-A is far from disastrous.
I'm not convinced that Ramos will become a star, but the possibility certainly exists and at the very least he looks capable of developing into a starting-caliber catcher for many years. Joe Mauer's presence meant Ramos had little shot to be that starting-caliber catcher in Minnesota, but that doesn't mean the Twins needed to deal him immediately or when his value was at an all-time low or for an underwhelming return like Capps.
I have no problem with trading Ramos or trading for bullpen help, and in the Twins' minds they just traded him for an "All-Star closer." In reality they traded Ramos for a setup-caliber reliever who accumulated saves on bad teams and is thus overrated and soon overpaid. Among the 93 pitchers who've logged 150-plus relief innings in the past three calendar years, Capps ranks 38th in xFIP, 49th in FIP, 50th in ERA, 61st in strikeout rate, and 85th in opponents' average.
You'd think the Twins would have learned something about the created-not-born nature of the closer role and often spurious value of saves from Rauch's relatively successful stint filling in for Nathan, but instead they just paid a premium for a guy whose perceived value and ability are much higher than his actual value and ability solely because of his role and save total. Capps is a good reliever, but the Twins paid for a great reliever and did so for all the wrong reasons.