August 23, 2010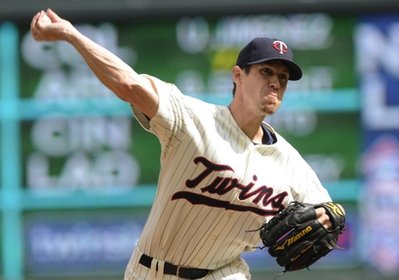 There was no shortage of at-the-ballpark booing and talk radio-inspired emoting, but I didn't hear many coherent, logical arguments against the Twins pulling Kevin Slowey despite seven no-hit innings last week. And whatever cases that were made have probably gone silent now that Slowey has been placed on the disabled list with further arm problems following his poor follow-up outing Saturday.
It wasn't so much that the Twins wouldn't let him go from the 106 pitches he'd thrown through seven no-hit innings to the 130 or so pitches it likely would've taken to complete the no-hitter, it was that because Slowey had missed his previous start with elbow pain they never really wanted him throwing even 106 pitches in the first place. And now it looks like they were right. Or maybe Slowey would have aggravated the injury throwing 75 pitches anyway. Who knows.
Whatever the case, he's on the DL with an arm injury for the third time in three years and Nick Blackburn is back in the rotation following a month-long demotion to Triple-A. Blackburn fared well in four starts at Rochester, posting a 2.49 ERA and .229 opponents' batting average in 22 innings while inducing 65 percent ground balls, but his 13-to-6 strikeout-to-walk ratio and 4.12 FIP were significantly less confidence-inspiring.
Blackburn also rejoins the rotation with a very difficult matchup against the first-place Rangers and their top-five offense in hitter-friendly Texas. In terms of offense at home, the Yankees are the only team in the league with a higher OPS or more runs than the Rangers, so it's hardly an ideal way to ease someone back into the rotation. In addition to Blackburn's return the Twins recalled Anthony Slama, who's needed after Ron Mahay hurt his shoulder on a fielding play.
Dating back to last season Mahay has quietly done some nice work for the Twins with a 3.14 ERA, .244 opponents' batting average, and 33-to-11 strikeout-to-walk ratio in 43 innings, and while losing a situational left-hander certainly isn't going to wreck the bullpen it does hurt a bit more with fellow lefty Jose Mijares already out for a month after knee surgery. Glen Perkins is now the bullpen's sole southpaw and he's actually worse against left-handed hitters.
Obviously the circumstances are unfortunate, but I'm happy to see Slama getting another shot so quickly. He was anything but impressive in his first taste of the majors, but struggling in five innings to begin a career means almost nothing and his track record in the minors is certainly dominant enough to warrant an extended opportunity. He doesn't address the lack of lefties, but Ron Gardenhire did some of his best bullpen managing when not focused on handedness.
* * * * * * * * * * * * * * * * * * * * * * * * *
Here are the starting pitching matchups for the four-game series in Texas that begins tonight:
Monday: Blackburn (104 IP, 5.09 xFIP) vs. Rich Harden (74 IP, 5.83 xFIP)
Tuesday: Carl Pavano (174 IP, 3.91 xFIP) vs. Colby Lewis (155 IP, 3.86 xFIP)
Wednesday: Brian Duensing (84 IP, 3.99 xFIP) vs. C.J. Wilson (158 IP, 4.29 xFIP)
Thursday: Francisco Liriano (151 IP, 3.00 xFIP) vs. Cliff Lee (175 IP, 3.27 xFIP)
Remarkably similar matchups in terms of the pitchers' effectiveness and handedness. Righties versus righties, lefties versus lefties. Aces against aces, No. 2 starters against No. 2 starters, guys just back from Triple-A against guys just back from Triple-A. And the Thursday night bout is a doozy, with (according to xFIP, at least) the two best starters in the league facing off. And hopefully Liriano is over the "tired arm" period that got him pushed back to Thursday.