September 2, 2010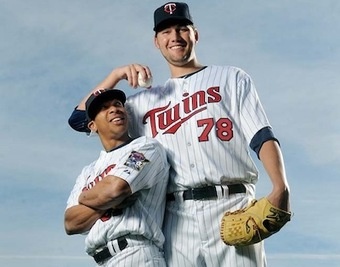 Technically the Angels had until October 15 to decide on the player to be named later heading their way in the deal for Brian Fuentes, but it turns out they were simply waiting for Loek Van Mil to go through waivers after being designated for assignment to make room on the 40-man roster for Fuentes. He predictably went unclaimed and yesterday the Twins finalized the trade by sending the 7-foot-1 right-hander to the Angels.
Van Mil ranked 39th on my list of the Twins' top prospects this winter, but has been limited to just 33.2 innings due to injuries and posted a 6.15 ERA between high Single-A and Double-A. He's intriguing simply by virtue of standing 7-foot-1 and actually had quite a bit of success prior to this season, but Van Mil will turn 26 years old next month, has yet to throw even 50 innings in a season, and almost surely would've been cut from the 40-man roster by the offseason.
By going through waivers Van Mil was available to any team willing to place him on the 40-man roster and he also would have been eligible to be selected in the Rule 5 draft in December, so giving the Dutchman up as the PTBNL for Fuentes is a no-brainer for the Twins. Because of his size and good fastball Van Mil is perhaps still capable of developing into a quality reliever if he can stay healthy, but he's a pretty fungible commodity at this point.
Fuentes might actually accept and stick them with a $10 million bill for 2011, so I'll be surprised if the Twins risk offering him arbitration in order to receive compensatory draft picks when he leaves as a free agent. Essentially that means they dealt Van Mil and $1.9 million for six-plus weeks of a good left-handed setup man. For a contending team with an obvious bullpen need that's an ideal move, although Fuentes' back problems unfortunately may complicate things.