September 20, 2010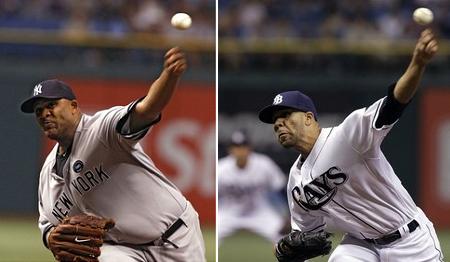 To be the man, you gotta beat the man. - Ric Flair
Now that the Twins have chewed up and spit out the White Sox to lock up the AL Central title, attention can be turned to potential playoff matchups. Barring something crazy happening in the next two weeks the Twins will begin the postseason on October 6, at Target Field, against either the Yankees or Rays. Two teams from the same division can't play in the first round, so the AL East winner will host Texas while the runner-up heads to Minnesota as the Wild Card.
Because only a half-game separates the Rays and Yankees in the AL East trying to predict the Twins' likely ALDS opponent makes little sense, but trying to figure out which team represents the more favorable matchup is another story. In nine years under Ron Gardenhire the Twins are 18-54 against the Yankees, including 2-9 in the postseason with three ALDS losses, so I'm sure most fans would answer "not the Yankees" regardless of the alternative.
My gut reaction is the same, in part because of how much the Twins have struggled versus the Yankees and in part because New York is simply a really good team. They're the reigning World Series winners and headed to the playoffs for the 15th time in 16 years with the best record in baseball at 90-59 and have out-scored opponents by an MLB-high 181 runs. With all that said, the Rays are no joke and in some ways represent an even tougher matchup for the Twins.
As usual the Yankees have a very strong lineup, leading MLB in scoring and ranking among the AL's top three in on-base percentage, slugging percentage, homers, and walks. Derek Jeter and Alex Rodriguez are having career-worst years, but for Rodriguez that still means batting .273/.342/.502 and they have many other dangerous bats in Robinson Cano, Mark Teixeira, Nick Swisher, Jorge Posada, Lance Berkman, Curtis Granderson, and Marcus Thames.
In fact, come playoff time New York's starting lineup will probably include just one player with a below-average OPS: Jeter. Tampa Bay's offense is also very strong, scoring the second-most runs in baseball, but the Rays have done all that damage without a particularly dangerous lineup. They rank just 11th in batting average, eighth in on-base percentage, sixth in slugging percentage, and eighth in OPS, which would normally add up to a middle-of-the-pack offense.
So how have they scored more runs than any team but the Yankees? Clutch hitting and speed. Tampa Bay has hit much better with runners on base and leads MLB in steals while hitting into the fewest double plays. Consider that the Rays have 160 steals and 86 double plays, while the Twins have 58 steals and 153 double plays. They won't bludgeon you into submission like the Yankees, but the Rays will run you to death and Evan Longoria is an MVP candidate.
There's no doubt that the Yankees have the deeper, more dangerous, and superior lineup and that shouldn't be overlooked regardless of how many cliches people spout about pitching and defense winning in the postseason. However, not being as scary as the Yankees offensively doesn't mean the Rays have any trouble scoring runs and their exceptional team speed could present big problems, particularly if Carl Pavano is tabbed to start twice in a five-game series.
Pavano has surrendered the second-most steals in the league this year and in 42 starts since joining the Twins last season he's allowed 46 steals at an 88 percent success rate. As a team the Twins have 58 steals and Denard Span is the only guy with more than seven. Tampa Bay has six different guys with double-digit steals, including 43 from Carl Crawford, 40 from B.J. Upton, and 24 from Ben Zobrist. They have the ability to wreak havoc in Pavano's starts.
On the pitching side the Yankees and Rays look very similar, ranking third and fourth among AL clubs in runs allowed behind the A's and Twins. Both rotations are headed by a stud southpaw (CC Sabathia and David Price) and both bullpens feature an elite closer (Mariano Rivera and Rafael Soriano) and potentially dominant setup man (Joba Chamberlain and Joaquin Benoit). And both teams have some question marks in the rotation after the ace.
Andy Pettitte has been as good as ever at age 38, going 11-2 with a 2.81 ERA in 19 outings, but just rejoined the rotation yesterday after spending two months on the disabled list with a groin injury. Phil Hughes went 11-2 with a 3.65 ERA in the first half, but has a 5.37 ERA since the All-Star break and may be wearing down from throwing twice as many innings as last year. A.J. Burnett has a 5.08 ERA and Javier Vazquez has been demoted to the bullpen.
Matt Garza has been his usual self, going 14-8 with a 3.88 ERA after posting ERAs of 3.70 and 3.95 in his first two seasons in Tampa Bay, but Opening Day starter James Shields has taken a step backward with a 4.86 ERA and AL-high 32 homers allowed. Jeff Niemann has struggled in the second half, so Wade Davis or maybe August call-up and Baseball America minor league player of the year Jeremy Hellickson are likely to get the nod as fourth starter.
Tampa Bay's staff is deeper, with Hellickson a versatile weapon in any role and Grant Balfour, Dan Wheeler, and Randy Choate as the bridge to a Benoit-Soriano duo that has combined for a 1.64 ERA and 122-to-23 strikeout-to-walk ratio in 115 innings. Of course, if Pettitte is healthy and Hughes gets back on track a Sabathia-Pettitte-Hughes-Burnett rotation is plenty imposing in a five-game series, Chamberlain has been lights-out in the second half, and Rivera is Rivera.
Exceptional team speed also gives the Rays one of the best defenses in baseball, with the top Ultimate Zone Rating of any sure playoff team, an outfield that chases down everything in the gaps, and a pair of truly elite defenders in Crawford and Longoria. If you believe pitching and defense rule in October and expect low-scoring games the ALDS the Rays' base-stealing and fly-catching should not be overlooked. They're the team the Twins are often perceived to be.
Another factor is that trying to defeat the Yankees three times in five games sure sounds a lot more doable than four times in seven games, so in that sense you'd rather tackle them in the first round. On the other hand, not playing the Yankees at all may sound even better and if the Twins face the Rays in the ALDS there's at least a decent chance the Rangers will knock off the Yankees. Although then the Twins might have to face Cliff Lee three times in seven games.
Some years there's a clear weak spot in the playoff field, but this isn't one of them. New York and Tampa Bay are excellent teams with unique strengths that make them very dangerous to the Twins and with Lee atop the rotation Texas is anything but a pushover. If given the choice I'd likely take my chances with the Rays, but ask me tomorrow and that may change and part of me wants to see the Twins slay the dragon if they're going to make a World Series run.