September 22, 2010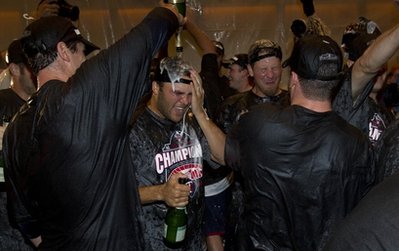 • About two hours after the Twins completed their eighth-inning comeback against the Indians last night the White Sox lost their eighth consecutive game versus the A's, which means the AL Central race is officially over. Kind of anti-climactic with two weeks left, but I'll certainly take it. And it was funny to see Paul Konerko close out Chicago's playoff hopes by grounding out with the bases loaded against Craig Breslow, who was waived by the Twins in mid-2008.
• Obviously securing homefield advantage throughout the playoffs is always a very good thing, but Cliff Corcoran of SI.com crunched the numbers and found that it's likely not as important as conventional wisdom would have you believe. Since the current playoff schedule format was adopted in 1998, teams with homefield advantage have a 45-39 record in series, which isn't all that impressive when you consider that they're usually the superior team anyway.
Of course, not represented in those numbers are both the economic and "holy shit this is fun" impacts of having extra games at Target Field. No matter who the Twins play in the first round, they'll have homefield advantage when the ALDS begins October 6 at Target Field.
• The good news on Joe Mauer's sore left knee is that an MRI exam taken yesterday revealed no structural damage. The bad news is that Mauer does have inflammation and is expected to miss at least 4-5 days after receiving a cortisone injection. Thanks to the White Sox's collapse, he has plenty of time to rest up.
• Last week Mauer became just the fifth catcher in baseball history to reach 1,000 career hits at age 27. Here are the all-time leaders in hits by a catcher through age 27:
Ivan Rodriguez      1333
Ted Simmons         1279
Johnny Bench        1246
Joe Torre           1087
JOE MAUER           1009
Mauer's hit total is hurt by missing most of his rookie year following surgery on the same knee that has him out of action right now, but also by his being so patient at the plate and passing up hits for walks. Here are the all-time leaders in walks by a catcher through age 27:
Johnny Bench         516
Darrell Porter       510
Butch Wynegar        450
JOE MAUER            433
Ted Simmons          427
Butch Wynegar ranked 31st on my list of the best players in Twins history.
• Ozzie Guillen had a particularly amusing quote when talking about Danny Valencia coming out of nowhere to hit .340, noting that Valencia played in the same high school conference as his son Ozzie Guillen Jr.:
They go and get this kid Valencia. When you play against Ozzie Guillen Jr. in the same division in high school, you're very horseshit because Ozzie Guillen Jr. is not going to choose any good conference to play baseball. And [Valencia] is a superstar [for the Twins].
As usual, Guillen had all kinds of praise for the Twins after they dispatched with the White Sox.
• Something to consider when debating who should get the Game 1 and Game 5 starts in the ALDS: Francisco Liriano has allowed zero or one run in 11 starts this season, compared to six from Carl Pavano. And they've both allowed three runs or fewer in 22 starts.
UPDATE: Liriano has officially been named the Game 1/5 starter for the ALDS. Good call.
• Last week I mentioned discovering a podcast called "Jesse, Jordan, Go!" hosted by Jordan Morris and Jesse Thorn, the latter of which is a big baseball fan. Over the weekend I listened to various episodes from their archives and stumbled across a show from 2007 in which they had a lengthy discussion centered around the question: "Shia LaBeouf or Boof Bonser?" As if that weren't enough, they interviewed Kelsie Smith of the St. Paul Pioneer Press about Bonser.
For literally five minutes she answered very serious-sounding questions about Bonser's name, Bonser's personality, Bonser's weight, and other pressing matters. It was pretty hilarious, and it was long enough ago that Smith a) described herself as "the backup Twins beat writer," and b) had never even heard of LaBeouf. If you want to hear the Boof-related hilarity for yourself, the segment occurs about three-fourths of the way through this episode.
• Jim Thome and Target Field are on the cover of this week's Sports Illustrated, with a feature article written by the great Joe Posnanski and this spectacular looking photo: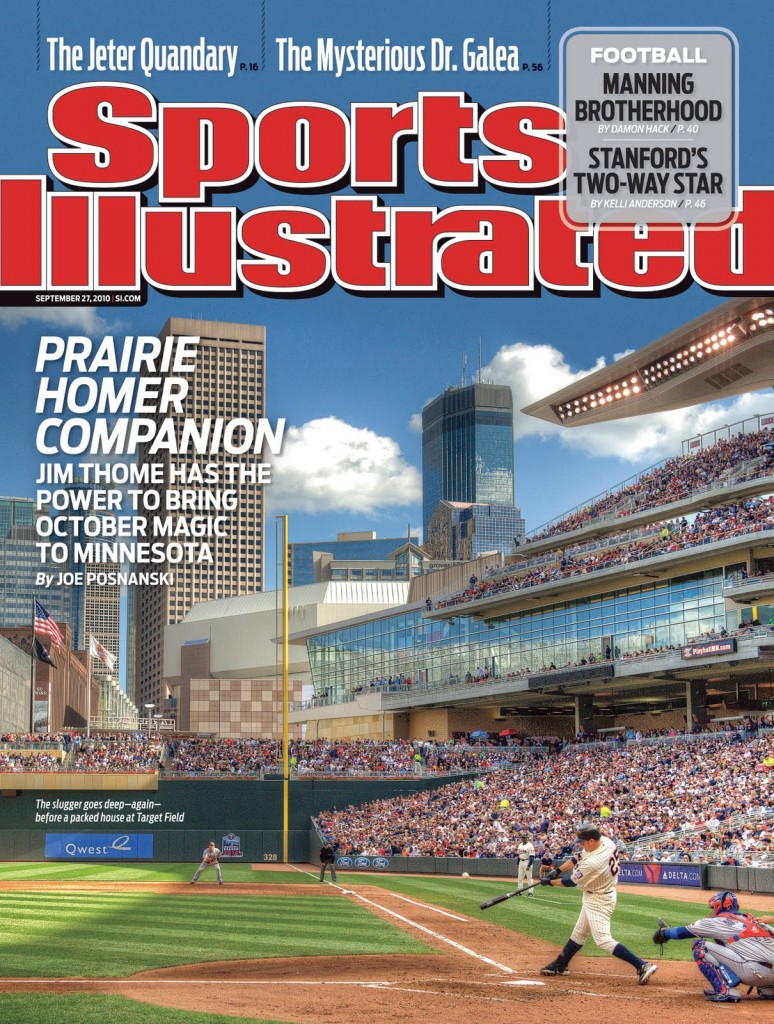 That scaled-down version doesn't even begin to do it justice, so click on the photo and then hit zoom to see the full-sized masterpiece.
• Speaking of the Twins getting some national attention, Tyler Kepner of the New York Times wrote a good article about pitching coach Rick Anderson and his strike-throwing machines.
• I stepped in for an on-vacation John Gordon as the Monday afternoon guest on 1500-ESPN, talking Twins with Patrick Reusse and Phil Mackey. Surprisingly, during the 15-minute chat I was the only one to bring up a pitcher's win total. And the pitcher was Tony Fiore. You can get the segment here. I'm on about halfway through the clip. I'll also be co-hosting "Twins Wrap" on 1500-ESPN again with Darren Wolfson Friday night, starting 30 minutes after the final out.
• And finally: Woo!